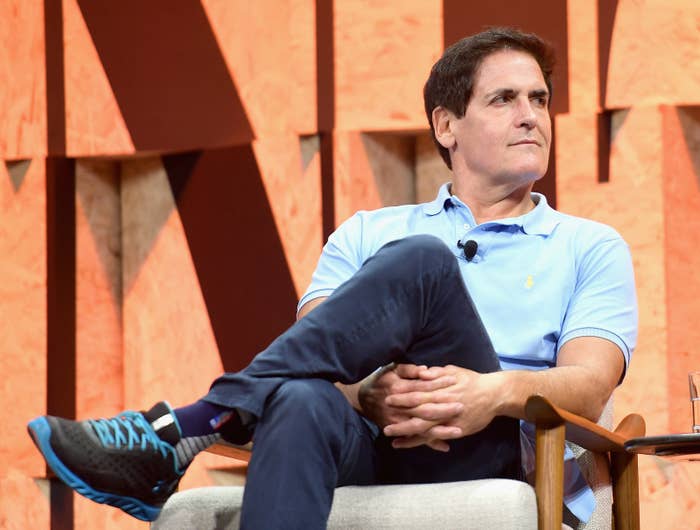 Mark Cuban is "honestly considering" running for president in 2020, the Dallas Mavericks owner and Shark Tank star said at a conference in New York City on Thursday.
Cuban has been publicly flirting with running to oppose Donald Trump, including in a recent New York Times story where he said "I'm considering it, yes...I would put the odds against it right now for family reasons, but there is still plenty of time."
The billionaire told New York Times columnist Andrew Ross Sorkin at the DealBook conference that if he ran, he would either run as an independent or a Republican in order to challenge Trump directly.
"The positive about running as a Republican is that you get to go head on with Trump in the primaries," he said, whereas if he ran as an independent, he could go straight on to the ballot if he got enough support in every state. He said he would certainly not run as a Democrat.
The thing holding him back from running, Cuban said, "What caring, loving parent would put three young children through the disaster?"
But he said that there was a hunger for someone like him to run. "Given the circumstances, there's a unique opportunity for someone, like me, who's independent and not affiliated with party in any way," Cuban said. "People are looking for a a real independent voice, if he at least knows an inkling of what we're talking about."
He hammered Trump's personality and temperament, describing him as "a president who has no common sense and can't get out of his own way." The only battle Trump is winning, Cuban said, "is to become the least popular president is US history."
Cuban is not the only prominent businessman that's been rumored to have an interest in a presidential run. There have also been whispers about Howard Schultz, the former Starbucks CEO, and Bob Iger, the chief executive of Disney. "Whether it's me, Bob Iger, Howard Schultz or anyone else, there's a door wide open, anyone without a deep affiliation," Cuban said.
Cuban said he has been meeting with political figures across the ideological spectrum. He has met with Steve Bannon, the former White House strategist, as well as eight Democratic senators and Republican Trump critic Jeff Flake.

"I'll talk to everybody," he said. "You can't absorb enough knowledge and connect with people enough."