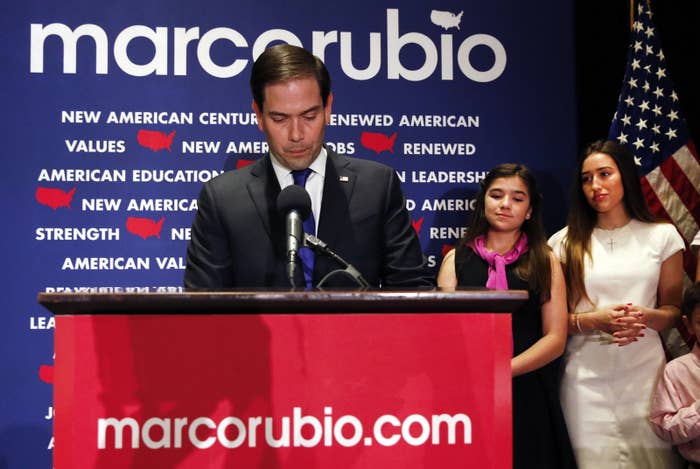 MIAMI — Marco Rubio has dropped out of the presidential race, he announced during a speech after he lost his home state of Florida to Donald Trump on Tuesday night.

"It is not God's plan that I'll be president in 2016 or maybe ever and today my campaign is suspended," Rubio told a packed atrium on the Miami campus of Florida International University shortly after polls closed.

Rubio congratulated Trump, despite some boos from the audience and a pro-Trump heckler who shouted "Trump for president!"

Rubio responded, "You won't get beat up at our event."

His speech did not mention Trump again by name but clearly contrasted Rubio's more optimistic message with Trump's angry and resentful one.

"From a political standpoint," he said, "the easiest thing to have done is to have jumped on all those anxieties and make people angrier and make people more frustrated. I chose a different route and I'm proud of that."

Rubio cautioned that the "politics of resentment against other people will not just leave us as a fractured party but leave us as a fractured nation."

He blamed voters' anger and frustration on a rapidly transitioning economy and a political establishment that he said did not take voters' — and especially conservatives' — views seriously.

"That we find ourselves at this point is not surprising – the warning signs have been here for close to a decade," Rubio said. "I blame most of it on our political establishment, a political establishment that has looked down at conservatives as simple-minded people."
"This may not have been a year for a hopeful and optimistic message about our future, but I remain hopeful and optimistic about America," Rubio continued, before describing his hardscrabble origins and his parents' struggles as Cuban immigrants.
"I didn't inherit any money from my parents," Rubio said, "they never became famous," once again referencing Trump, who regularly called him "Little Marco." (Rubio, of course, once infamously referenced Trump's "small hands.")

But Rubio didn't endorse or condemn Trump, or mention Ted Cruz.

"May God strengthen our eventual nominee and may God bless and strengthen our great nation," he said.
Rubio entered the 2016 presidential race last year as an underdog — a young freshman senator running against a crowded field of opponents, including a beloved former governor of his home state, Jeb Bush.
But Rubio, with his oratorical talents and aspirational life story, was also a favorite of conservative pundits, who believed he was capable of widening the Republican Party's tent.
Rubio performed well in almost all of the debates, and was broadly well-liked among Republican voters, many of whom told pollsters he was their "second choice" among the candidates. He also outlasted the better-funded and better-known Bush, despite facing tens of millions of dollars in attack ads from the rival's super PAC.
When Bush dropped out last month after a disappointing finish in South Carolina, the Republican establishment rushed to elevate Rubio as the party's anti-Trump standard-bearer.
But despite a flood of endorsements and new donors, he struggled to find a broad natural base of support in most states, winning only a handful of primary contests. Many die-hard conservatives were skeptical of Rubio for championing the Senate's bipartisan immigration overhaul in 2013, while self-described moderates flocked, improbably, to Donald Trump and his populist pitch to white blue-collar voters.
Rubio's concession speech was interrupted several times — once by the Trump supporter who tried to disrupt the event, but mostly by his own supporters pleading with him not to drop out.
"Fight to the convention!" one fan shouted during his speech.
When Rubio finally did say he was suspending his campaign, a 72-year-old Cuban-American woman in the crowd gasped and muttered, under her breath, "Oh, no." As other stunned, tearful supporters exchanged embraces and words of consolation after the event, the woman said softly, in Spanish, that she was afraid.