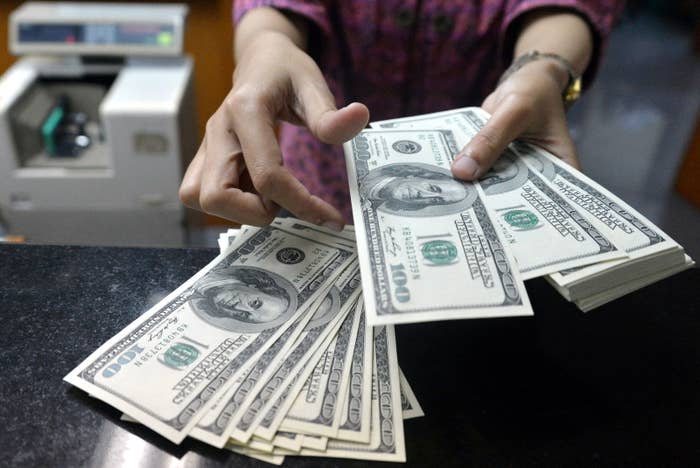 The online lending startup LendUp will pay compensation to its customers and a penalty to a federal regulator, which said the company "hid the true cost of credit" and "misled customers about graduating into lower-priced loans."
In total, the company will pay out over $6 million, with they money going to customers, the Consumer Financial Protection Bureau, and California's Department of Business Oversight.
LendUp, a startup based in San Francisco, offers small, short-term loans at high interest rates through its website. The company says it's different from old-fashioned payday lenders because it tries to build up the credit history and financial capabilities of its customers. LendUp also promises "no hidden fees" and "clear terms and conditions."
The CFPB found, however, that several of its advertisements and marketing materials were misleading borrowers and that the company would sometimes charge hidden fees and appear to offer loans that there cheaper than they actually were.
"LendUp pitched itself as a consumer-friendly, tech-savvy alternative to traditional payday loans, but it did not pay enough attention to the consumer financial laws," the CFPB's director Richard Cordray said in a statement. "Start-ups are just like established companies in that they must treat consumers fairly and comply with the law."

In settling the claims, LendUp agreed to pay $1.8 million in redress to over 50,000 of its borrowers, a $1.8 million civil penalty, and to stop improper lending practices and misleading advertising. A California regulator, the Department of Business Oversight, reached a $2.7 million settlement with the company as well.

LendUp said that the practices discussed by the regulators "address legacy issues that mostly date back to our early days as a company, when we were a seed-stage startup with limited resources and as few as five employees. In those days we didn't have a fully built out compliance department."
The company said that it now has a larger compliance and legal team and that it has "worked to refund all affected customers."
The California regulator said it found "a total of 385,050 individual violations" of its lending laws. These included charging extra fees for customers wanting to receive cash on the same day their loan was approved — such fees are illegal, the regulator said, and resulted in a misleading interest rate being advertised.
The core of the CFPB's accusations is that LendUp charged customers extra fees and that the loans were more expensive than advertised. The LendUp pitch to borrowers is that by taking out high interest loans at first ("Silver" loans), they could pay them off and then take out lower interest rate loans over time (going up through "Gold" "Platinum" and "Prime), what the company called the "LendUp Ladder."

The CFPB says that many of these loans were not as available as the company let on. The "Platinum" and "Prime" loans were only available in California, although they were advertised nationwide for three years. The company now operates now in 24 states.
When LendUp, which emerged from the high profile startup incubator Y Combinator, raised $50 million in 2014, it was celebrated for attempting to "redefine payday lending" and offering low-income borrowers access to credit. The company has raised over $100 million in equity and borrowed $150 million according to CrunchBase.
LendUp attracted awkward attention earlier this year when Google banned advertising for high interest, short term loans throughout its ad network. LendUp's loans can charge interest rates as high as 600%, which was well above the 36% cap Google imposed on loans whose ads it hosted. The sample loan advertised on LendUp's website has an annual percentage rate of almost 400%.
When Google banned the ads, its chief executive officer Sasha Orloff wrote that "Google is right to ban short-term loan ads, but I wont' stop offering short-term loans."
"The current payday loan industry is bad for Americans," he said, but "LendUp is trying to change the system from the inside, and we have evidence that our technology can create better products for the same customers."