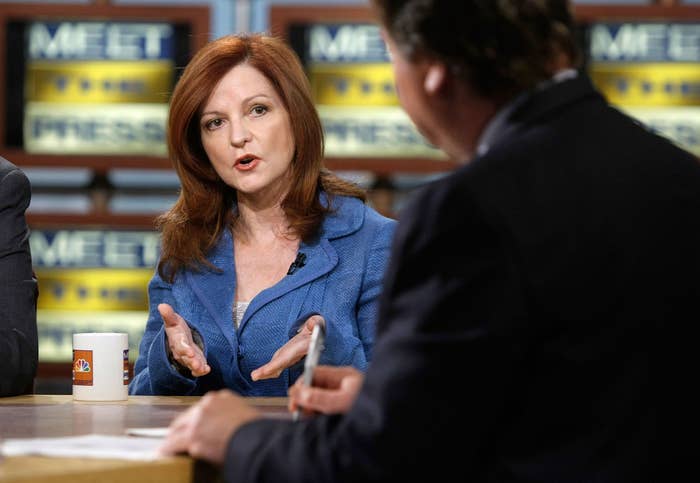 Leaked emails from Sony suggest that New York Times columnist Maureen Dowd promised to show Sony Pictures co-chair Amy Pascal's husband, Bernard Weinraub, — a former Times reporter — a version of a column featuring Pascal before publication.
The end result was a column that painted Pascal in such a good light that she engaged in a round of mutual adulation with Dowd over email after its publication. It also scored Pascal points back at the studio, with Sony's then-communications-chief calling the column "impressive."
The exchanges were uncovered in a trove of Pascal's emails released as part of a massive hack on Sony carried out by the group known as "Guardians of Peace."
The column, published after the Academy Awards earlier this year, lamented how "Oscar voters and industry top brass are still overwhelmingly white, male and middle-aged."
Dowd quoted Pascal as saying women received "paltry" salaries compared to men in Hollywood. Pascal, according to leaked salary data from the hack, is tied for the highest earning executive at Sony Pictures with Sony Entertainment CEO Michael Lynton. Pascal also told Dowd that women directors face an "unconscious mountain" of rejection.
It highlighted Pascal's role in greenlighting movies by female directors Nora Ephron and Nancy Meyers, but also other Sony movies like The Social Network and American Hustle that had "impressed the guys in the boardroom," Dowd wrote.
Pascal told Dowd there had been "a gigantic change" in 2013 thanks to female-fronted films such as Gravity, The Hunger Games: Catching Fire, Frozen, and The Heat earning a combined $4 billion. Pascal also said that the problems between men and women in Hollywood are "completly unconscious" and that "Women have to help each other more. It's our duty."
Dowd, Pascal, and Weinraub are friendly, the emails show — Dowd would send Pascal links to New York Times stories and bought birthday presents for Pascal and Weinraub's teenage son.
It turns out that the way Pascal's viewpoint was presented was exactly how she and her husband, Weinraub, wanted it.
"I never showed Bernie the column in advance or promised to show it," Dowd said in a statement Friday afternoon (Dowd did not respond to a request for comment prior to publication Thursday night). In an interview Friday with Margaret Sullivan, the New York Times public editor, Weinraub said "Maureen has never sent me a column. She checked certain things with me, to see if they were right, but she didn't read it to me and I didn't see it."
When reached for comment Thursday night, Weinraub had said "I have no idea what you're talking about."
The leaked documents show that when Dowd emailed Pascal on March 3 for the column — which would run online the next night and in print on March 5 — Dowd told Pascal "i would make sure you look great and we'd check it all and do it properly."
Before Pascal actually interviewed with Dowd for the column, she talked to Weinraub.
"I said the rap that you jus like to make womens films is unfair amnd sexist," Weinraub said in an email to Pascal on March 4. "You made all these "women's movies ===league of their own, 28 days,,,the nora Ephron films...zero dark.... but you also do spifderman... denzel....Jonah hill.....bad teacher etc etc."
Pascal responded, "IM NOT TALKING TO HER IF SHE IS GONNA SLAM ME. PLEASE FIND OUT."
Weinraub assured her, "you cant tell single person that I'm seeing the column before its printed...its not done...no p.r. people or Lynton or anyone should know."
After the column was published later that night, Pascal emailed Dowd, saying "I THOUGHT THE STORY WAS GREAT I HOPE YOUR HAPPY "
Dowd responded: "I hope you're happy! Thanks for helping. Let's do another." Pascal replied, "Your my favorite person so yes" and Dowd finished the conversation with "you're mine! you're amazing"
About 10 minutes later, Sony's then-communications-head Charles Sipkins forwarded the column to Pascal and Lynton, saying "this is impressive."
This isn't the first time one of Dowd's columns has been leaked — in 2012, Times intelligence reporter Mark Mazetti fowarded an advance copy of a column Dowd wrote about Zero Dark Thirty to then-Central Intelligence Agency spokeswoman Marie Harf. Times spokeswoman Eileen Murphy described it as "a mistake that is not consistent with New York Times standards." Sullivan wrote Friday that "while the tone of the email exchanges is undeniably gushy, I don't think Ms. Dowd did anything unethical here."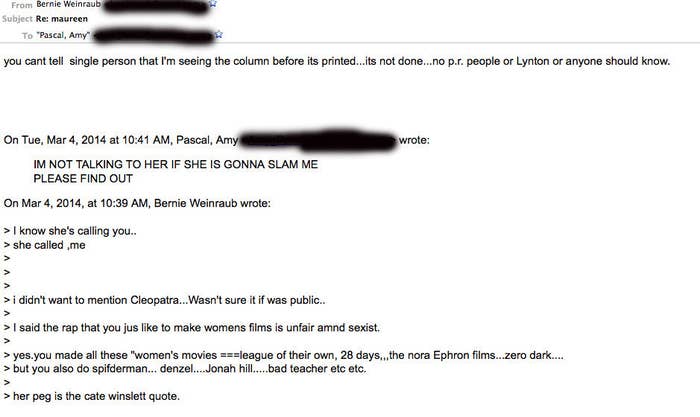 Dowd denied that she sent an advance copy of the column to Weinraub in a statement to several media outlets and the Times public editor Margaret Sullivan:
"I never showed Bernie the column in advance or promised to show it.
Bernie is an old friend and the Times' former Hollywood reporter, and he sometimes gives me ideas for entertainment columns.
In January, he suggested a column, inspired by a study cited in the L.A. Times, about the state of women in Hollywood. Amy is a friend and I reassured her before our interview that it wasn't an antagonistic piece. She wasn't the focus of the story, nor was Sony.
I emailed with Bernie and talked to him before I wrote the column in March, getting his perspective on the Hollywood old boys' club and the progress of women. But I didn't send him the column beforehand."
This post has been updated to reflect that both Dowd and Weinraub deny that Dowd sent or promised to send a version of the column to Weinraub.