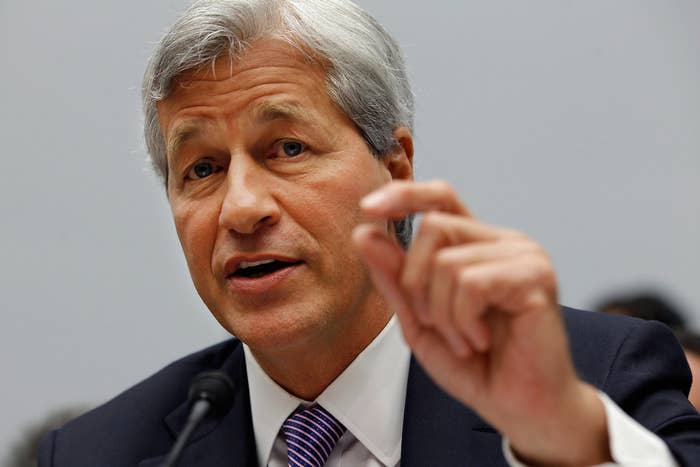 In the last three months of 2014, JPMorgan Chase, had earnings per share of $1.19, or a net income of $4.9 billion, down from $5.3 billion in the fourth quarter of last year. The bank's profit slide of 6.6% from the fourth quarter of last year also fell short of analysts' expectations of $1.31, and the bank's stock is down more than 4.5% to $56.17 in late morning trading. The bank, the largest in the United States by assets, was weighed down by $990 million worth of legal charges.
In November, JPMorgan was one of six large banks to pay big fines to settle charges from British and American regulators that its traders had manipulated the foreign exchange market. JPMorgan's Chief Financial Officer Marianne Lake said the new charge was in "large part an incremental for foreign exchange." The Justice Department is conducting its own investigation of the foreign exchange market.
"Banks are under assault," JPMorgan's Chairman and Chief Executive Officer Jamie Dimon said on a call with reporters. "We have five or six regulators coming at us on every issue."
The bank's large and lucrative trading businessess saw sizable declines in revenue, with fixed income trading revenue sinking 23% from last year to $2.5 billion. The bank attributed the decline to "lower revenues in credit-related and securitized products" along with the sale of some businesses, including physical commodities trading. Not counting those sales, the fixed income business still saw a 14% declined in revenue, while equity trading revenue of $1.1 billion was up 25%, which the bank credited to more revenue from derivatives based on stocks and services to hedge funds.
The poor trading results, which are expected across Wall Street, were previewed late last year by Lake.
In a December speech, Lake projected a "high teens" decrease in trading revenue, eight percentage points coming from exiting commodities trading businesses, about $300 million.
Lake also said there had been an "uptick in realized in volatility particularly in foreign exchange and [interest] rates," but said it was "low relative to where you would expect it to bein a m ore vibrant market." Banks with large trading operations like JPMorgan tend to generate more revenue in more volatile markets, as larger swings in prices encourage more trading.
"It's true to say volatility did pick up across asset classes," Lake said Wednesday. "The [foreign exchange] business did well, and the the remaining commodity business did well on clients trading around oil." Oil prices plunged in the last three months of the year and have contiued to fall.
With the exception of some choppiness in October, markets have stayed relatively quiet, with bankers and traders wondering where higher activity could come from. "It's possible that while we're going to see a little bit more volatility and hopefully that presents more opportunity, it's likely the first half of next year at least is going to ... continue to be challenging," Lake said in December, and she said today that there were "no dramatic changes" in the trading environment in the beginning of the year.
This piece has been updated with comments from Marianne Lake and Jamie Dimon.