JPMorgan's Co-Head Of Investment Banking Leaves To Private Equity Firm
Yet another senior JPMorgan executive — and a once-potential successor to Jamie Dimon — departs.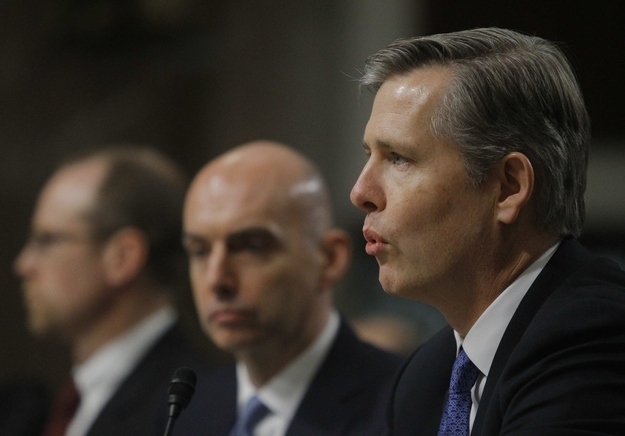 The co-head of JPMorgan Chase's investment bank and one of CEO and Chairman Jamie Dimon's longtime allies is leaving the bank for The Carlyle Group, a private equity firm. Michael Cavanagh, who came over to the bank with Jamie Dimon from Bank One in 2004, is the latest senior JPMorgan executive to leave the bank. Cavanagh was also seen by many as a possible successor to Dimon as CEO.
The 48-year-old Cavanagh had long been something of cleanup man for the bank; he was often in the most sensitive roles when it was rocked by crisis. He was chief financial officer when JPMorgan navigated the financial crisis and was one of the megabank's least affected by the turmoil that crippled several rivals.
"I was surprised, Mike was one of the last guys with Jamie from over the years," said William Daley, the bank's former Midwest chairman, "Mike obviously is someone Jamie is close to, I was shocked."
When it came time to examine what happened with the "London Whale," the bank's more than $6 billion derivatives trading loss in 2012, it was again Cavanagh who took up the task, and he was elevated to co-head of the investment bank along with Daniel Pinto in summer 2012. Pinto will now be the sole head of the investment bank, in a memo to employees, Dimon said Pinto "is a consummate partner—his values, character and judgment are second to none—and he's proven he can lead in the toughest of times
Cavanagh was one of the last remaining executives that saw JPMorgan through the financial crisis to still be at the bank. Of the 15 executives on the bank's operating committee Fortune labeled "The Survivors" in a 2008 cover story, only four still remain, including Dimon.
With Cavanagh now leaving the company, there is no obvious immediate successor for Dimon, who has reportedly said he wishes to stay at the helm as CEO and chairman for at least five more years. Compared to Dimon's remaining lieutenants, Cavanagh had a wide range of experience across the bank's divisions, including running treasury and securities services and commercial banking while at Bank One with Dimon.
While several senior JPMorgan executives have departed relatively recently, they have not ended up at direct banking rivals like Wells Fargo or Goldman Sachs, but at other kinds of financial firms. "The banking business is pretty tough, with everybody and their brother having oversight and regulations up the wazoo," said Daley.
Cavanagh will become co-president and co-chief operating officer of The Carlyle Group, one of the world's largest private equity firms and a client of JPMorgan's.
"If you look at Carlyle, they're looking for new leadership, it's a natural fit. Cavanagh is good with clients and running lots of big deals," said Daley, "I think it's a pretty brilliant move by Carlyle."
The New York Times described the 48-year-old Cavanagh as a "potential heir" to the leadership of Carlyle, whose three founders are all in their sixties.
At least so far, Cavanagh's departure appears to be noncontentious. In a memo sent out to employees, Dimon said that Cavanagh's departure was "a regrettable loss for our company as Mike has been a part of the fabric of our organization for the last 14 years."
Cavanagh is the third high-ranking JPMorgan executive to leave the bank for a senior role at another financial firm in the last two years.
Charles Scharf, who headed JPMorgan's retail banking operations, left in late 2012 to become CEO of Visa, while the former co-chief operating officer and another member of Dimon's inner circle, Frank Bisignano, left the bank in April of last year to become CEO of First Data, an Atlanta-based payment processing company owned by Carlyle's rival private equity KKR. Several other executives then followed Bisignano from New York to Atlanta.
This reportedly sparked tension between the two banks and ended in an agreement where First Data would pay JPMorgan something below $10 million so the bank wouldn't contest new the hires, according to the Wall Street Journal.
Cavanagh's departure to Carlyle Group, which is a client of JPMorgan, appears more similar to that of Jonathan Staley, the former head of the investment bank. Staley left JPMorgan for BlueMountain early last year.
In that case, Staley went to a firm founded by a former JPMorgan employee that, after being on the other side of its notorious London Whale trades, helped unwind them.
Cavanagh said in a memo to JPMorgan employees that his decision to leave "was hands down the hardest decision I've ever had to make," and that "there really isn't anything more behind it."
"For starters, I'll be a client, so will get to work with several of you. My office will be right down the street and my door always open."