JPMorgan To Pay More Than $2.2 Billion To Bernie Madoff Fraud Victims
America's largest bank admits that it failed to warn authorities about its suspicions of Madoff. Madoff operated his fraud through a JPMorgan account for more than 20 years.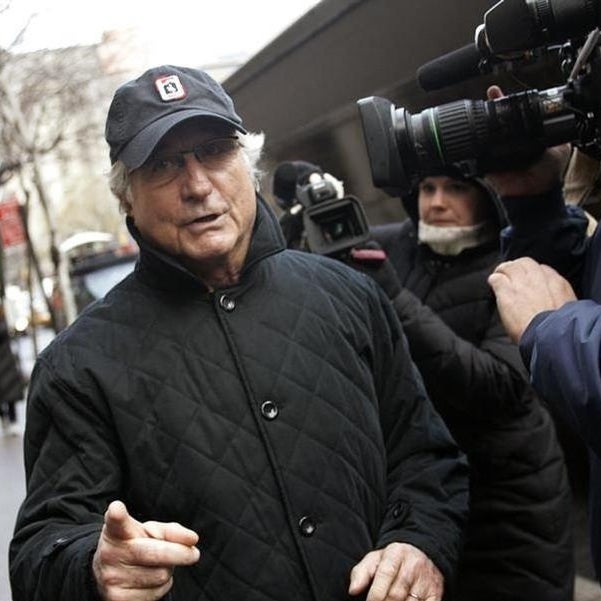 JPMorgan Chase, America's largest bank with over $2.4 trillion in assets, has reached a $1.7 billion settlement with federal prosecutors over the bank's role in Bernie Madoff's ponzi scheme. As part of its agreement with U.S. Attorney Preet Bharara, JPMorgan has entered a deferred prosecution agreement, which means that prosecutors will not charge the bank with violating the Bank Secrecy Act conditional on compensating Madoff victims and improving its own compliance with money-laundering rules.
The $1.7 billion is the biggest penalty paid by a bank for violating the Bank Secrecy Act according to the Wall Street Journal. JPMorgan also agreed that it would not deduct any of the $1.7 billion penalty on its taxes.
The Bank Secrecy Act charges detail JPMorgan's 20-plus years of close involvement with Madoff. "The Madoff Ponzi scheme was conducted almost exclusively through a demand deposit account ... held at JPMorgan Chase," according to prosecutors, and that account handled all customer deposits and all of the phony redemptions customers received from Madoff's massive sham investment business. Madoff had over 4,000 clients and reported $65 billion in assets for his investors before his scheme became unraveled in December 2008.
The charges describe an email sent by a U.K.-based JPMorgan analyst in October 2008 detailing his own suspicions of Madoff, noting JPMorgan's inability to track Madoff's trading, his ownership of assets, and his unknown accounting firm, saying that "there are various elements in the story that could make us nervous." In October, JPMorgan filed a report with British regulators noting their suspicions of Madoff and failed to do so in the U.S.
Prosecutors also say that prior to the scheme coming undone, "JPMorgan ... lacked effective policies, procedures, or controls" to report suspicious activity to their own anti-money laundering compliance employees, describing the failure as "systemic."
The second count of violating the Bank Secrecy Act is for not reporting "suspicious transactions" to U.S. law enforcement.
JPMorgan said in a statement: "We recognize we could have done a better job pulling together various pieces of information and concerns about Madoff from different parts of the bank over time" and "We do not believe that any JPMorgan Chase employee knowingly assisted Madoff's Ponzi scheme."
The Office of the Comptroller of the Currency announced this afternoon that it had assessed JPMorgan with $350 million penalty for critical and widespread deficiencies in the banks' BSA and anti-money laundering (AML) compliance programs with respect to suspicious activity reporting, monitoring of transactions for suspicious activity, the conduct of customer due diligence and risk assessments, and internal controls and independent testing." The bank also agreed to pay $543 million to resolve the Madoff's victims' bankruptcy trustee Irving Picard's claims against the bank. All told, over $2.2 billion will go to victims.
Since September of last year and including today's settlement, JPMorgan has been ordered to pay out nearly $20.5 billion in fines, penalties, and compensation for homeowners, mortgage bond investors, and credit card customers in settlements with regulators, prosecutors, and a private lawsuit from investors. The bank's profit in 2012 was $21.3 billion. In October, the bank announced its first quarterly loss in almost a decade due to setting aside $9.15 billion for legal costs.
In December 2010, the bankruptcy trustee seeking to recover money for Madoff's victims, Irving Picard, filed a suit against JPMorgan, arguing that the bank was "at the very center of [Madoff's] fraud, and thoroughly complicit in it." In June 2011, Picard upped the damages he sought from $6.4 billion to $19 billion, and his lawyer said in a statement that JPMorgan "was an active enabler of the Madoff Ponzi scheme" and "not only should have known that a fraud was being perpetrated, [it] did know."
In November of last year, the bank disclosed in a regulatory filing that the U.S. Attorney in the Southern District of New York and the Office of the Comptroller of the Currency, the national bank regulator, were "conducting investigations relating to the Firm's handling of its relationship with Madoff."
Picard's complaint also featured one of the financial crisis's most infamous emails, unearthed in the trustee's complaint, sent from a JPMorgan risk manager to another JPMorgan employee saying, "there is a well-known cloud over the head of Madoff and that his returns are speculated to be part of a Ponzi scheme." Another email excerpted in Picard's complaint has a JPMorgan private bank employee saying that it hadn't invested with Madoff because it had "never been able to reverse engineer how they made money" and that Madoff didn't meet their standards for oversight and auditing for investors.
Picard's suit was dismissed in June when a federal district court judge ruled that Picard did not have standing to go after Madoff's banks; in October, Picard petitioned to have the Supreme Court hear his case on appeal. Picard withdrew that appeal as part of today's settlement. David Sheehan, Picard's chief counsel said in a statement "We must weigh the uncertainty, costs and risks of litigation versus the benefits of settlement. This compromise with JPMorgan allows us to sidestep those pitfalls while recovering additional, significant monies for the BLMIS Customer Fund." Including today's settlement, Picard has recovered $9.8 billion of $17.5 billion lost in investment principal.
Madoff is serving a 150-year sentence in federal prison in North Carolina.