JPMorgan Is Back To Profits As Trading Slump Abates
But the bank is still paying an extra $1 billion for legal expenses.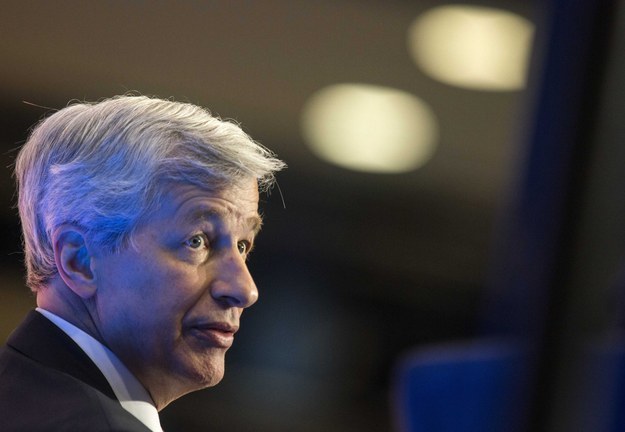 JPMorgan Chase, the country's biggest bank by assets, suffered its first loss under the reign of its chief executive and chairman Jamie Dimon in the third quarter of last year thanks to $9.15 billion in charges to help pay for its massive litigation bill. In the third quarter of this year, however, the bank swung back to a profit, with a net income of $5.6 billion, compared to a $400 million loss last year. The bank's earnings of $1.36 a share were just short of analysts' expectations of $1.38.
The bank's total revenue was, as always massive, with $25.2 billion in revenue, up from from $23.9 billion in the third quarter of last year and beating expectations of $24 billion. In more normal times, the bank's $1 billion in additional legal expense would be seen as large, but when it and its competitors can pay around $20 billion in a single year to regulators, the charge is almost expected.
Some of the results were made public on a third party website before the scheduled 7 a.m. ET release thanks to an "operational error," a JPMorgan spokesperson told the Wall Street Journal.
In early trading, the bank's shares are down .83% or $.48 after being down more than 1.5% in pre-market trading.
The bank's fixed income trading revenue was $3.5 billion in the quarter, up 2% from a year ago, possibly signalling that the trading slump Wall Street has suffered for the last year has abated, if not exactly reversed.
The bank has been hit hard by the year-long trading slowdown, with quarter-over-quarter declines in trading in fixed income trading in three of the previous four quarters, including dipping some 15% over the year in the second quarter. "In Markets, we saw increased activity and better performance overall, particularly in currencies and emerging markets," Dimon said in a statement.
Revenue from trading equities, however, was down 1.4% to $1.23 billion, which the bank blamed on lower revenues from derivatives based on stocks but said that services to stock-trading hedge funds helped offset that decline. The corporate and investment bank saw a large jump up in its noninterest expenses, going up 21% from a year ago to $6 billion. Compensation in the division was $2.8 billion, up 20%.
The bank's chief financial officer Marianne Lake said on a phone call with analysts that said the jump in expenses was due to higher than expected revenues, while the noncompensation expenses were also affected by the high legal provision. Lake said the legal expense was partially due to ongoing investigations into manipulation of currency markets.
Lake hinted that better results were maybe coming during a conference last month, when she said that, at least through early September, trading activity was still down, but not as much as it was earlier. Volatility, which often drives trading among large institutions like asset managers and hedge funds, ticked up later in the month. Lake said Tuesday that volatilty was still there in the early fourth quarter and that, in October so far, the trading environment was "mixed." Lake attributed that to the overall decline in markets across the world in the last few weeks, saying that there was "changing market sentiment on global growth and inflation."
Several banks are reported to be under investigation for manipulating the benchmarks used in foreign exchange trading, and JPMorgan has disclosed in the past that its received information and document requests from domestic and foreign authorities. While Lake would not give specifics on when a settlement with U.S. or overseas regulators would be reached, she did say that "things are further progressed in this quarter as opposed to the last."
"Despite challenges, we have continued to deliver strong underlying performance, maintain our fortress balance sheet and liquidity, simplify the business and adapt to regulatory changes," Dimon said.
The earnings report comes at a time of slight stress for the bank. Dimon disclosed in July that he had been diagnosed with throat cancer. He has only spoken to reporters or the public twice since then, once three months ago to discuss earnings and last week when he sat on a panel at a finance conference with several other megabank CEOs.
While Dimon has been working throughout his treatment and recovery, he has curtailed his travel which has lead, Lake said in September, to him being "shockingly present" in the bank's New York headquarters. Dimon described his prognosis Tuesday morning as "excellent" and said that he is building back up to a full schedule with some international travel in the near future. "I feel good, I'm happy the treatments are over," Dimon said.
The company was the victim of an attack by hackers that lasted from mid-June to mid-August that exposed the personal information of 76 million households and 7 million small businesses. "It's going to be an ongoing battle and battles will be lost," Dimon said, "we lost one, we're not making excuses, it was fortunately not a very damaging one."
The information exposed to hackers included names, addresses, emails addresses, phone numbers, and what kind of business relationship the individuals or businesses had with the bank. The bank said that there is no evidence that account information like passwords, social security numbers, or account numbers had been exposed to hackers and that there was no unusual amounts of fraud reported since the hack.
While such information is not enough for hackers to directly steal from Chase customers or use their credit cards, the personal information could be used in phishing attacks, where hackers imitate banks over email and extract more information.
"These attacks are constantly, relentless, and ever evolving," Lake said on a call with reporters Tuesday morning. Dimon said of cyberattacks broadly, "some of these things seem to be state sponsored." Dimon also credited other companies and the government for sharing information about cyberattacks, saying that it warned other banks when it started seeing attacks. "Cybersecurity is an area where federal government and financial institutions have been in great cooperation," Dimon said, "we like the cooperation and think it's necessary.
"We remain very focused on executing the control agenda and investing to protect our customers and the company for the future," Dimon said in a statement, alluding to the bank's massive efforts to comply with new regulations and its increased spending on cybersecurity.
The bank's expenses outside of interest it pays were $6.3 billion, down 8% from a year ago. JPMorgan did say, however, that expenses related to the Home Deport credit breach meant that overall expenses did not fall as much as they would have otherwise.
The bank is planning on spending some $250 million on cybersecurity this year, Dimon said last week that the number will likely double next year.