JPMorgan Has Massive Earnings And Still Pays A Large Legal Bill
The country's largest bank had almost $25 billion in revenues and almost $500 million in legal expenses in the first quarter. The bank's chief financial officer said it hoped to resolve the Justice Department's investigation into its foreign exchange trading practices "in the coming weeks."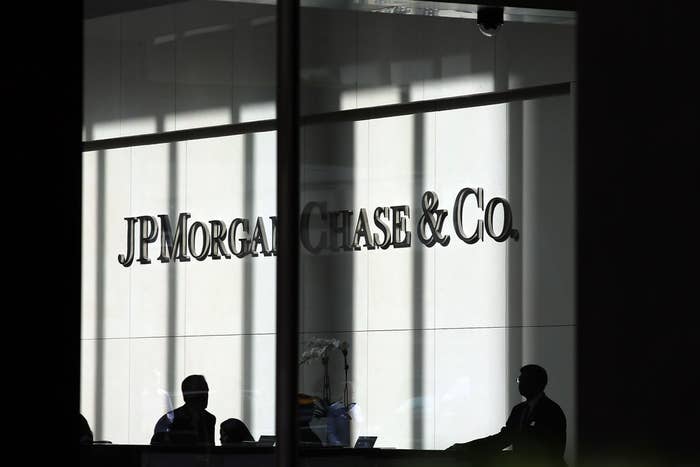 JPMorgan Chase, the country's biggest bank by assets and the first major bank to report its earnings for the first quarter, slightly beat out analysts' expectations, but was still dragged down by high pretax legal expenses of $687 million.
For the first three months of the year, JPMorgan had $24.8 billion in revenue, above Wall Street analysts' expectations of $24.5 billion and up from last year's $23.9 billion. With adjustments for taxes, JPMorgan had profits of $1.45 per share, or $5.9 billion, beating expectations of analysts polled by Bloomberg of $1.41 per share and up from $1.28 in earnings in the quarter last year, when the industry as a whole was weighed down by sluggish trading revenues.
JPMorgan's bonds, currency, and commodities operations had massive revenues, some $4.1 billion, just above analysts' projections, and up about 5% from a year ago — but excluding the sale of some of its commodities trading businesses, the increase would have been about 20%, the company said today. Its equities trading business had revenues of $1.6 billion, a 22% jump from the year before and above expectations of $1.4 billion. The bank said the strong performance was due to gains in currencies and rates trading, especially in emerging markets. The equities trading division, which typically earns less than fixed income, had its best first quarter in half a decade, with the highest revenue in the first three months of the year since 2009.
JPMorgan chief financial officer Marianne Lake said on a call with reporters that there were "high levels of client activity and high levels of volatiltiy" that lead to the bank's trading divisions' high revenues, and that so far in the second quarter, activity "still remains high" but is lower than the first quarter. "we believe [volatility] is here to stay for a degree." Bigger swings in the prices of financial assets and commodities tends to lead to more profits for the sales and trading divisions of investment banks, as clients trade more in response.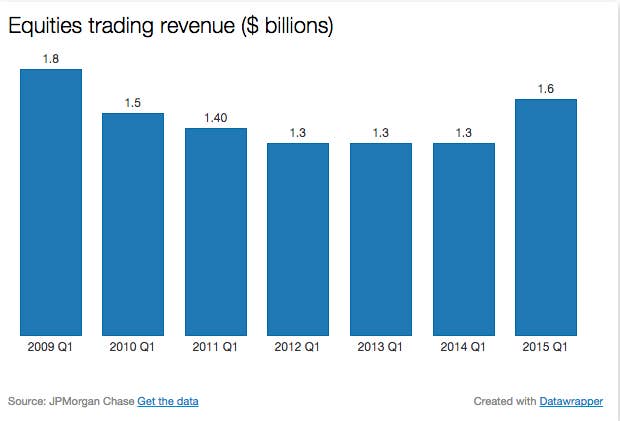 While having a legal expense of almost $700 million before taxes would be anomalously high for a different bank in a precrisis time, paying such large bills for expected litigation and settlements has become standard for JPMorgan — last quarter the bank disclosed a $990 million legal expense linked to a long-standing investigation in many banks' currency trading practices. Earlier this year, JPMorgan reached a settlement of about $100 million in a antitrust suit brought by investors in federal court in New York.
While the bank did not disclose what drove its legal expense this quarter, chair and chief executive Jamie Dimon said in his shareholder letter published earlier this month that JPMorgan "still face[s] legal uncertainty (particularly around foreign exchange trading)" but that he "believe[s] it will diminish over time." The bank's chief financial officer Marianne Lake said during a call with reporters that the bank was "in continued dialogue" with the Department of Justice, which is conducing its own investigation into foreign exchange trading, and that JPMorgan hopes to reach "an acceptable resolution over the coming weeks."
In its last earnings presentation and at an investors' conference in February, JPMorgan executives defended the bank's massive scale and diversity of businesses — everything from credit cards, mortgages, and large-scale commercial lending to trading and investment banking — at length. While regulators have not particularly targeted JPMorgan for a breakup, they have proposed and instituted new rules that go after the biggest and most complex financial institutions.
"JPMorgan Chase continues to support consumers, businesses and communities and make a significant positive impact," Dimon said in statement today. "We have an outstanding franchise which is getting safer and stronger, and is gaining market share over time."
While JPMorgan hasn't had its requests for increased dividends or buybacks rejected by the Federal Reserve like its megabank rivals Citi or Bank of America, Dimon said in his letter to investors that recent finalized and proposed changes in bank regulation that target larger or more complex banks do not necessarily reflect the actual riskiness of the bank's activities.
"We continue to build the company for the long-term, we are investing in controls, infrastructure, systems, technology, new products and bankers," he said. "We will continue to navigate challenges and deliver for our clients, shareholders and communities."