JPMorgan's Earnings And Revenue Down Due To "Industry-Wide Headwinds"
JPMorgan Chase reported a $5.3 billion profit and $23.9 billion in revenue, both missing analysts' expectatations.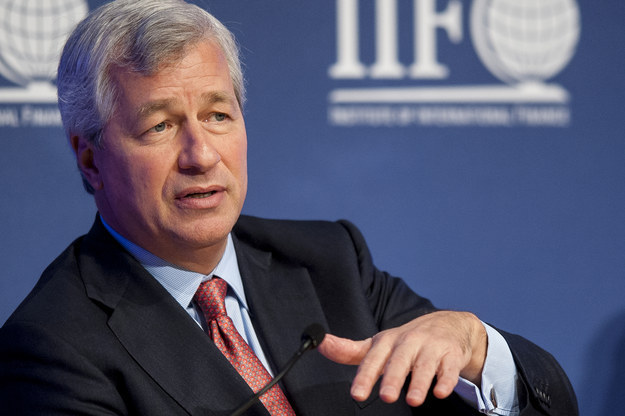 What many analysts expected to be a weak first quarter for Wall Street's earning got off to an even worse start, with the country's biggest bank, JPMorgan Chase, missing expectations on both revenue and profit. The bank reported revenue of $23.9 billion and net income of $5.27 billion, or $1.28 a share, well below the expectations of analysts polled by Bloomberg who predicted $1.38 a share of earnings. The results also reflected a less profitable business than a year ago, when the bank reported earnings of $6.53 billion, and $1.59 a share — a 19% drop.
The decrease was driven by a dive of revenue, which fell 8%, or $2 billion, from a year ago. Some of the biggest decreases in revenue were in the bank's bond and fixed income trading division, whose $3.8 billion in revenue was down 21% from the year before thanks to "weaker performance across most products and lower levels of client activity compared to a stronger prior year."
Overall, trading and markets revenue were down 17% on the year. JPMorgan's Chief Financial Officer Marianne Lake said in a conference call with analysts that there was no "meaningful pickup in activity in March, so it's reasonable to expect" that the weakness in trading would continue at least into the beginning of the second quarter.
Analysts expect to see major declines in fixed income trading, once the lifeblood of big-bank profits, across Wall Street as the banks report their earnings for the year. Overall trading revenue was expected to decline about 15% for the bank.
Dimon, however, pushed back against an analyst who suggested that JPMorgan'srevenue in trading and capital markets might be on a permanent downward trend: "I don't look at the $5 billion in markets revenue and cry in my soup. I think it's a pretty good business," Dimon said, "It's a good business. It will grow overtime, and it will have some secular adjustments."
JPMorgan is also one of the country's largest mortgage lenders and that business too saw large declines in revenue, as it has across the entire industry in the last year. JPMorgan's mortgage business had $514 million in revenue this quarter compared to $1.45 billion in the first quarter of last year, a 65% decrease.
"JPMorgan Chase had a good start to the year, given there were industry-wide headwinds in Markets and Mortgage," JPMorgan CEO Jamie Dimon said in a statement.
The fall in profits and revenue comes after a year that Dimon described in his shareholder letter as "the most painful, difficult and nerve-wracking experience that I have ever dealt with professionally was trying to resolve the legal issues we had this past year."
The bank continued its belt-tightening, with its total staff falling to 247,000, down 8,900 from the same time last year. This is despite a massive increase in the number of employees who work on compliance for the bank.
In his letter to shareholders, Dimon said that JPMorgan had added 13,000 employees who work on regulatory issues and internal controls since the beginning of 2012. In contrast, JPMorgan's community and consumer bank, which includes its mortgage business, has shed over 15,000 employees in the last year, 14,000 of which came from the bank's mortgage division.
As a whole, JPMorgan had a compensation cost of $7.86 billion, down from $8.4 billion in the first quarter of 2013. One area where the bank added no material expenses was in litigation.
Thanks to a $9.15 billion pre-tax charge in the third quarter of last year, the bank suffered its first loss under Dimon's watch. JPMorgan last year paid over $20 billion last year in settlements, fines, and compensation to investors to resolve legal issues stemming for its sales of mortgage-backed securities, the massive 2012 loss in a derivatives trades known as the "London Whale," and its banking relationship with Bernie Madoff. Its booked legal expense was $11.1 billion, which came straight out of its earnings. This quarter, any additional legal expense was not material to its earnings.
"It feels good have a quarter with such a small number and have put such large issues behind us," Lake told analysts on the conference call. "However, I want to remind you that we still expect legal expenses to be lumpy quarter over quarter for the next couple years as we work through remaining issues.
Update: This piece has been updated with comments from Marianne Lake from the bank's conference call.