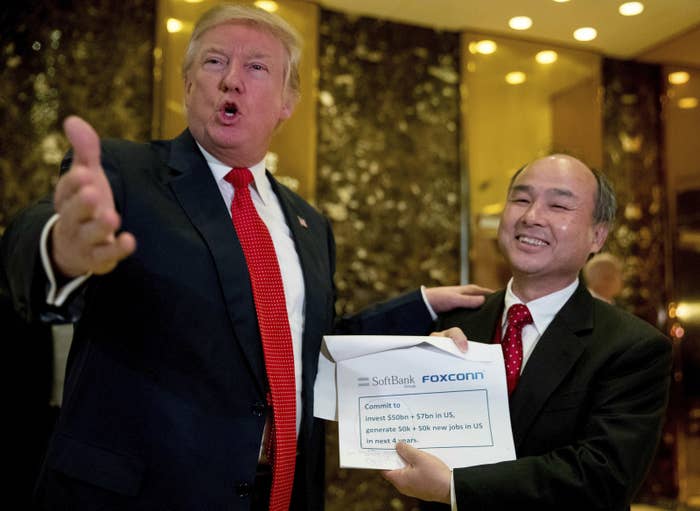 The billionaire chief of Japanese technology giant SoftBank visited Donald Trump today, announcing that his companies would invest $50 billion in the United States and create 50,000 new jobs in the coming four years.
"I just came here to celebrate his new job," Son told reporters camped out at Trump Tower. "He will do a lot of deregulation, I said, 'This is great, the U.S. will become great again.'"
"This is Masa of SoftBank from Japan," Trump told reporters, with the Japanese executive cradled under his arm. "He's one of the great men of industry, so I just want to thank you very much."
Son told the Wall Street Journal the US investments would come from a $100 billion technology fund he has created in partnership with Saudi Arabia.
SoftBank already has a major presence in the US. It owns Sprint and recently acquired the UK-based chip designer ARM, whose chips are used throughout the mobile industry, including in the iPhone. The company is also an active venture capital investor in Silicon Valley, where it invested $1 billion in online lender SoFi last year (SoftBank is an investor in BuzzFeed).
There's one particular US deal that is likely to be on Son's mind. Since buying Sprint, he has pushed to merge the company with T-Mobile, in a takeover that would create a serious third competitor to AT&T and Verizon. A 2014 attempt to merge Sprint and T-Mobile was called off after federal regulators made it clear they would oppose the deal.
But Donald Trump will soon be appointing a new set of regulators, and Wall Street interpreted the friendly words with Son as a hint that a takeover attempt could be in the cards again. After Trump's tweets, the T-Mobile's stock price shot up by about 3%, bringing its valuation to just under $50 billion.