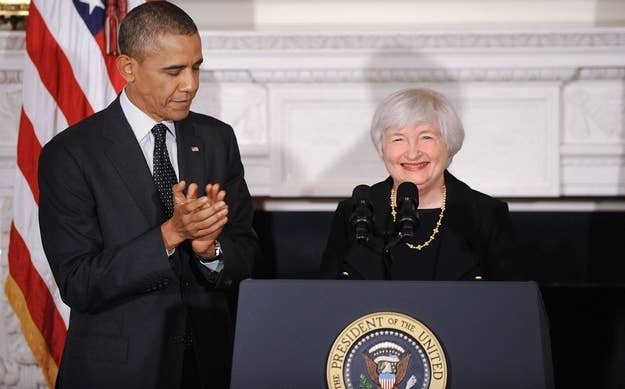 If Janet Yellen is confirmed to be the chair of the Federal Reserve, she might be the most powerful woman in American history and certainly the most important woman in the history of U.S. economic policy.
"You could not find a more qualified candidate to do this job," said Laura Tyson, a UC Berkeley economics professor and former chair of the Council of Economic Advisors in the Clinton administration. "For anyone who has residual concerns that women can not do a job like this, those concerns will be quickly dissipated," Tyson told BuzzFeed.
No woman has ever served as Treasury Secretary and only two women, including Yellen, have served as the Fed's vice chair. It took until 1978 for a woman to serve on the Federal Reserve's board of governors and no woman was actually appointed to the Fed in 1985.
"It is fantastic for the Fed that this last glass ceiling is shattering," said Cecilia Rouse, who served on the Council of Economic Advisors from 2009 to 2011 and is now dean of the Woodrow Wilson School of Public and International Affairs at Princeton. "I think Yellen really illustrates that women can handle all parts of the job for economists, especially in the policy world," Rouse told BuzzFeed.
Women continue to be underrepresented in the economics field — specifically in macro-economics and monetary policy.
Yellen's own slightly rocky road to today's nomination shows both the challenges for women in economic policy and their successes. Yellen was not the administration's first choice, despite her unmatched experience and qualifications in academia, economic policy, and central banking.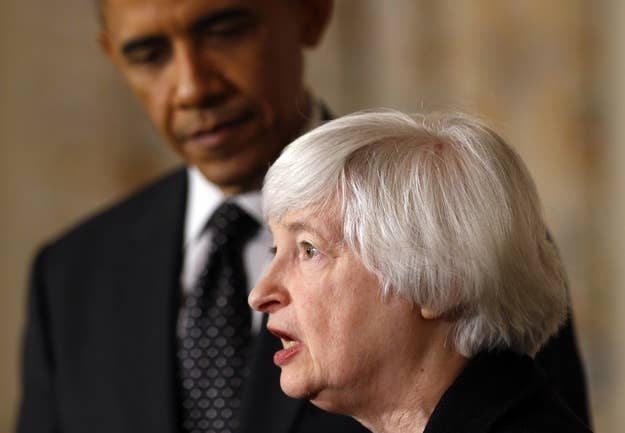 Larry Summers, the former head of the National Economic Council and Treasury Secretary at the end of the Clinton administration, was the administration's first choice. Summers had much closer personal relationships both with the president and his closest economic advisors, unlike Yellen who had not cultivated close ties with the White House. But after Summers withdrew himself from consideration when a key block of Democratic senators told the White House they would oppose his nomination, Yellen became the obvious choice.
"She's a terrific source of inspiration to women around the world," said Tyson. "The importance of having women occupying these positions is in serving as inspiration, women can say 'there isn't any reason why there shouldn't be more women doing macroeconomics.'"
"Most people who achieve some level of success and are happy with what their doing can identify one or two people who inspired them, having Janet Yellen in such a visible position to be that inspiration for women of all ages, that's really important," Rouse said.
The economics profession is still largely male, and that gender balance is reflected in major economic policy positions and central banking, which tend to draw upon the best and the brightest in academics. Yellen had been on the faculty at UC Berkeley since 1980, only leaving to serve on the Fed's Board of Governors, the Clinton administration, and the San Francisco Fed.
Caroline Freund, a former Federal Reserve economist and now a fellow at the Peterson Institute, wrote in the Washington Post last month that only three of the 34 Organization for Economic Cooperation and Development countries have had a female central banker, and none of them since 2002. Among the seven richest countries, none of have had a woman lead its central bank.
Women earned only 34 percent of economics doctorates in 2011, compared to 46 percent of all doctorate degrees. In 2012, women were only 22 percent of tenured associate professors and less than 12 percent of full professors in economics.
"We'd like to see things change in a somewhat faster pace, but progress is being made and Janet is major," Tyson told BuzzFeed.
"We've had improvement, but there is still much room to go," Rouse said.