Jamie Dimon's Charm Offensive Wins Over Investors
Despite over $20 billion in payouts to settle legal and regulatory matters, JPMorgan's CEO has convinced his shareholders not to press for any big changes.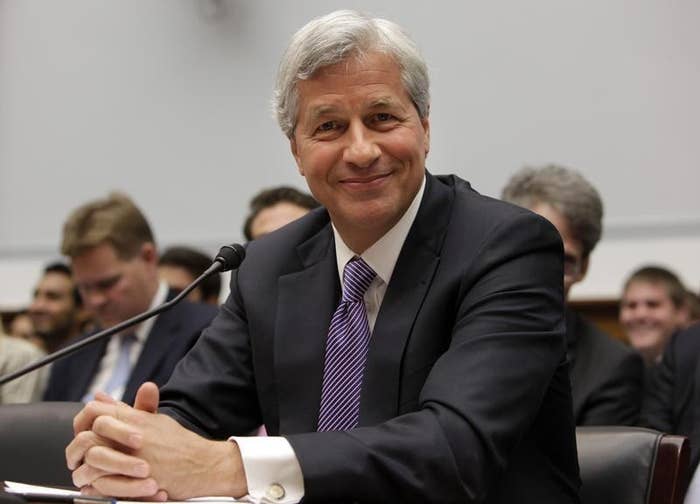 JPMorgan Chase's board and its leader, Chairman and Chief Executive Officer Jamie Dimon, were happy to tell their shareholders at its annual meeting in Tampa that they have been listening. "The board has made communications with shareholders a priority," lead director and former ExxonMobil CEO Lee Raymond said in his opening remarks today. "We've heard a number of constructive comments in regard to board membership and the construction of the board."
The charm offensive appears to have worked — an overwhelming majority of the shares voted before the meeting began approved the compensation packages for Dimon, who received an $8.5 million raise to $20 million, and other JPMorgan executives. Members of the bank's board were reelected with no less than 96% of the vote each, and none of the shareholder proposals — more disclosure of the bank's lobbying activity, lowering the thresholds for holding a special shareholder meeting, or changing the way shareholders vote for directors — managed to get more than 34% of the preliminary votes.
The results of today's vote differ decidedly from JPMorgan's previous two annual shareholder meetings, when a group of shareholders pushed a resolution to separate the chairman and chief executive officer titles, which would have stripped Dimon of his role as holding the two most important jobs in the country's largest bank. Two years ago that proposal won 40% of the vote; last year it won 32%.
Since then, JPMorgan has reshaped its board, replaced two directors without experience in financial services — Honeywell CEO David Cote and Ellen Futter, the president of the American Museum of Natural History — with former GE Capital CEO Michael Neal and Linda Bammann, who was chief risk officer of BankOne when Dimon worked there.
Raymond also sought to allay concerns that JPMorgan has no formal process for picking Dimon's successor or a deep bench of executives who could take over for Dimon — a perception that was heightened by the departure of its co-head of investment banking, Michael Cavanagh, in March, and several of Dimon's top lieutenants leaving in the last few years. Since last year's annual meeting, the company gave Raymond new responsibilities, including "guid[ing] full Board consideration of CEO succession issues." "The board believes we have a first-rate leadership team and a strong pipeline for the future," Raymond said.
While 2013 was dominated by JPMorgan's legal troubles — the bank agreed to pay over $20 billion in penalties, settlements, and compensation for investors — the question for 2014 and beyond is how it can continue to grow despite higher capital requirements, stricter regulations, and shrinking revenues in fixed income trading, the traditional profit center for megabanks like JPMorgan.
Earlier this month, JPMorgan disclosed in its quarterly report that it expects trading revenue to drop 20% in the second quarter from the year before. This disclosure followed JPMorgan's first quarter results, where trading and markets revenue dropped 17%. The flagging of JPMorgan's revenue engine, along with a slowing housing market, has dragged down the bank's stock some 8% this year. At the meeting, Dimon shifted the focus among investors to the longer term, saying that JPMorgan could ride a wave of global growth to help more companies raise more money, predicting that equity and debt issuing would be up more than 25% over five years.