Jamie Dimon Will Get Paid $20 Million For 2013
An $8.5 million raise from the year before, despite over $22 billion in fines, penalties, and compensation from the bank in 2013.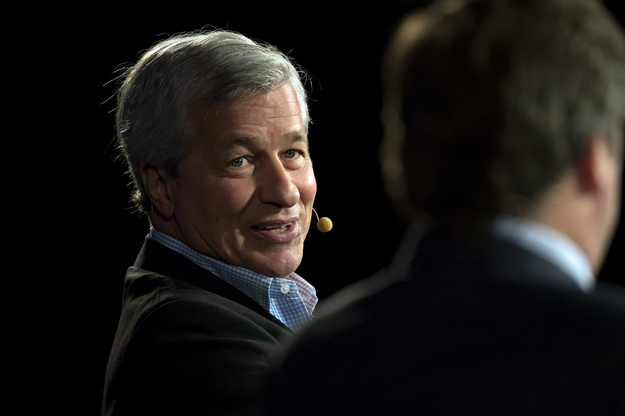 Jamie Dimon has 20 million reasons to be happy with JPMorgan's board.
Despite a year that featured its first quarterly loss since 2004, JPMorgan's board said Friday that it had agreed to a $20 million compensation package for Jamie Dimon for 2013. Of that, $18.5 million comes in the form of restricted stock units that he will receive over three years, half after one year and the other half after two years. His base salary is the same from 2012, $1.5 million, with no cash bonus, only the restricted stock units. In a filing, the company said that Dimon's compensation package is tied to "the company's future performance, including continued progress on the company's regulatory agenda."
Dimon got a substantial raise from 2012, when he received $11.5 million due to the more than $6 billion loss JPMorgan suffered in a derivatives trade known as the London Whale.
Dimon's 2011 compensation was $23.1 million, then the highest among his megabank peers.
In 2013 alone, JPMorgan was ordered to pay out over $22 billion in fines, penalties, and compensations for homeowners and mortgage-bond investors.
The bank's stock performance in 2013 was in line with its peers despite the massive fines, settlements, and payouts. In 2013, JPMorgan shares rose 33%, from $43.84 to $58.48 while the broader S&P 500 rose 30% and an index of financial companies also rose 33%. JPMorgan's revenue over the past three full years has been relatively steady: $96.6 billion in 2013, $97 billion in 2012, and $97.2 billion in 2011.
Its profit, however, has swung around more, thanks to a slowdown in the housing market and its own legal troubles: $17.6 billion in 2011, $19.9 billion in 2012, and down to $16.6 billion in 2013. This past year, the bank suffered its only loss during Dimon's reign, when it reported a $380 million loss thanks to $9.2 billion pretax charge to cover litigation and legal costs brought on by federal prosecutors' and regulators' investigation into its packaging and sale of mortgage backed securities before the financial crisis.
Just over a week ago, JPMorgan reported a 7.3% drop in fourth-quarter profit over the year, down to $5.3 billion, partially thanks to $1.1 billion in legal costs, $850 million attributed to its settlements linked to its relationship with Bernie Madoff as his primary bank for his massive Ponzi scheme.
The company said that "under Mr. Dimon's stewardship, the company has fortified its control infrastructure and processes and strengthened each of its key businesses."