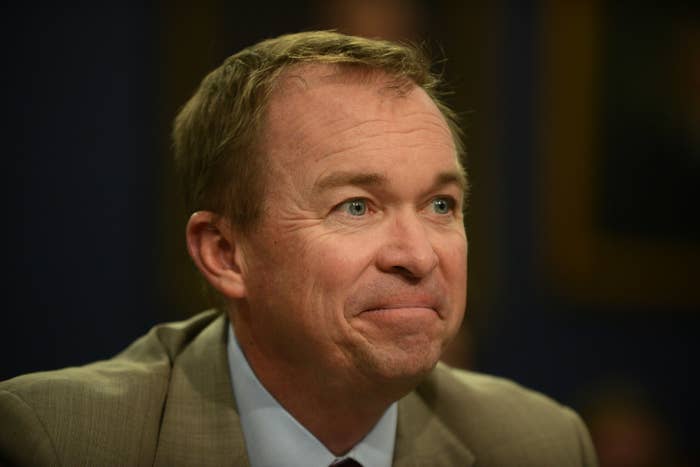 The Consumer Financial Protection Bureau's DC headquarters was in a state of controlled confusion Monday as two people — the bureau's Deputy Director Leandra English and President Trump's pick to run the office, Mick Mulvaney, who is still serving as director of the Office of Management and Budget — both said they were the acting director of CFPB. The agency's former director Richard Cordray resigned Friday just before designating English as the CFPB's deputy director and his successor.
English's lawyers filed an emergency motion late Sunday night seeking a temporary restraining order to block Trump from appointing an acting director and stop Mulvaney from exercising any authority as acting director of the bureau while the case moves forward. The case was assigned Monday afternoon to US District Judge Timothy Kelly, a Trump nominee who was confirmed in September.
Kelly held a hearing Monday afternoon on English's request for immediate court action, but he did not rule from the bench. A US Department of Justice official told the judge that the government planned to file a response to English's emergency motion in the evening, and Kelly said he would read that and then decide what to do next.
Kelly asked English's attorney, Deepak Gupta, to address the fact that they were asking the court to block the president himself from taking action, which was an "extraordinary remedy." Gupta replied that he didn't disagree with the judge's characterization, but that it was an "extraordinary case." Whatever Kelly decides, the case is expected to go up on appeal to the US Court of Appeals for the DC Circuit, something that Gupta noted in asking the judge to rule as quickly as possible.
English is seeking the court's help in solidifying her position as acting director even after CFPB General Counsel Mary McLeod wrote a memo advising staff "to act consistently with the understanding that Director Mulvaney is the Acting Director of the CFPB."
English's lawyers are arguing that the law that established the CFPB, the Dodd-Frank Act, set out a succession order that should control. They're also contending that even if Trump does have authority to appoint an acting director, the appointment of Mulvaney — a sitting executive branch official — violates the CFPB's independent status.

A senior administration official told reporters Saturday that they expected English to show up to work on Monday. "She's the deputy director of the CFPB, she should be there on Monday," the official said. Gupta told Kelly on Monday afternoon that English went to the bureau's building on Monday and had been performing work in what she believed was her capacity as acting director. Kelly asked the Justice Department lawyer, Brett Shumate, if the government expected English to be fired. Shumate, the deputy assistant attorney general in the Federal Programs Branch of the Civil Division, said he couldn't speak to that.

In a press conference Monday afternoon, Mulvaney announced that he had implemented a 30-day hiring freeze and a month-long halt on any new regulatory action, including rules, regulation, and guidance "while I get a chance to see exactly what's going on." As for the Bureau's payday lending rules, which were finalized in October, Mulvaney said that they were likely beyond his control.
Mulvaney said that President Trump "wants me to get it back to the point where it can protect people without trampling on capitalism, without choking off the access to financial services that are so critical to so many folks."

Many conservative economists, analysts, as well as financial services industry figures have critcized the CFPB for making it harder for lower and middle income people to borrow money because of the costs of complying with CFPB rules.
When asked about his previous comments about how he'd rather the CFPB not exist, Mulvaney said that he thought "other agencies could do this job just as effectively" but that the law mandated the existence of the CFPB.

Mulvaney said Monday afternoon that he hadn't met English yet, "I think she's still employed here, I think her ID is still valid, I certainly haven't taken any steps to terminate her."
Like any new boss eager to build loyalty, Mulvaney showed up at CFPB early Monday morning with a bag of Dunkin' Donuts. Trump appointed him to temporarily lead the agency until the Senate can confirm a new director.
An Office of Management and Budget communications staffer then tweeted a picture of Mulvaney at 7:56am "hard at work as acting director of the CFPB," showing the Trump appointee pouring over binders of documents.
Cordray's pick, English, however, was not on board. Shortly after, a New York Times reporter tweeted a message from English, signed "Leandra English, Acting Director."
Mulvaney had sent a memo to CFPB staff telling them to "disregard any instructions you receive from Ms. English in her presumed capacity as Acting Director," Reuters reported.

Mulvaney continued to meet with CFBP staff through the morning, including some of the Bureau's associate directors and most senior staffers.
Pictured with Mulvaney, going circular from left to right are Gail Hillebrand, the Bureau's Associate Director for consumer education and engagement, Christopher D'Angelo, the Associate Director for supervision, enforcement, and fair lending, and general counsel Mary McLeod.
If there was one thing the CFPB could agree on Monday, it was doughnuts.
UPDATE
Updated with reporting from the Monday afternoon court hearing.