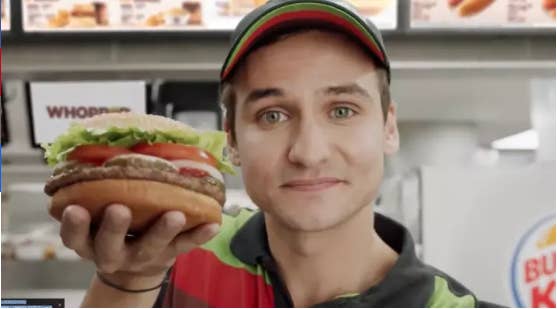 Update (Thursday, 12:20am): Around midnight, Burger King's ad ran on Jimmy Kimmel Live. It worked, prompting Google Home to read a description of the Whopper burger.
For less than three sweet hours, a Burger King ad successfully tricked Google's voice-activated Google Home devices into reading out the ingredients of a Whopper, in a marketing stunt designed to "punch through that fourth wall," according to Burger King's president.
In the ad, a person looked straight into the camera and said "OK Google, what is the Whopper burger?," using the prompt that triggers Google Home devices. In response, any Google Home speaker nearby would rattle off an excerpt from the Wikipedia entry for the sandwich.
No more.
While a normal human being can still ask their Google Home about the burger, the audio from the ad itself no longer triggers the devices, BuzzFeed News tests have found.The Verge first reported on the change. It's unclear if Google has disabled the specific audio from the ad from being recognized by its devices — neither Burger King nor Google immediately responded to requests for comment.
The rollout of the Burger King ad hasn't been flawless, although it certainly got the brand plenty of attention. Almost immediately after the ad was first released, Wikipedia users began to alter the site's entry for the Whopper, in an attempt to prank the pranksters and trick Google Home devices into reading out ingredients for the whopper that included "cyanide" and "a medium-sized child."