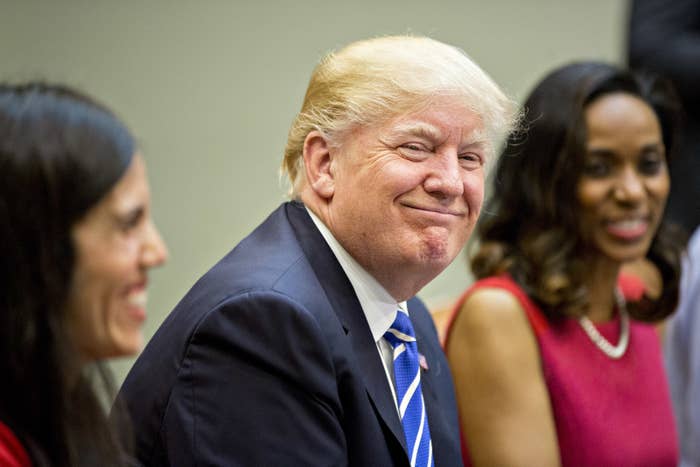 As Republican attempts to kill Obamacare flamed out spectacularly, investors began rethinking an assumption that caused markets to rally for months: Perhaps the Trump administration and its allies in Congress, they suddenly realized, won't pull off the sweeping tax cuts that many have been expecting.
Since the election, investors have been betting that unified Republican control of Washington will make it rain for big businesses and the wealthy. The "Trump trade" helped push the S&P 500 up by 12% between Election Day and March 1, and executives and major investors have spoken glowingly of a new optimism in the US economy.
But that thinking — and the market rally that came with it — has begun to recede. The S&P 500 has fallen 2.4% so far this month, and dropped by another 1% in early trading Monday, before recovering somewhat in the afternoon.
Here's the S&P 500 so far this year
"Since the election, stocks have rallied partly on the assumption that the Trump administration would provide less regulation, fiscal stimulus in general, and lower corporate taxes in particular," wrote David Kelley, the chief global strategist for JP Morgan Funds, in a note Monday. "For many, the failure of the American Health Care Act would seem to dash these hopes."
Investors are focusing not so much on the demise of the Obamacare repeal effort, but on how the proposal couldn't even pass a vote in the solidly Republican House of Representatives. It suggests that efforts to slash corporate and individual tax rates, or pass a trillion-dollar infrastructure spending bill, might not be the walk in the park implied by bullish traders.
The Obamacare repeal plan failing was "undoubtedly a negative signal for the rest of President Trump's agenda — including tax reform — but it is far from a death knell," wrote Isaac Boltansky, an analyst at Compass Point, in a note to clients Monday morning. Boltansky said he thinks some kind of tax reform is still likely to pass this year, but that the health bill's failure raised questions about large-scale Republican legislative efforts.
"While divisions on tax reform are not comparable to those on healthcare, Republicans also lack a prevailing view about how to reform the tax code," Libby Cantrill, the head of public policy at the massive asset manager PIMCO, wrote Monday.
One tax idea favored by many influential Republicans, including House Speaker Paul Ryan and Ways and Means Committee Chairman Kevin Brady, involves a so-called border adjustment tax, which would increase taxes on imports while removing taxes on exports. But that plan has already faced skepticism from Senate Republicans, including Arkansas Sen. Tom Cotton and Senate Finance Committee Chairman Orrin Hatch. The plan is also already fiercely opposed by retailers and other businesses that rely on imports.
The White House is yet to come out with its own plan, although in February Trump said details of his "big league" tax proposal would be released within weeks. But the process is made trickier by the collapse of Obamacare repeal efforts.
That's because Ryan and Brady envisioned that they could pass a tax bill that would reduce tax rates, but also raise enough money by closing loopholes so that it would eventually be "revenue neutral." Such bills, which don't cause the budget deficit to rise over the long run, can be pushed through in a fast-track process that cannot be blocked by Democrats in the Senate.
But the math for that required them to repeal Obamacare first, slashing federal revenue by getting rid of the new taxes that came with it. That is why health care came before tax cuts in the legislative calendar, a decision Trump has reportedly told associates he regrets.
Ryan said on Friday that the collapse of his Obamacare repeal plan makes tax reform "more difficult." A simple tax cut would now need to get 60 votes in the Senate — meaning at least some Democratic support — or, like the Bush tax cuts, it could be fast-tracked but would expire after 10 years.
"Political realities could force the conversation to eventually shift from tax reform to tax relief," Boltansky wrote, "meaning Speaker Ryan's reimagining of the code may ultimately be replaced by a narrower package of rate cuts and targeted modifications."