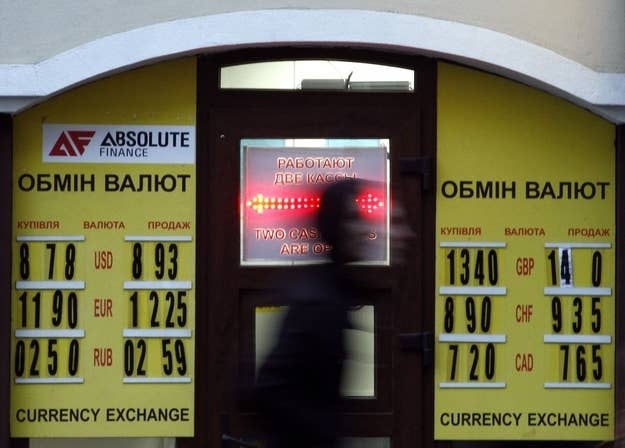 Russia's stock market and its currency may take a hit from the country's invasion of Ukraine, but its economy — rooted in natural resources controlled by the state and dominated by oligarchs who keep their money off shore — is unlikely to suffer broad damage even from threatened Western sanctions.
Indeed, while investors expect a sell-off in stocks tied to Russia when markets open Monday, the biggest damage will be felt by Ukraine's much smaller economy, which is already in the midst of an economic slump.
"The major impact will potentially be felt in the Ukraine economy which is already reeling from the disruption of the past three months and facing significant short-term pressures," Chis Weafer, a senior partner at the Moscow-based consulting firm Macro-Advisory, wrote in a note to investors. The country's economy shrunk last year and is forecast to shrink another 2% by Macro-Advisory.
Ukraine's currency, the Hryvnia, has fallen more than 13% in the last month against the dollar, hitting a low of 10.7 per dollar, but has since rallied to 10 per dollar on Friday. Ukraine is also seeking billions in support from abroad, possibly the IMF, as the $15 billion Russia promised last December is now unlikely to be delivered.
That said, investors in Moscow are bracing for a bad week.
"Russia is going to be down big. The ruble, fixed income and definitely equities," said William Browder, head of the hedge fund Hermitage Capital Management and a fierce critic of Russian president Vladimir Putin, said in an email.
Weafer also wrote that he anticipated that Russian stocks would be down Monday.
"Ruble and equity indices face a knee-jerk hit," Weafer wrote, "An initial negative knee-jerk reaction is inevitable in the ruble, the domestic debt market and in equities when the Moscow bourse opens Monday."
The damage to the Russian economy will likely be "quite minimal," Weafer said, because exports like natural gas, oil, and grain "are not likely to be subject to restrictions," he said.
Russia is the world's second largest oil exporter, shipping out 7.2 million oil barrels, over 4.5 million more barrels per day than the third largest exporter, Kuwait, according to the U.S. Energy Information Administration. Russia is also the world's second largest gas producer and 76% of its exports go into Western Europe. Russia's gas pipelines are dominated by Gazprom, a majority state-owned company that also produces three quarters of Russia's natural gas. In 2009, Russia temporarily stopped shipping natural gas to Ukraine, which also cut off European countries whose Russian gas purchases flowed through Ukraine.
Gazprom said yesterday that it may suspend a discount Ukraine receives on gas imports because of Ukraine's outstanding debt to the company, according to Reuters. Such a move "would deepen Ukraine's already serious financial crisis," Nomura analyst Alastair Newton said in a note to investors.
The form of any western action against Russia — and the extent it may extend into the banking sector or foreign investment — is unclear.
Russia, especially its energy sector, has received a large amount of foreign investment recently. The country as a whole got $94 billion worth of investment according to the UN, making it the third largest recipient of foreign investment. According to the most recent data from the U.S. Trade Representative, there's some $10 billion worth of U.S. investment in Russia. The U.S. companies with the largest commercial relationships, like Exxon, "have been active in Russia for many years have historically sidestepped political disputes," Weafer wrote.
Additional reporting by Mariah Summers.