How To Make $6.5 Billion In 90 Days
JPMorgan Chase reported $6.5 billion in net income for the second quarter, a 31% jump from a year before. But loans and profits from them are down, so where is the money coming from?
JPMorgan, America's largest bank by assets, can sometimes function as a barometer for the U.S. economy and this quarter's results are no exception. The bank's $6.5 billion in in net income on $26 billion in revenue, which mean earnings per share of $1.60, beating analysts' expectations, was largely from a more profitable investment banking business and reserve releases.
The bank's profits from consumer and community banking, which includes businesses like mortgages, auto loans, and credit cards, were just over $3 billion, down 6% from a year ago.
In a call with analysts, chief financial officer Marianne Lake said, "If mortgage rates stay at or above current levels, the market could be reduced by an estimated 30 to 40%." According to a Freddie Mac survey, 30 year mortgage rates are at 4.51%, up from 3.42% from three months. Since a large portion of JPMorgan's mortgage business is refinancing existing mortgages to lower rate loans, rising rates mean fewer loan originations going forward. Lake said "higher rates will have a significant impact on mortgage refinance volumes and margins during the second half of the year." Dimon put it more bluntly: if mortgage rates stay elevated or continue to rise, there would be "a dramatic reduction in profits."
The corporate and investment bank's high profits – $2.8 billion, up 19% from a year ago – largely came from the bank's underwriting business, as opposed to advising, reflecting a frothy time for issuing loans and stock and a relatively placid M&A environment. Investment banking fees were $1.7 billion, up almost $500 million and 38% from a year ago. Debt underwriting was $956 million of that total, equity underwriting $457 million and advising only $304 million, down 15% from a year ago. JPMorgan is ranked first in investment banking fees for the first half of the year.
Journalists and analysts tend to snicker when a large portion of a company's profit comes from reserve releases – money that's set aside to make up for future losses counts as an expense, so when it's "released," it's a profit. That's because you can't release your way to profitability. But the $1.5 billion of pretax JPMorgan released this quarter from loss reserves for its real estate and credit card divisions show how much the large economy affects a bank with as many businesses as JPMorgan. These charts released today with the earnings show that delinquencies on home and credit cards loans have been steadily falling, which gives the bank the breathing room to do these reserve releases. In a release with the earnings, the bank said that if delinquencies continue to go down, there will be more releases later in the year.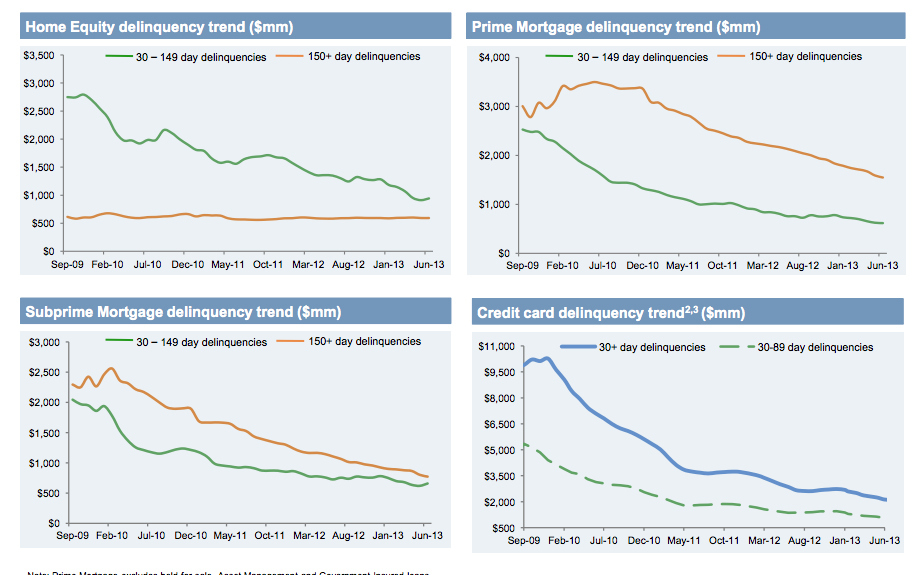 But the net addition to JPMorgan's pretax net income was only improved $900 million from reserve items – that's because $600 million was set aside to pay potential future litigation costs. The same reason JPMorgan can make so much money in everything from credit card loans to derivatives trading is why it's such a juicy target for regulators. It's currently facing an investigation from the Office of the Comptroller of the Currency, the federal bank regulator, for its credit card collection practices.