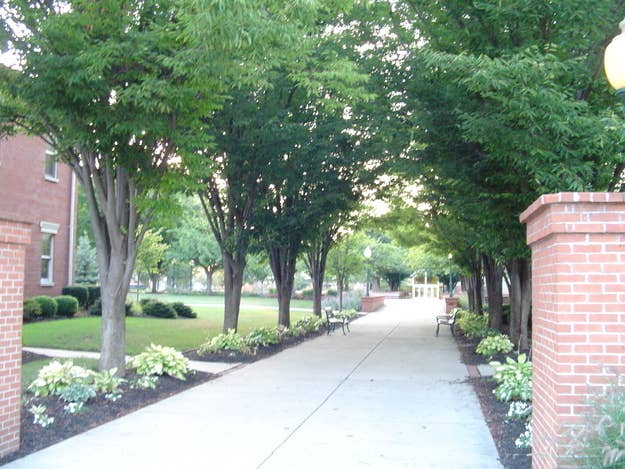 Last Friday, President Barack Obama was speaking to students in Scranton, Pennsylvania.
"We're going to encourage more colleges to innovate, try new things, do things that can provide a great education without breaking the bank," he told the cheering kids, and the nation's nervous college administrators. "For example, a number of colleges across the country are using online education to save time and money for their students."
Across the country in San Francisco that same day, Paul Freedman, the founder of a company that had won a grant funded by the Gates Foundation to do roughly what the president described, got a FedEx package from the federal government.
This was not a letter of commendation. It was a notice from President Obama's Department of Justice that his company, Altius Education, is under federal investigation. The notice was the culmination of a more than two-year battle between Altius and the Higher Learning Commission, one of two members of the 118-year-old North Central Association of Colleges and Schools, which controls accreditation — the vital credential that gives college degrees value — for over 1,000 colleges and universities in 19 states. The HLC's university backers have an obvious interest in avoiding the sort of low-cost competition that reformers, and now the president, seek. And commission documents that have not been released publicly, but were provided to BuzzFeed by Altius, paint a picture of a regulator that punished the company specifically for doing something — trying to reinvent a low-cost new college education — that are core goals of federal policy. And so even as Obama trumpeted innovation from the stage in Scranton, Freedman's attempt to put it into practice seemed to have hit a wall.
"It struck me as highly ironic and deeply frustrating that we were trying to do exactly what Obama describes what the market needs and yet we're getting resistance from his administration," said Freedman, an earnest, bald 34-year-old who started Altius after selling a college recruitment technology company in 2004.
The Altius program that drew the HLC's scrutiny was its partnership with Tiffin University, a small college in Tiffin, Ohio, that explicitly aims to provide "personal and practical education for motivated, professionally focused students who want real-world experiences and results." Starting in 2008, Altius began to offer associate degrees through a new college within Tiffin called Ivy Bridge College of Tiffin University. Ivy Bridge issued Tiffin degrees and was designed to be controlled academically by Tiffin, while Altius did marketing, technology, and provided student services like "personal success coaches." The program had an emphasis on students transferring to four-year schools, and had agreements with over 150 to accept its students. In 2011, Tiffin President Paul Marion told Insider Higher Ed: "We weren't going to cheapen or degrade our academic quality or our admissions processes or anything like that… If we'd have been forced to drop our admissions standards or water down our curriculum, then we would have backed out."
The arrangement's backers, and some education reformers, saw the program as a model of innovation, with satisfyingly concrete results: At an average cost of just below $10,000 a year — and often underwritten by federal student loans — about two-thirds of students transferred to two- or four-year institutions, the program's goal.
But the Higher Learning Commission and its president, a Victorian literature scholar and former chancellor of the University of Illinois at Chicago named Sylvia Manning, saw something different: Yet another for-profit university gaming the system. Manning had launched a crusade against what she viewed as suspect partnerships between traditional universities and for-profit upstarts, and instituted new rules in 2010 to require further HLC approval of agreements between accredited schools and for-profit companies that substantially changed the nature of the school.
In a report obtained by BuzzFeed, the HLC took steps toward shutting down the experimental arrangement precisely because "student body, faculty and educational programs are not like the structures" on the campus of the brick-and-mortar university that was its partner. This difference was the entire point of Ivy Bridge, and is at the heart of Obama's proposals. Now the case of Ivy Bridge offers a glimpse at just how difficult it may be to force changes through an educational establishment whose incumbent universities make the rules.
Few education observers — least of all Freedman — deny that there's a large and questionable industry of for-profit education. A United States Senate investigation cast many for-profit institutions as saddling students with debt and leaving them without marketable skills. The New York State Attorney General this week, in fact, announced an investigation of "Trump University," which allegedly defrauded its students. But Altius is not, on its face, in that category: It's a venture-backed product of Silicon Valley, with all the grand, disruptive ambition and social mission that comes with that territory, and both its promise and its alleged flaws appear to be more those of an ambitious startup than an old-line scam.
Once HLC acted, the consequences for Ivy Bridge were dire: It is struggling to find a way forward, and to place its students in other institutions, even as the Toledo Blade, the respected local paper, blames it for failing to warn its students sooner. On Aug. 1, Tiffin told students that Ivy Bridge College would no longer offer associate degrees. A week later, HLC released a statement saying that Tiffin had to end its relationship with Altius over a set of primarily bureaucratic concerns over the shape of the relationship between the two institutions.
And, according to the documents obtained by BuzzFeed, in particular a key 33-page report finding that Ivy Bridge did not meet HLC's standard for accreditation, the commission's core objections to Ivy Bridge had little to do with the quality of its pedagogy. They were, instead, bureaucratic, and established what Freedman argues is a kind of catch-22: In order to seek its own accreditation, Ivy Bridge had begun to offer classes beyond the scope of its original plan with Tiffin, ones that could lead to a four-year degree. But that act of trying to seek its own accreditation had, by definition, according to the HLC, opened it and Tiffin up to censure. Indeed, a spokesman for HLC didn't respond to an inquiry about how a school like Ivy Bridge could possibly go about seeking its own accreditation, instead referring a reporter to a statement first released last week, in which HLC said that the relationship between Tiffin and Altius through Ivy Bridge College had not been approved by the commission. Since Tiffin had withdrawn its request for approval of Ivy Bridge College, HLC had "no alternative other than to request that Tiffin cease its relationship with Ivy Bridge College."
The HLC statement traces the process back to early 2012 when the commission said it first learned about Ivy Bridge College.
Ivy Bridge College, however, had been operating since 2008, and the relationship between Altius and Ivy Bridge dated back to 2007. And the Higher Learning Commission knew about it. The back-and-forth between the HLC, Tiffin, and Altius over a course of years shows the difficulties that new approaches to higher education can face against the structures overseeing and regulating existing institutions.
The correspondence began in January 2008, when Marion wrote a letter notifying his accreditor that Tiffin would begin to offer an associate degree in general studies "through an organizational entity named Ivy Bridge College of Tiffin University, which has been created as a joint venture between Tiffin University and a company known as Ivy Bridge, LLC." The letter promised that Tiffin would retain academic control and the school would offer Tiffin degrees, while Ivy Bridge (which would later be renamed Altius) would fund the college and offer academic support. Tiffin also had an equity stake in a joint venture with Altius.
In June 2009, Marion wrote another letter to the HLC, notifying them that two more associate degrees would be offered through Ivy Bridge College.
Thirteen months later, HLC notified Tiffin that the school had maintained its accreditation and wasn't due to go up before the HLC until 2019. In a document accompanying its accreditation, HLC cited Ivy Bridge College and singled it out for praise, describing it as a "clear example of using external relationships to further the mission of the University," adding that it "delivers education to a relatively underserved population." The attached peer review said that "the concept of the Ivy Bridge partnership is an excellent strategic initiative. It addresses an underserved population through a strong curriculum…and a very good online portal for program delivery." It also praised the leadership of Ivy Bridge, based at a satellite Toledo, Ohio, location, as "effective administrators."
The relationship started its downward spiral in late 2011. On Dec. 2, Marion wrote a letter to the HLC outlining the Ivy Bridge program with Altius (the company changed its name in 2009), reporting that enrollment was up above 3,000 students, and informed the accreditor, "The next step is to apply for independent accreditation, with Altius University as the name to be used." The plan was to set up a campus in Oakland, California, near Altius' San Francisco offices, and seek accreditation through the regional accreditor, the Western Association of Schools and Colleges. The new school would still be a joint venture between Tiffin and Ivy Bridge, would operate independently, and Tiffin would have an equity stake.
In a response from Feb. 27, 2012, Manning, the president of the HLC, said that the proposal would constitute a "Change of Control, Structure, or Organization," and would require permission from the HLC. She also wrote that "joint ventures" were covered by this requirement as well as any time there was a substantial transfer of assets from Tiffin to another entity. The letter acknowledged that "the last comprehensive evaluation team was aware of a relationship," but that there was "what now appears to be a transfer of a substantial portion of the HLC accredited institution, Tiffin, to another entity, AU, in preparation for that entity to seek accreditation with WASC." Even this transfer would require HLC approval under new guidelines in effect in June 2010 that mandated HLC review and approval of relationships between accredited and non-accredited institutions. In a follow-up letter in June, Manning wrote that even if Altius were approved to be set up on its own, that would still be "a change in Tiffin University's structure" that would require review and approval by the HLC. Furthermore, Manning said the HLC would have to conduct a fact-finding visit "to determine whether AU is already essentially an autonomous institution even while remaining nominally under the oversight of TU."
In Tiffin's 88-page request for the change of control mandated by the HLC — along with a separate request to set up the Oakland campus — the university claimed that the subsequent breakup of Tiffin and Ivy Bridge into Altius would have "minimal" effects on Tiffin because the program was "financially supported solely by investments from AE and by tuition revenues." The only loss to Tiffin would be a payment from Altius for administrative overhead, "but the loss of this modest amount will have no material financial impact," the document says. The latest service payment from Altius was $418,316. Altius' total financial contribution to Ivy Bridge from 2007 through 2012 was $10.2 million. Through 2010, Altius raised just under $30 million.
Tiffin sent in its documentation to the HLC on Oct. 3; two weeks later, Altius won a $300,000 grant from Next Generation Learning Challenges, funded by the Gates Foundation. The release announcing the grant praised Ivy Bridge's "streamlined transfer, a robust student support model, proven pedagogical methods, and groundbreaking learning technologies."
The only substantive academic change to Tiffin would be that it could no longer offer a general studies associate degree for two years, due to a planned noncompete. In August 2012, Ivy Bridge had just under 2,200 students while the rest of Tiffin had 3,357 students. In January of this year, according to Altius, there were 2,400 students enrolled at Ivy Bridge, 93% were eligible for Pell grants, and 69% were below the poverty line.
On May 31, the HLC sent Tiffin the result of its examination of its arrangements with Altius and the results of its visit to the campus in March 2013. In the cover letter, Karen Solinksi, the vice president for legal and governmental affairs for the HLC, warned Tiffin that bad news would be coming:
"With so many issues, it is likely that the Board will be considering denial," she wrote. "The Board will likely also consider setting a deadline by which AU/Ivy Bridge would need to be disassociated from Tiffin, and requiring a teach-out plan for students at AU/Ivy Bridge who need to remain at an accredited institution to be taught out by another institution."
In the 33-page report, dated May 22, the HLC's "Staff Summary Report to the Board of Trustees For Change of Control, Structure, and Organization" outlined several objections to Tiffin's joint venture with Altius Education and found Tiffin out of compliance with 11 "core components" and criteria for approval and that "other core components are met but with quality concerns." The HLC said that Tiffin "failed to demonstrate that the investors…have significant experience or expertise in running an accredited institution or a component thereof." Ultimately the HLC concluded that "Tiffin has provided its accreditation to another entity in exchange for various fees."
The report also tried to deal with the apparent discrepancy between the accreditation in 2010 and its harsh review in 2013, saying that the previous reviewers saw Ivy Bridge as "an expansion of distance education and the development of a student support center in Toledo" and that the past review did not remove the requirement to have a joint venture or change in control approved. The 2010 accreditation did, however, list 10 degree programs that Tiffin could offer online without further commission approval.
One key dispute is over the level of control Tiffin exercised over Ivy Bridge. The summary report says that "Tiffin does not provide…adequate oversight over AU/Ivy Bridge to justify representing the programs…as Tiffin programs" and that "Tiffin administrators…have no authority over functional areas at AU/Ivy Bridge and…were not reasonably informed about Au/Ivy Bridge." The report further described Tiffin's control as "nominal at best." Freedman, as well as Tiffin, strongly objected to these charges. Freedman told BuzzFeed: "We strongly believe that we were supporting and Tiffin was in control of the core academic functions; we were doing technology, marketing, and student services." He said that Altius was held back in just what they could do at Ivy Bridge because of Tiffin's oversight: "I have years of emails of getting approvals for things, reports from the faculty about new degree programs."
"The frustrating thing was that one of our challenges was that we had to comply with the rules," Freedman said. "And then [we were] accused of not complying with them."
One issue at the center of the commission reflects Altius' catch-22. Ivy Bridge had begun offering a master's in education with a concentration in classroom teaching. The commission noted that offering an upper-division program was contrary to "its stated purpose of focusing on Associate's level education" to enable students to transfer into a four-year program. Marion told the commission that Tiffin started offering the degrees "to ensure that Altius University had appropriate degree programs to apply for accreditation" with the HLC's Western counterpart, WASC. To offer the programs that would allow Ivy Bridge to be accredited on its own with WASC was to automatically run afoul of HLC.
In its response to the report, Tiffin said that "the challenge for us was how to operate Ivy Bridge in a more independent manner in order to prepare for the WASC accreditation process, while maintaining the appropriate controls from our main campus while HLC was evaluating our goal of moving to independent accreditation." Tiffin said it hoped it could get past this objection by no longer attempting to pursue independent accreditation for Ivy Bridge, and sought to make changes to meet the HLC's objections; it was rejected.
Another central objection — and one that mystifies Freedman and his allies — focused on Ivy Bridge's "retention rate." HLC complained that Ivy Bridge had a retention rate of 25%, meaning that of 1,443 students who enrolled in fall 2011, only 360 were enrolled in fall 2012, saying that such a rate was "notably poor even for 2-year students." Tiffin and Freedman take issue with both the numbers and the use of the retention rate because the program's goal is, in fact, to push students to transfer out, into four-year colleges. Ivy Bridge students, Altius and Tiffin claim, have an overall graduation rate of 31% in five years or less, better than the 18.3% rate at Ohio community colleges. According to numbers provided by Altius, the "success rate" of Ivy Bridge students, meaning graduation rate and transfer rate, is 64.1% compared with a 42.1% benchmark.
Along with the bureaucratic objections, the HLC report also includes criticism of Ivy Bridge's academic offerings. In an addendum to the change of control review that documents a visit, Tiffin found that the full-time IBC faculty members they spoke to said they "carefully follow the curriculum of Tiffin in their online instruction." While a member of the HLC team said the "content of several online courses … was very thin," the report includes no comparison to the existing Tiffin courses on its main campus. Tiffin argued that HLC's take on its offerings through Ivy Bridge were at odds with its praise for the program in 2010.
The HLC's rejection of Tiffin's relationship with Altius is in line with the accreditor's tougher stance toward relationships between for-profit companies and nonprofit educational institutions. Three years ago, HLC denied two change-of-control requests, for Dana College and Rochester College, in Nebraska and Michigan, respectively. In both cases, a for-profit institution was attempting to buy the schools and retain the accreditation. Dana shut down following HLC's rejection. With the Dana transaction, HLC found similar complaints that it would find with Tiffin and Altius, including a lack of continuity between the college's original mission and programs and the new ones as well as a lack of experience in running educational institutions among Dana's proposed new owners.
The conclusion of the report largely mirrors reports of HLC's reasoning in the Dana and Rochester cases. The report says that Tiffin's "historic mission, objectives, outreach, scope, structure and related factors are not being continued and maintained" through Ivy Bridge College. Tiffin strongly disputes this characterization. In its response to the HLC, Tiffin said that students in their Ivy Bridge associate degree programs "generally receive more support from tutors, success coaches, and academic advisors." This difference is service, which Tiffin argues, "demonstrates an elevated service commitment to meet the unique needs of this student population" — largely, working adults.
Freedman disputes that there was any "accreditation shopping" happening with Tiffin and Ivy Bridge. Still, a staff report concluded that "Tiffin has provided its accreditation to another entity in exchange for fees."
Ultimately, Tiffin decided to withdraw its application, and so HLC refused to approve that Ivy Bridge could be included in Tiffin's accreditation. In a letter to Marion on July 24, Sylvia Manning said that Tiffin must terminate its relationship with Altius by Sept. 30. Tiffin announced the discontinuation of Ivy Bridge's programs on Aug. 1.
For Freedman, HLC's rejection of Ivy Bridge — and its apparent turnaround when it learned that it was seeking to set up its own independently accredited college — shows just how hard it is to innovate in higher education.
"To start accreditation from scratch takes five to ten years," Freedman said, and during that time, accredited schools won't accept credit earned from the new institution, making a school focused on allowing students to transfer particularly difficult.
"Over the past month, I've been visiting towns like Scranton and talking about what we need to do as a country to secure a better bargain for the middle class and everybody who is fighting to get into the middle class," Obama said that Friday in Scranton. "We've got to have a national strategy that grows the economy in a broad-based way so that everyone who works hard has a chance to succeed. That's our goal. That's what we're fighting for."
A spokesman for the Justice Department, Brian Fallon, and a White House spokesman, Josh Earnest, didn't respond to inquiries about how the scrutiny of Altius fits into the new push for innovation in education. The Justice Department also did not respond to an inquiry about the details of the investigation, and its connection to the complaints from the HLC, a private group.
For Freedman, the consequence is clear: "They've boxed the innovators out of higher education."
HLC's Report on Tiffin University and Ivy Bridge
HLC's Report on Ivy Bridge's Academics