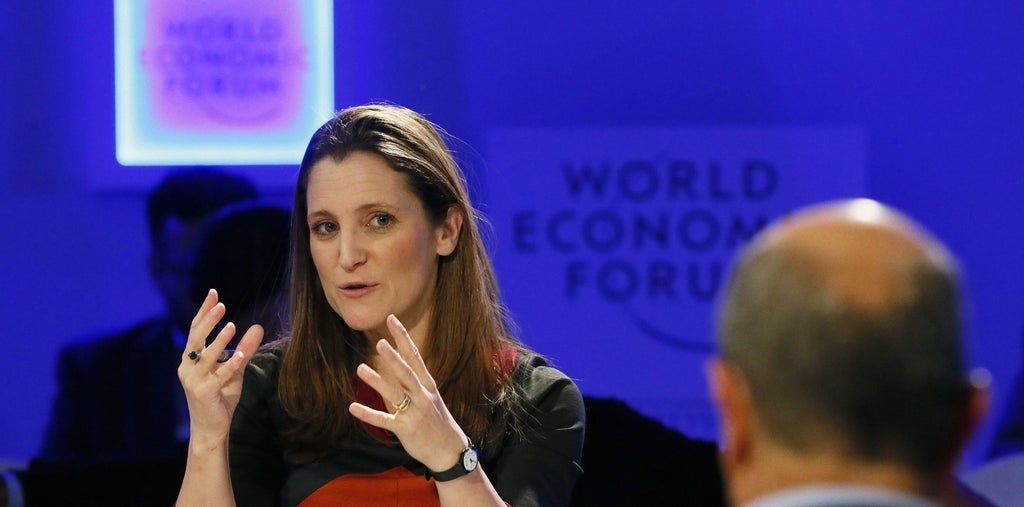 Chrystia Freeland at Davos on Jan. 25, 2013.
Chrystia Freeland's most recent title at Reuters was "Managing Director and Editor, Consumer News," and she was perhaps the company's most famous face: an accomplished journalist who had managed to both scathingly cover and serve as an honorary member of the global elite that gathers at Davos.
In New York, though, Freeland's core aim was simpler: Launching a new website. She had departed Times Square for the Canadian parliament by the time that project collapsed this month. But though she was gone, numerous current and former Reuters staffers told BuzzFeed, Freeland had been the motivating force behind Reuters Next and one of the primary reasons the company's new CEO decided to kill it.
Freeland is a 45-year-old diminutive journalism dynamo who made her name writing incisive portraits first of Russian oligarchs, then global plutocrats. Next was to bring some of her glamour to the low-profile wire, and she arrived with the kind of energy and panache that promised to deliver it. What she didn't bring was a clear revenue strategy, something that had been less important when she was hired than it became to Andrew Rashbass, a Brit who arrived as Reuters CEO this summer with a focus on reviving the business as he had at The Economist.
"The project came about through sheer force of will, without Chrystia's championing, it never would have happened," says one Reuters employee. "Monetization was not the priority, the priority was building something for the brand."
But any effort to build a consumer-facing product that would serve up Reuters content yet not be an obvious revenue center was bound to run into some resistance from the existing organization, which includes over 2,000 journalists and derives significant revenues from sales of terminals like Bloomberg's to business and newsroom clients.
"[Freeland] basically tried to build this thing outside of the entire operation," says a former Reuters employee. "She had very little contact with the newsroom itself."
As a result, sources on Reuters' digital side said there was flat opposition to making the consumer-facing product as good or better than Reuters' terminal and subscription products. Of the decision to kill Reuters Next, a different former employee said that "the direction the company now wants to go in is about giving power back to the profit centers and abandoning any innovation on the consumer side."
A Reuters representative would not comment and instead referred to the memo Rashbass wrote announcing the shuttering of Reuters Next. Freeland did not respond to repeated attempts to contact her, saying that she would only speak to BuzzFeed's editor-in-chief or business editor.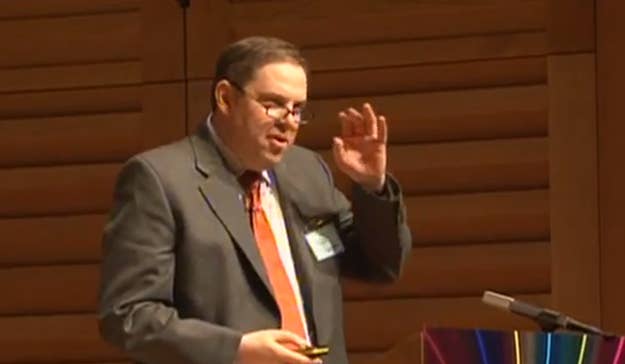 Columnists and consultants
When Freeland came to Reuters in March 2010, her responsibilities were Reuters Insider, a video project, a column, and a role in the company's burgeoning events and interview series.
Less than a year later, in February 2011, Stephen Adler, who joined Reuters in 2010 from Business Week, was promoted to be editor-in-chief of Reuters, leaving Freeland the number two journalism employee in the organization and, two months later, promoted to the slightly ambiguous newly created role as head of Reuters Digital.
The one area where she did have clear control was Reuters Opinion, and she quickly set about remaking it in her image. She promoted Jim Ledbetter, then editor of Reuters.com, to edit the section; appointed longtime Reuters veteran Ken Li to replace Ledbetter; and brought on Ryan McCarthy from the Huffington Post to be his deputy. For her deputy, she hired Jim Impoco, who had edited The New York Times Sunday business section and was then enterprise editor at Reuters.
Freeland next went on a hiring spree, bringing in big names (with big contracts) to write for the section such as former New York Times reporters David Rhode and David Cay Johnston, Larry Summers, and Slate media critic Jack Shafer.
Freeland herself was also a nonstop presence for Reuters, repping the brand from Davos to Aspen and every TV program in between, including frequent guest spots on Real Time with Bill Maher and Morning Joe. With these hires and her boundless energy and charisma, Freeland had already begun to burnish the reputation of Reuters. Indeed, for a short time, there was a feeling at 3 Times Square that Freeland was a digital general leading the charge to break down the wall between Reuters' legacy and consumer businesses. At worse, the thinking went, she would be the one to combine the two sides into one seamless newsroom and, ideally, achieve a leadership position for the consumer business over the terminal side. For a brief moment in 2011, Reuters was in a talent arms race with its two biggest rivals, Dow Jones and Bloomberg, and at least outwardly seemed to be the hottest place of the three to go work.
Her quick action and relentless energy impressed David Thomson, the chairman of Thomson Reuters, who decided that Freeland was the ideal executive to revamp Reuters' web presence — in part because of her convincing.
"Chrystia is not a shrinking violet," said the first former Reuters employee. "She gets right in there, and says, 'This is mine.'"
After Freeland committed to Reuters Next, she set about clearing out many existing Thomson Reuters employees to make room for her own people. Between Reuters.com employees and people brought on to Reuters Next, around 60 people were working under Freeland. And that's not including the consultants she hired.
Activate, the media consulting firm run by former McKinsey and MTV executive Michael Wolf, was hired to work on Reuters Next in 2011 and started working with vendors in January when the Reuters Next onto the eight floor of the lavish Thomson Reuters headquarters in Times Square. An October 2012 launch date for Reuters Next was set.
"The project decided against using any internal resources; the belief was that they were mired in bureaucracy and they were not the team to build a new vision for editorial," the current Reuters employee said.
The decision to hire outside vendors infuriated "skeptical [Reuters] insiders," said yet another former Reuters employee who was involved with the Next project.
Costs steadily rose with new hires and payments to vendors and consultants as the project dragged on and the launch date was continually postponed. While earlier articles estimated the cost at around $5 million, sources close to the project said that actual figure was three to four times that amount, or between $15 and $20 million. Moreover, the first former Reuters employee said that Activate itself was paid $300,000 a month.
A representative for Activate declined to comment on the record.
Further, of the new employees brought in on the editorial and technical side, none had been at Reuters long enough to know what the experience of being a Reuters journalist was like; they had all quit or gotten fired, sources said.
"When you are building something to become the tip of the spear of the company, you need to know how the company operates," the Reuters employee said. But Freeland "doesn't do the thing where you talk to the rest of the people in the company," said the first former Reuters employee, "She just steamrolls in."
As the project progressed, the editorial team that Freeland hired, which included a gaggle of editors from the Huffington Post, were sitting on the eighth floor with little to do. "They're literally sitting there, moving things around on the legacy site, some of them are doing some opinion stuff," the first former Reuters employee said. "Their time was squandered, they were supposed to be vertical editors," added the current Reuters insider.
Technical glitches and no ads
According to sources close to the project, Freeland had never seen Reuters Next as an advertising play — one Reuters source said that she "made very little effort to ensure ads would work on the site" — and when it became clear ads had to be worked into the project, there were difficulties.
"I don't understand what they were thinking, 'Let's not run any ads, let's spend millions and see what happens.' The idea that it had to be monetized caught them by surprise," the Reuters employee said.
Instead, sources said Freeland's focus was on the brand and "beating the AP," and no so much to worry about advertisements being prominently placed or being at the forefront of the design process. This meant it was very difficult for the sales team to sell Reuters Next, as designing and standardizing ad units was not a focus of the project.
As if the issues plaguing Reuters Next weren't enough, the wire service's existing website had serious problems, too. The website was built on top of a system that shot out news to business terminal clients and newspaper desks who could append pictures and pick out which version of the story they wanted themselves. Placement of articles was largely automated, and embedding links was, at best, a major ordeal, sources said. Attaching videos and pictures to each story was just about impossible.
The website also couldn't do updates very well, which was a problem for an organization of 2,000 journalists that worked iteratively: breaking news in a headline, and then filling out the story with new information throughout the day. A major breaking news story, like the election of the new pope, could have up to 20 separate updates. As stories developed quickly, instead of being written into one stable unit, they would appear multiple times, each with a different URL, which was a nightmare for the website's editors trying to keep track of workflow and simultaneously adapt it to the new site.
When the preview and beta of Reuters Next launched earlier this year — after multiple delays — the front-end was admirably slick, delivering on the promise of a stream of content based around one story that brings in material from all of Reuters and outside sources. It impressed the Reuters board and outside critics like Nieman Lab.
But the improvements were little more than a digital mirage. Behind the scenes, none of it worked.
"We ended up working on a system that was even worse than the legacy system," the Reuters insider said, adding that, "to the board and the rest of the world, it looked like a functioning website."
There were problems with rendering stories for the web. Editors shared a single log-in, and the system made it hard to see previews of published pieces or keep track of the content as it was published.
The technical, financial and editorial dysfunction inherent in Reuters Next quickly became apparent to the staff Freeland enlisted, who began to depart in droves. Anthony De Rosa, Reuters's social media editor, left at the end of May to become editor in chief at the startup Circa. A month later, Paul Smalera, who was the project manager for the new CMS, left for the The New York Times. Alex Leo, who was the head of product for Reuters.com, also left in June but stayed on as a consultant through August. Impoco had left in January, replaced by Jim Roberts from The New York Times, who exited last week when Rashbass announced the end of Reuters Next.
In July, Freeland herself left Reuters, announcing in stunning fashion in an article in the Canadian Globe and Mail that came out at midnight that she would be running for a Canadian parliamentary seat.
"To people below her it was something of a shock, it was sudden," says the Reuters employee.
When the last deadline for Next's full launch in October was abandoned, executives embarked on a five week evaluation of what could be delivered and what was missing. The decision of new CEO Rashbass, made on Sept. 18, to kill the project meant that after more than two years of fits and starts, Reuters is back roughly where it started.
Except now the company's existing web offerings will be under the direction of Dan Colarusso, who was named the new executive editor of Reuters Digital on Tuesday. Colarusso, who previously worked at the New York Post and Bloomberg TV, joined Reuters in 2011 as the head of its global video operation. He becomes the third executive editor of Reuters Digital this calendar year.
As for Freeland, on Sept. 15 she won the nomination for the Liberal Party seat in Toronto Centre.