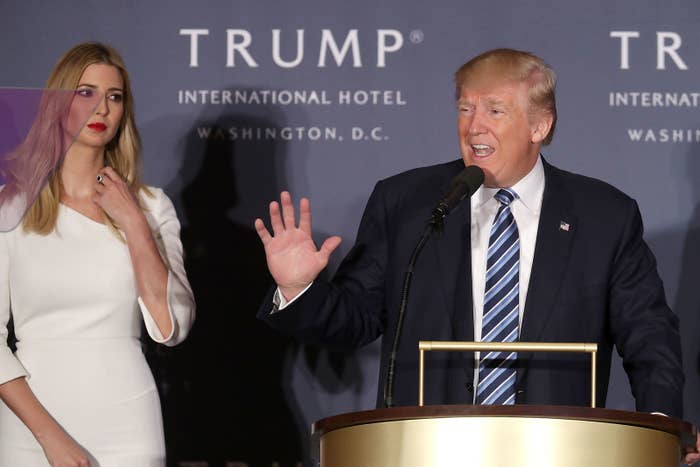 At his press conference Wednesday, Donald Trump and lawyer Sheri Dillon outlined how he will remove himself from day-to-day involvement in his businesses after assuming the presidency.
Trump's vast network of business interests in the US and around the world have been cited as a major source of potential conflicts of interest for the president-elect. Here's what will happen to those businesses as he moves into the White House.
Who will own the Trump Organization?
The underlying ownership will not change significantly. Donald Trump's stakes in his many businesses will be transferred to a trust — a legal arrangement that allows a third party to control a bundle of assets on behalf of their owner.
In the past, presidents have put their savings and investments into a so-called blind trust, which is run by an outside investment manager without the involvement of the owner. The arrangement helped reduce the potential for conflicts of interest, because the presidents did not know how or where their money was being invested.
In Trump's case, it won't be a blind trust, because it will hold assets like Trump Tower or a Trump golf course — hardly things he can forget that he owns. The trust will also manage the president-elect's cash and stock portfolio.
In the case of many Trump assets, other people and companies — including family members and outside investors — share ownership with him. Those ownership stakes will not change under the new arrangement. One important exception to this is Ivanka Trump, who plans to "divest significant assets, including all common stock," her lawyer told Politico this week.

Who will run the Trump Organization?
Trump's two adult sons, Eric and Donald Jr, will run the Trump Organization, along with Trump executive Allen Weisselberg.
His daughter Ivanka Trump, who worked as an executive in the Trump Organization and currently has ownership stakes in Trump assets "will have no further involvement with or management authority" in the family business, the lawyer said. Her husband Jared Kushner will be working as an advisor to President-elect Trump in the White House.
As part of exiting her investments, Ivanka Trump will stop receiving her share of profits earned by company assets, Politico reported. Instead, she "will now receive a series of fixed payments that will come from a diversified pool of projects."
Why didn't he sell his business?
The Trump attorney said the process of selling the company would create new conflicts of interest. Outsiders buying a Trump hotel or office tower would be giving tens or hundreds of millions of dollars to an elected president in the months before or after his inauguration, and the price they pay could be seen as a way of currying favor.
Selling the company's assets through an initial public offering — making the Trump Organization a public company listed on a stock market — would be a "cumbersome and complicated process" that is "not realistic" and would be "inappropriate," Dillon said.
What about deals with overseas partners?

No new deals will be made with foreign partners, Dillon said, and agreements in the process of being concluded will be cancelled, affecting about 30 deals.
Later in the press conference, Trump said he recently turned down an offer for a $2 billion real estate project made by Hussein Sajwani, the CEO and founder of Damac, a publicly listed estate developer based in Dubai.
Will the Trump Organization accept money from foreign governments?
Trump singled out one example: spending by foreign government officials at Trump-owned hotels. While his hotels will continue to book such guests, the president-elect said any profits earned from their business would be donated to the US Treasury.
While neither he nor his lawyer explained exactly how this will work, the Treasury Department's Bureau of the Fiscal Service runs a program that allows people to make donations to the US Treasury.
Does this resolve conflict of interest questions?
Trump has said federal conflict of interest statutes don't apply to the president, and that by handing over managerial control to his sons, he is going above and beyond what is required. But he still owns a sprawling business portfolio, including assets in the US and overseas that will be directly affected by government policy.
Dillon said the Trump Organization would have an ethics adviser who will be required to provide written approval for "new deals, actions, and transactions that can potentially raise ethics or conflicts of interest concerns."

The Sunlight Foundation, a nonprofit focused on government transparency, has maintained a list of the president-elect's potential conflicts of interest. Following Wednesday's announcements, it said many of its concerns remain.
"Trump's plan leaves the Presidency vulnerable to self-dealing, constitutional crisis, the appearance of corruption, and other abuses of power," the foundation said. "Trump's approach to governance and ethics repudiates decades of accepted norms for modern democratic accountability."
What do ethics experts and officials think of this plan?
Not much.
"The plan the president-elect has announced doesn't meet the
standards that the best of his nominees are meeting and that every President in the past four decades has met," Walter Shaub, the director of the Office of Government Ethics, said in a speech Wednesday after Trump's press conference.
He noted that the trust Trump is setting up is "not even halfway blind," and that his office had been "left out" of the process of designing the trust.
"We would have told them that this arrangement fails to meet the statutory requirements," he said.
Shaub agreed with Trump's attorney that, if the Trump Organization and his sons hold onto their current buildings and businesses — as they are planning to do — Trump will inevitably know about the operations of the business.
"That wouldn't happen with a blind trust," he said.