Here's Just How Insane Bitcoin's Recent Rise Is
Started at $13 and now it's kissing $1,000. The rise trounces even some of the hottest tech startups and most bubblicious companies ever.
Here's how Bitcoin's rise compares with other big jumps in the tech space:
1.
Bitcoin, 1/1/2013 — 11/27/13: 7,134%
The anonymous cryptocurrency hit $1,000 for one Bitcoin earlier today and is now at $969. This is way, way bigger than just about any one-year stock or commodity jump. The only problem: if you have a hoard of Bitcoin, it's really hard to turn into dollars, unlike, say, a publicly traded stock. But if you want to go to space, you're in luck.

2.
Amazon, 3/31/1998 — 3/31/1999: 1,108%
Amazon's stock was on such a tear that it made a young analyst named Henry Blodget's career. In December, 1998, he predicted it would hit $400 in a a year. It got to $400 in less than a month. In the year following March, 1998, the stock jumped more than 1,000%. Blodget was later banned from the securities industry (for hyping other stocks he didn't privately think were all that great) and Amazon is once again breaking all time highs.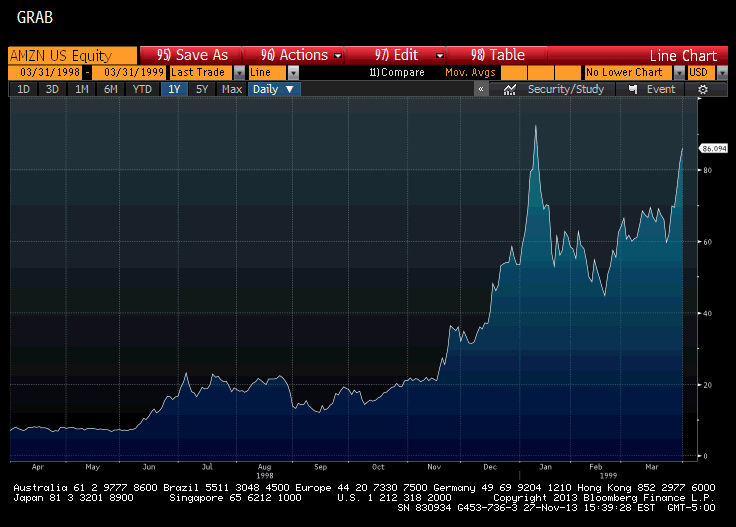 3.
Tesla, 9/30/2012 — 9/302013: 560%
Thanks to disappointing guidance on its future earnings and a few cars igniting, Elon Musk's electric car company has slightly fallen back to earth: it's trading at $126, down from its all-time high of just over $190. But what a high it was.
4.
Netflix, 11/27/2012 — 11/27/2013: 333%
One of the biggest gainers in the S&P 500, Netflix's stock price got so high this year that its CEO Reed Hastings felt compelled to talk it down. And he has a reason to: Netflix's stock has jumped around before, getting to $295 in July 2011 before dropping to $66 before the end of the year. But no one's really complaining about it sitting above $360.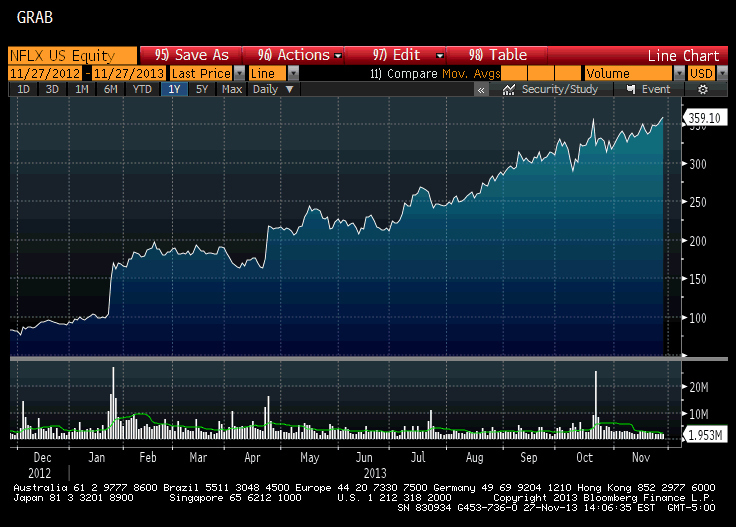 5.
Cisco, 3/24/1999 — 3/24/2000: 204%
One of the brightest lights of the late 1990s tech boom, Cisco's stock was going vertical, even with five splits from 1996 to 2000. And it tripled in just one year, going from $26.11 to $79.38. Today? $21.23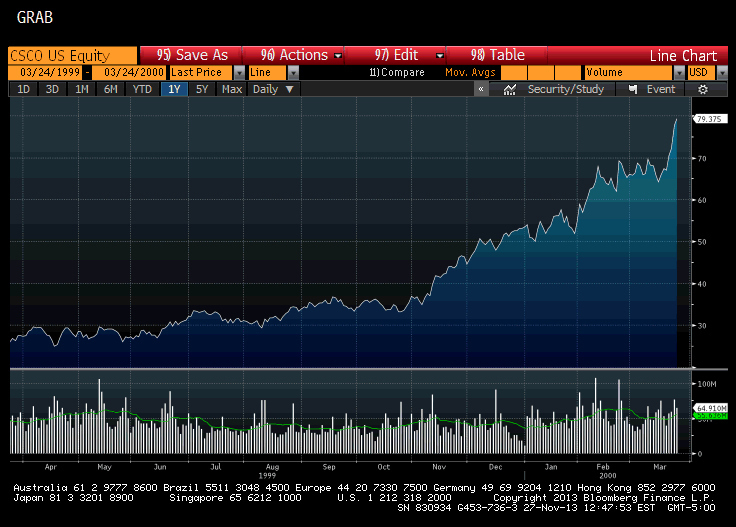 6.
Apple, 4/5/2011 — 4/5/2012: 87%
Apple was already a rich stock before it went on a ridiculous run, ending up at $633 (and getting over $700 in September). But since then, Apple's stock has stagnated at $544 and the company even started paying out huge dividends and buying back stock, and some shareholders want even more.