Here Are The 100 Most Powerful People In Finance
According to Worth magazine.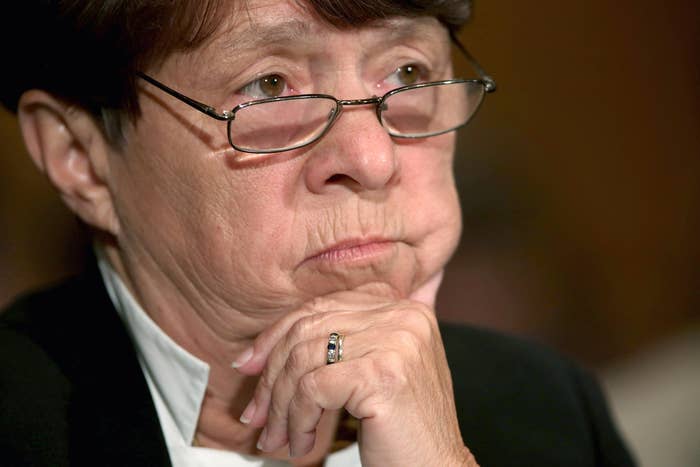 If you needed more evidence that governments are the most powerful players in finance, look no further than Worth, the high-end magazine aimed at the wealthy and money managers of the wealthy (Only $18.95 on newsstands!).
Mary Jo White, the former federal prosecutor and current chair of the Securities and Exchange Commission, takes the top spot on the magazine's fourth annual "The 100 Most Powerful People in Finance" list. The magazine cites White's "vigorously pursuing investigations, enforcement actions, and prosecutions against financial sinners," and especially her new policy of seeking to have settlements include admissions of wrongdoing instead of letting financial miscreants say they "neither admit nor deny" charges, as some of the reasons for her selection to the top ranking.
Regulators, prosecutors, central bankers, presidents, prime ministers, and other government officials make up the next 11 spots. The first banker, JPMorgan Chase chairman and CEO Jamie Dimon, doesn't appear until the somewhat ominous 13th position. There are only nine bankers and seven hedge fund managers or investors in the top 50.
"Fundamentally, the 2013 list is about the clash of two financial titans: the country's big bankers, who saw a return to profitability on an unprecedented scale, and the country's regulators and prosecutors, who are insisting upon holding the bankers accountable for their actions during the financial crisis," said Worth Editor-in-Chief Richard Bradley. "Usually the bankers have the upper hand. Not this year."
The list reflects a world where former masters of the universe like SAC Capital founder Steven A. Cohen (No. 25) are negotiating and pleading for their financial lives with regulators and prosecutors like U.S. Attorney Preet Bharara (No. 7). A world where the investing strategies of hedge fund manager Dan Loeb (No. 28) depend on anticipating the expansionary fiscal and monetary policies of Japan's Prime Minister Shinzo Abe (No. 23).
Thanks to the vagaries of the bi-monthly magazine publishing cycle, there's another powerful woman in finance who doesn't quite get her due: Federal Reserve Vice Chair and President Obama's pick to lead the Fed Janet Yellen is only in the 21st spot, behind Texas Gov. Rick Perry (No. 18) and House Financial Services Chairman Jeb Henslaring (No. 20).
Dimon, despite being ranked 13th, probably doesn't see himself as any more powerful than Attorney General Eric Holder. Holder may be the 73rd most powerful person in finance, but it was Dimon who came to Holder to try to negotiate leniency in the federal government's multiple investigations of JPMorgan.
That's real power.
CORRECTION: Worth is a bi-monthly publication. An earlier version of this item misstated its publishing schedule. (3/6/13)