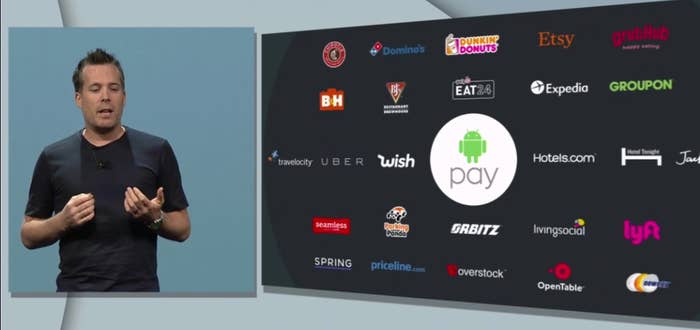 At today's I/O conference, Google Vice President of Engineering Dave Burke unveiled Android Pay, Google's new in-app and tap-to-pay mobile payments service. Payments will employ "near-field communication," or NFC, to allow users to pay for goods and services with a preloaded credit card by simply placing their phones near a merchant terminal.
Burke said that Android Pay will be available in over 700,000 stores, including Macy's, Bloomingdale's, and McDonald's locations, in addition working within apps such as GrubHub, Uber, and Groupon. Payments can also be authorized with a user's fingerprint. At I/O, Burke said Payments would be available "soon."
Burke said Pay "builds on work we did in previous Android releases," and indeed, Google first rolled out a payments service, then called Google Wallet, in 2011. But it never took off, as it wasn't available in many stores and a number of users didn't even realize they could make payments with their phone. Google recently acquired technology assets from SoftCard, formerly known as Isis, a mobile payments company founded by a consortium of wireless carriers. At the same time, Google made a deal with carriers to have Google Wallet pre-installed on phones. Google also has deals with the major credit card networks — American Express, Discover, MasterCard, and Visa — to support Android Pay.
Right now, Apple Pay is the clear leader in mobile payments from consumers to merchants. Apple Chief Executive Officer Tim Cook said in January that Apple Pay does $2 out of every $3 of contactless payments for MasterCard, American Express, and Visa. It has also successfully signed up major banks and merchants like Best Buy, Whole Foods, McDonald's and is available at nearly 700,000 merchant locations, Tim Cook said in March.
But it's still a relatively small market. Forrester Research estimated that there were $52 billion of mobile payments in 2014, which includes in-person payments, payments done through mobile apps remotely, and peer to payments like Venmo). 22 percent of cell phone owners made at least one mobile payment in 2014, and a third of cell phone users between aged 18 and 29 did, according to a Federal Reserve survey.
The main reason people don't use mobile payments, according to the Federal Reserve, is that they're not noticeably more convenient than credit or debit cards. 75 percent of the respondents in the Fed survey said that it was easier to pay with credit or debit cards, and 59 percent said they were concerned about the security of mobile payments. Like with Apple Pay, Android Pay will not convey a credit card number to the merchant, and will instead receive what's known as a unique token for each transaction.