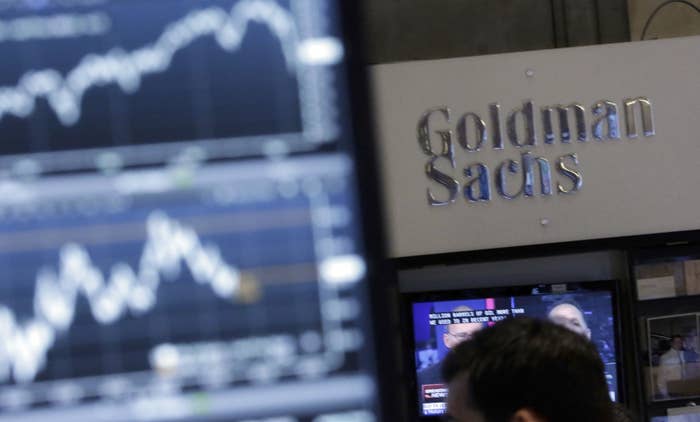 Summer interns at Goldman Sachs follow their boss on Twitter, don't want to wear ties, and think learning Python (the programming language) is more important than learning Mandarin.

These are some of the results from the investment bank's annual survey of its summer interns, a group of college and graduate students from 97 countries and 439 universities. All told, the company had around 2,500 interns in 2017. Goldman said it uses feedback from the survey to understand the priorities of young workers for future internships.
"We know those types of initiatives are incredibly important," Matt Jahansouz, Goldman's head of recruiting, told BuzzFeed News. "It's something we prioritized, adopted, and think we're a leader in."

The firm has been modifying its programs for young employees, including recent changes to its analyst program. The bank has started offering some analysts permanent employment status as opposed to fixed contracts, giving them some free Saturdays, more opportunities for promotions, and mobility around the firm.
One of those future changes could be around how employees will dress. Seventy-nine percent of the interns said they would prefer "more casual workwear," including 17% who said they prefer hoodies and jeans and 51% who said they prefer not to wear a jacket or tie. Only 21% prefer "traditional business attire," while 11% said "anything goes."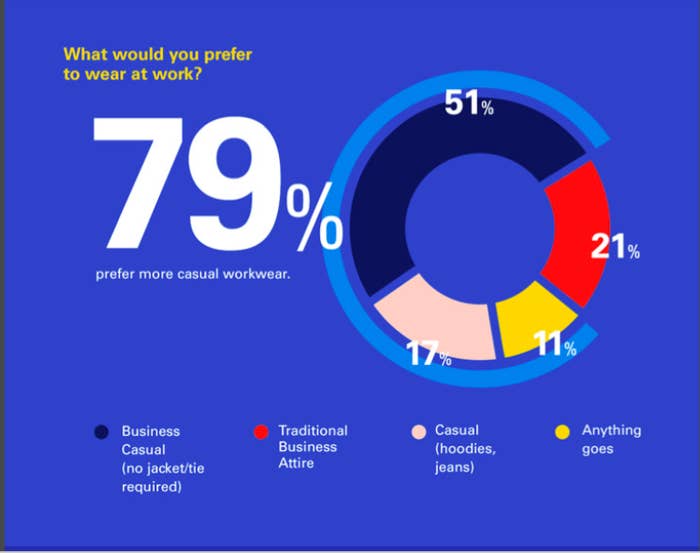 Jahansouz said the workwear response was "actionable" and was "something we're looking at." He pointed to changes in the dress policy for the firm's engineers, who recently adopted a "year-round casual dress code." One Goldman employee told the Financial Times that tech workers could wear "totally casual" clothing (but no shorts for men).

This year's interns largely agreed with big-picture issues Goldman has publicly taken positions on. When asked "should governments be cooperating on climate change," 96% said yes. After President Trump announced that he would withdraw the United States from the Paris Agreement in June, Goldman Sachs's CEO Lloyd Blankfein sent out his first tweet, saying "Today's decision is a setback for the environment and for the U.S.'s leadership position in the world."
The interns listed Blankfein's Twitter account as one of the six "must-follows," alongside ESPN and Elon Musk. Blankfein, who has tweeted just over a dozen times and has amassed more than 50,000 followers, today tweeted a picture of his 1975 student ID card.
"He's an influential person who's taking a stance on important topics, and it's encouraging to hear that they're interested," Jahansouz said.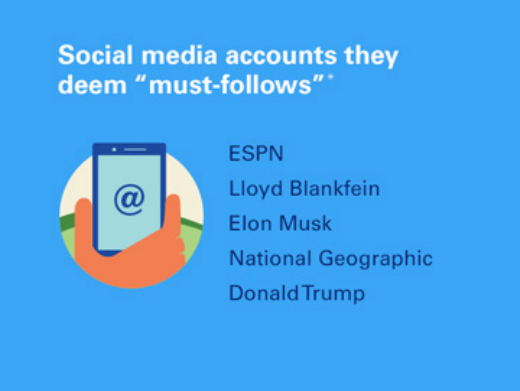 Goldman's youngest (temporary) staffers view technology as incredibly important, according to the survey. Blankfein has called Goldman a "technology company" and about 9,000 of its 34,000 employees are in "engineering-related roles."

More than 70% of survey takers said the programming language Python was "more important to learn to prepare for the future" than Mandarin, and 85% said artificial intelligence and machine learning "will have the biggest global impact in the next decade."
"It underscores something we're all thinking and talking about in the firm and the importance of engineering talent and where they think the future is going. Ten years ago the answer to that question probably would have been different," Jahansouz said.