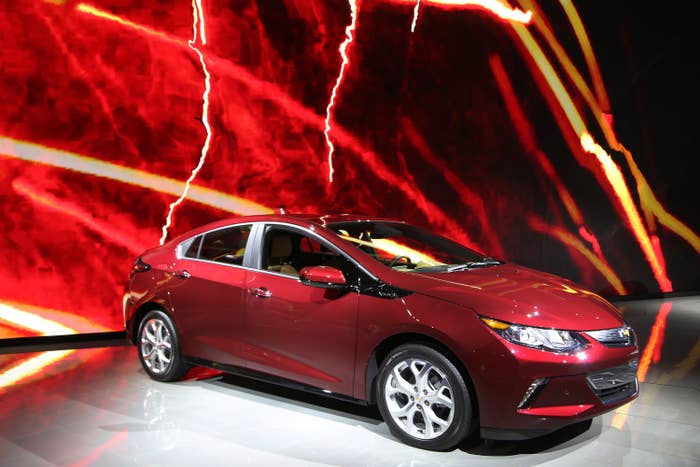 The car industry is on the verge of its biggest transformation in more than a century, with a fleet of fully self-driving cars coming "sooner than you think," according to General Motors President Dan Ammann.
In an interview with BuzzFeed News, Ammann seemed fully on board with the technology industry's most ambitious ideas about the future of transportation: the transition to autonomous cars, owned not by individual drivers but by operators of networks of on-demand taxis.
"It's not often that in a business as big as the business we're in and a company as big as ours, that you stand at a point where the whole foundation of how your business has operated for the last 100 years is up for discussion," he said.
Ammann, who has been the number two executive at GM for just over two years, said the rise of smartphones has changed the economics of driving in ways far beyond just enabling ride-hailing apps. Our phones have become so valuable to us that being forced to look away from them has created "a significant opportunity cost for the time you spend in the car," he said. "The time you spend driving is the time you spend not doing something else."
Self-driving cars will also "fundamentally enable massive scale adoption of ride-share," he said — in large part by removing the need for paid drivers. Ammann has been a board member of Lyft since GM invested half a billion dollars in the ride-hailing company this January.
"The vast majority of the cost of a ride-share ride, of a Lyft today, is the driver," he said. "If you can take the driver out of the equation, the cost of that comes down dramatically."
While Lyft is still definitely number two to Uber, it has been gaining share in some markets, and "once you introduce the driverless technology, the whole second phase begins," Ammann said. Uber is as aware of this as anyone and has been furiously hiring engineers specializing in robotics and artificial intelligence. Lyft, for its part, has said that it will have autonomous vehicles in 10 years.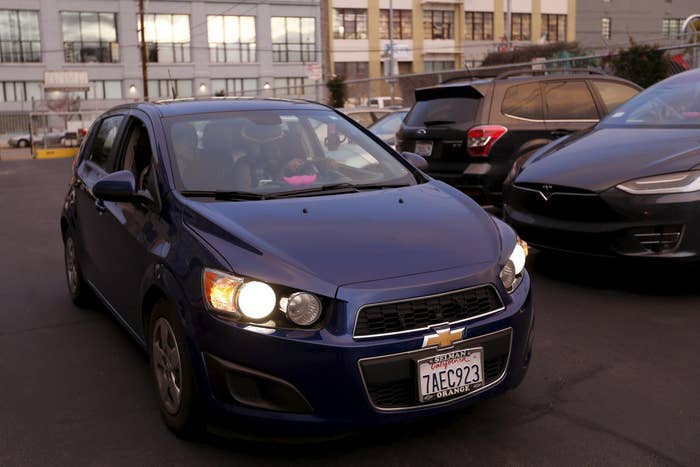 GM is far from the only old-economy giant to make splashy hires and acquisitions in Silicon Valley in an attempt to ride out a technological change. Walmart has Walmart Labs in San Bruno, while 123-year-old General Electric founded Genesis 1:3 and is undergoing a massive branding and hiring campaign to convince people it's also a software company.

And wherever GM is trying to get ahead of the future of cars, it's competing with either very focused or very well-capitalized competition.
While Tesla can rely on early adopters paying top dollar, GM makes cars for people with what Ammann describes as "daily, weekly, monthly" budgets who have not been part of the Silicon Valley Model S rush. Those customers, Ammann says, "are not prepared to pay that electric premium."
So for those buyers, there's the new Chevy Bolt, which will be on the road later this year at a cost of around $30,000. Tesla, on the other hand, accepted preorders of its Model 3 that could be worth up to $11.6 billion, all for a car that won't begin to ship until maybe next year, although at a slightly lower price for the base model.
Motor Trend said that, "base for base," and including federal incentives for electric vehicles, the Model 3 will cost $27,500, while the Bolt will cost $30,000. (The Model 3 is listed at $35,000 and the Bolt is listed at $37,500.) Elon Musk, however, has said that Tesla buyers will likely be paying an average of $42,000, before federal incentives, for the car with the typical package of options.
But even if GM does manage to succeed in putting a fully operational network of autonomous Chevrolets onto American roads, it faces a broader question about its future. If self-driving cars can move around all day, picking up and dropping off dozens of passengers rather than sitting in a parking space waiting for their owners, then the world might need fewer cars. A sprawling, six-continent industrial giant like GM might need to become much smaller — although Ammann says such a scenario could also significantly increase the demand for transportation.
"The scale of that opportunity is not beautifully defined, but our perspective is that it could be very, very large — even relative to the size of our existing system," he said. Just as Uber and Lyft have expanded the total size of the taxi market, the carmakers of the future will have to get more people to travel more miles. Ammann mentioned people who don't currently get behind the wheel but still need to get somewhere: the very young, the very old, the very drunk.
It's a big change from the standard operating procedure of the auto industry, which is structured around the assumption that most adults will eventually own their own cars. Ammann says it's a change GM will dive into headfirst.
"You can lay awake at night and say, 'Gee, that's a giant potential problem' — or you can look at it and say, 'This is a really big opportunity,'" he said. "We are very much of the perspective that this is a once-in-a-lifetime opportunity to be at the forefront of fundamental change in how people get around."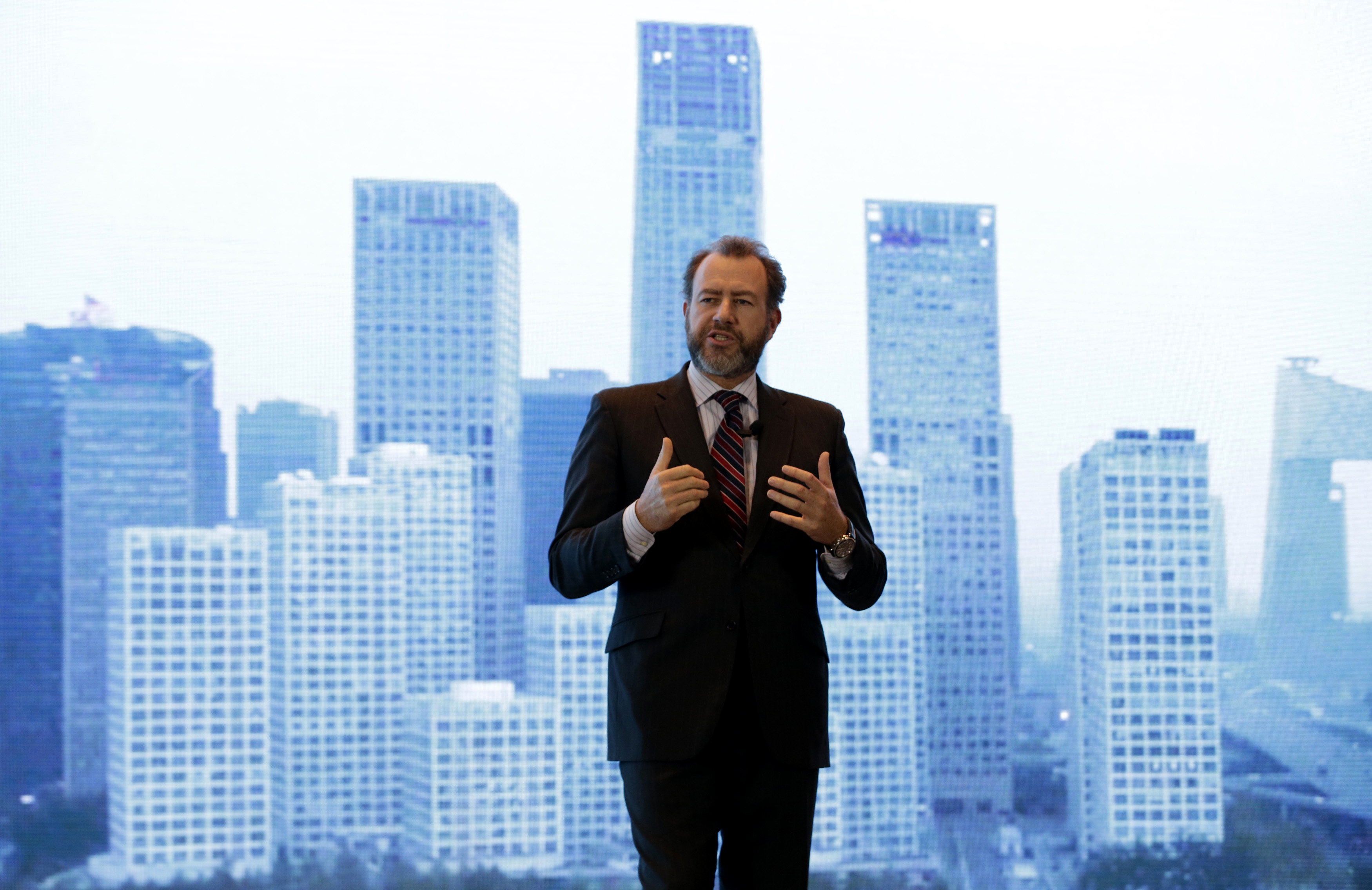 CORRECTION
The piece has been updated with more comprehensive pricing data on the Chevy Bolt and Tesla Model 3. The base Tesla Model 3 is less expensive than the base Chevy Bolt.