Glenn Greenwald, Fellow Snowden Reporters Expected To Win Top Journalism Award
Greenwald, Laura Poitras, Ewen MacAskill, and Barton Gellman are under fire from top national security officials. But the media gods look more kindly on them.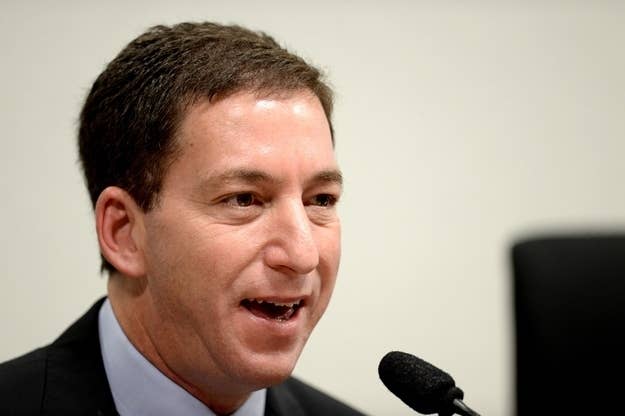 Four reporters who were the first to report on Edward Snowden's leaked National Security Agency files will win a George Polk award for their work, a source familiar with the plans to award the prestigious prize later this month told BuzzFeed.
The massive leak by the former contractor has divided America's political class, with some calling Snowden a traitor and the reporters accomplices. But top media institutions have generally rallied around the reporting, and the George Polk Award — expected to be given to Greenwald; filmmaker Laura Poitras; the Guardian's Ewen MacAskill; and the Washington Post's Barton Gellman — reflects the broad support among journalists for reporting the revelations about the scale of American domestic and international surveillance.
The Polk award will also be a direct rebuke to critics of Greenwald who have accused him of trading on Snowden's secrets for personal gain. Mike Rogers, the chairman of the House Intelligence Committee, said today after a hearing that Greenwald is a thief, "For personal gain, he's now selling his access to information, that's how they're terming it…. A thief selling stolen material is a thief," he told reporters according to Politico.
Last week, James Clapper, the Director of National Intelligence, also seemed to characterize the reporters working with the Snowden documents as something other than traditional journalists. He said in a hearing that "Snowden claims that he's won and that his mission is accomplished. If that is so, I call on him and his accomplices to facilitate the return of the remaining stolen documents that have not yet been exposed, to prevent even more damage to U.S. security."
The award, one of the most respected in journalism, is given out every year in different categories by Long Island University and tends to recognize high-impact, investigative journalism. Past winners have included Jane Mayer for her New Yorker profile of National Security Agency whistleblower Thomas Drake and David Rohde's five-part series on his capture and detainment by the Taliban in The New York Times.
The award for the four reporters comes as Poitras and Greenwald are preparing to join a new news organization, First Look Media, funded by the billionaire founder of eBay Pierre Omidyar. Ralph Engelman, the chair of the journalism department at Long Island University, declined to comment.