Foursquare's CEO: We Want People To "Open Their Eyes"
In his first public comments since announcing the split of the Foursquare app, its founder and CEO explained why he split his app in two and why Foursquare is nothing like Facebook or Twitter.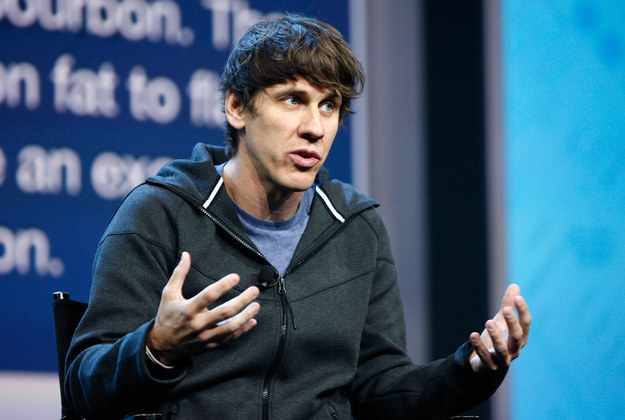 Foursquare's Dennis Crowley wants people to get their faces out of their phones.
In his first public comments since the company announced last week that it would be splitting off the best known function of its app — checking into locations — into a new app named Swarm, the 37-year-old Crowley said that he was distressed to see attendees at the Atlantic's New York Ideas Festival buried in their phones, not seeing the exhibits on display in the lobby of the New York Historical Society.
Crowley said that Foursquare, unlike other social apps like Facebook or Twitter which help people create "mini virtual worlds," was intended to be "a piece of software that told you about the things that you should pay attention to when you arrive in a new place or when you arrive in a new city."
The vision Crowley was articulating was of a world where instead of just checking into locations — notifying other users of Foursquare where you are and where you've been — the app would use the data its collected over years of "where people have been and the things they enjoy" to "enhance your experience of the real world." Crowley said the experience of going into a new restaurant and having an app "buzz you and say 'this is the first time you've been here, you definitely have to order this desert because your friend Jonathan said it was amazing'" was "magical".
Crowley doesn't see the new direction as a shift away from Foursquare's best known feature. "I wouldn't say we are deemphasizing the check-in," he said, arguing that the split in the apps was part of a drive towards simplicity. "We believe that the best apps out there are the ones with a single-case use that can be described in a sentence or tweet." Crowley said that in his own experience, the new apps ran faster and were easier to use.
The new Foursquare app, which will just do local search and discovery and will be available this summer, has the goal of "making people more aware of the amazing things around you using all the context we've collected over the last couple years."
Taking aim at Yelp and Google with a subtle dig, Crowley said that local search is broken because all users in a given place see the same or similar results, instead of looking at what people's friends like and recommend. "There are not a bunch of services that we all use now that are proactively telling us about all this amazing stuff in the real world," Crowley said, "we all have different tastes and we all have different experience."
The Swarm app, which has "general neighborhood awareness" to help people find friends near them, "feels really nice, [it] senses people nearby, doesn't give up too much information, if you want to hide it you can do it very easily," saying that users can not only delete specific check-ins, but also all their data.
Foursquare's large collection of highly personalized data — where people have been and when — has raised privacy concerns and is also seen as a potentially monetized asset for the company. Crowley tried to assuage any concerns, assuring that the company has developed "a really solid understanding of what people like and what they don't," and that it had abandoned some ideas like putting pictures of people's faces where they check-in on a map because of negative feedback and squeamishness.
And while it seems like every few months there's another rumor about Foursquare being an acquisition target, Crowley was focused on the company's future, while acknowledging that the company needs to do more to fulfill its large ambitions. He said that in the company's early days, he thought "it's going to take two years to accomplish this," now, however, "we're five years in and we're halfway through all of it."