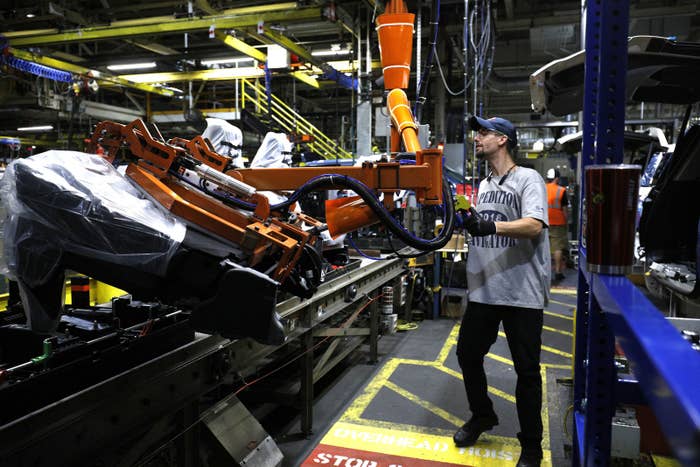 1. It turns out the long streak of job growth continued despite all the hurricanes in September.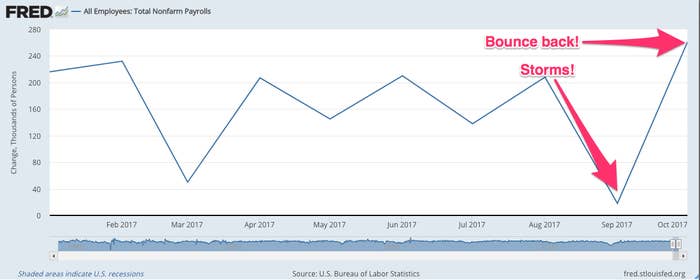 In October, 261,000 new jobs were added to the economy, according to the latest data from the Bureau of Labor Statistics, released Friday. And, looking back at data from September, the BLS found that actually 18,000 new jobs were added, as opposed to the initial data which showed 33,000 jobs lost. Economists had expected 313,000 new jobs.
"This is certainly welcome news after last month's disappointing weather-driven top line figure," Elise Gould, an economist at the left wing Economic Policy Institute, wrote.
On average, 169,000 new jobs have been added per month this year, compared to 187,000 per month in 2016. The last time there was a net decrease in jobs was September, 2010.
"The reports for September and October are filled with hurricane-related turmoil in the data. But the average appears to be 'more of the same,'" Doug Holtz-Eakin, the head of the conservative American Action Forum, said in a note.
2. And a lot of the added jobs came from the industries most affected by the storms.
"Employment in food services and drinking places increased sharply, mostly offsetting a decline in September that largely reflected the impact of Hurricanes Irma and Harvey," the BLS said. Food services employment, which includes bars and restaurants, jumped 89,000 in October, although it had fallen by 98,000 in September.
3. The unemployment rate also fell, but not necessarily for a great reason.
The unemployment rate fell from 4.2% to 4.1%. But that's largely because of a big change in the number of people who said they were not looking for work at all. The unemployment rate is calculated by looking at the proportion of people who are working compared to the total population of people working or looking for work. If people leave the labor market entirely, the unemployment rate can go down.
The number of people not in the labor force at all jumped from 94.4 million in September to 95.4 million in October, while the size of the labor force fell by 765,000, from 161.2 million to 160.4 million.
"If we look at the unemployment rate alone, we are missing the full picture," Gould wrote.
4. Wage growth was disappointing.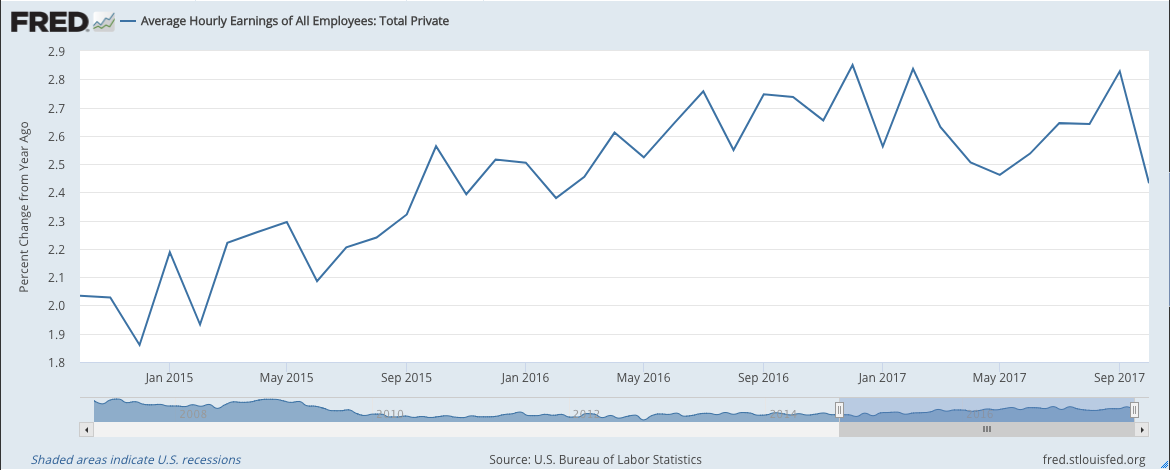 Average hourly earnings actually fell by a penny in October to $26.53. While wage growth has picked up since 2016, it's still only at around 2.% for the year.

"This is affected by the fact that low-wage workers were more likely to be missing last month, reducing the month-to-month growth," Holtz-Eakin wrote. "Still, they are only up 2.4 percent over the past year. With average weekly hours flat, earnings growth is still an issue."
Analysts at Morgan Stanley said they didn't expect year-over-year wage growth to hit 3% until June 2018. Wages haven't grown by more than 3% year-to-year since the Great Recession.
"All told, it's clear that we are still not at full employment, and the Federal Reserve should keep interest rates low until we are," Gould wrote.
Nevertheless, the jobs report was good enough to elate a frequent Twitter denizen: