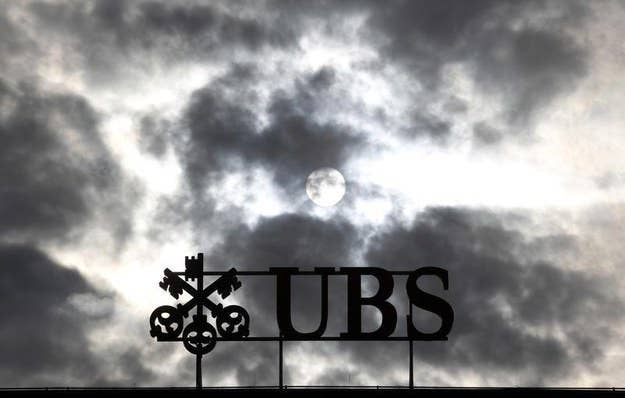 What started as a financial adviser hitting on a college student bartender in a Long Island Irish pub has turned into a sordid sexual harassment suit against the adviser and the company he worked for, Swiss-based financial giant UBS.
Samantha Lambui, a 24-year-old former intern at UBS who is now a fitness instructor, sued James Collins, a former vice president at the bank, in federal court in New York earlier this month, alleging that he had sexually harassed her when she worked as his intern.
Lambui also sued three other UBS employees and the bank for sexual harassment, retaliation, discrimination, battery, assault, and wrongful imprisonment. The suit was first reported by Fund Fire, an industry publication. The suit seeks monetary damages of $5 million and legal fees.
Gregg Rosenberg, a spokesman for UBS, said in an emailed statement, "We do not comment on allegations in pending litigation other than we believe the claims against the firm to be without merit."
Collins has yet to respond to the claims in court and his attorney David Gehn did not respond to a request for comment. He told Investment News, "It's the free and open court system, and we're prepared to address the allegations in the court and not in the press."
Collins, who now works at Oppenheimer, worked at several financial firms in his career, and left UBS last August, according to FINRA, the financial industry self-regulator. Stefan Prelog, an outside spokesperson for Oppenheimer, declined to comment.
Before filing the suit, Lambui filed a complaint with the New York State Division of Human Rights in October of last year, and a director at the Office of Sexual Harassment Issues found there was probable cause that Collins, his superiors, and UBS have "engaged in or are engaging in the unlawful discriminatory practice" that Lambui alleged. In response to her complaint in New York state, UBS said Collins and Lambui had "exchanged text messages inviting each other to meet up" and that she had "transmitted a racy photo of herself and two friends."
The Human Rights Division found in its report, attached as an exhibit to the initial complaint, that "Mr. Collins admitted that he made sexual overtures" to Lambui and that the "racy photo" was actually posted on social media. The case in front of the Human Rights Division was dismissed so that Lambui could sue in federal court.
Lambui alleges in the suit that Collins recruited Lambui in November 2012 to work as his assistant at UBS after meeting her when she worked as a bartender Katie Mc's Irish Pub in Huntington, New York. The suit says Collins would have "friendly, but never romantic" conversations over four months and that Collins would often visit the bar when Lambui was working there. Lambui was still a college student.
The advances, Lambui said, began in early 2013, when Collins invited her to lunch in Manhattan to celebrate her being hired to work with him in UBS's Melville, New York, office and then tried to kiss her after the meal. She was 23.
Lambui rejected him and the next day texted Collins to see if her professional future would be jeopardized. Collins told her, according to the complaint, "Hey im a sensitive good looking guy who wears his heart on his sleeve..." and, later "That's why ur still working for me fool. I can easily find another bimbo with short hair that looks great in platform shoes..." Collins would continue to text her, telling her, "I'll get a second chance...watch." A few days later, the complaint says Collins told Lambui that she could get Christian Louboutin shoes as bonuses in an email signed "Mr. Boss Man."
Text messages from Collins to Lambui included in the suit: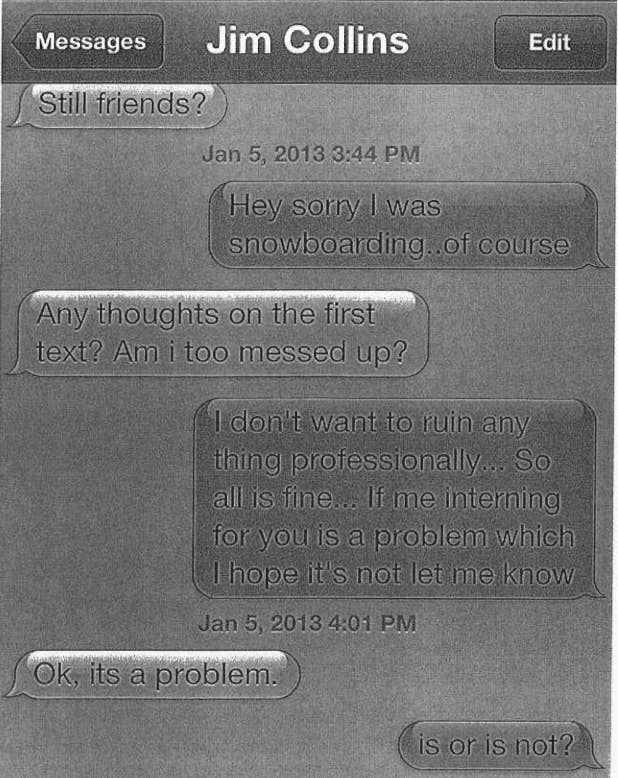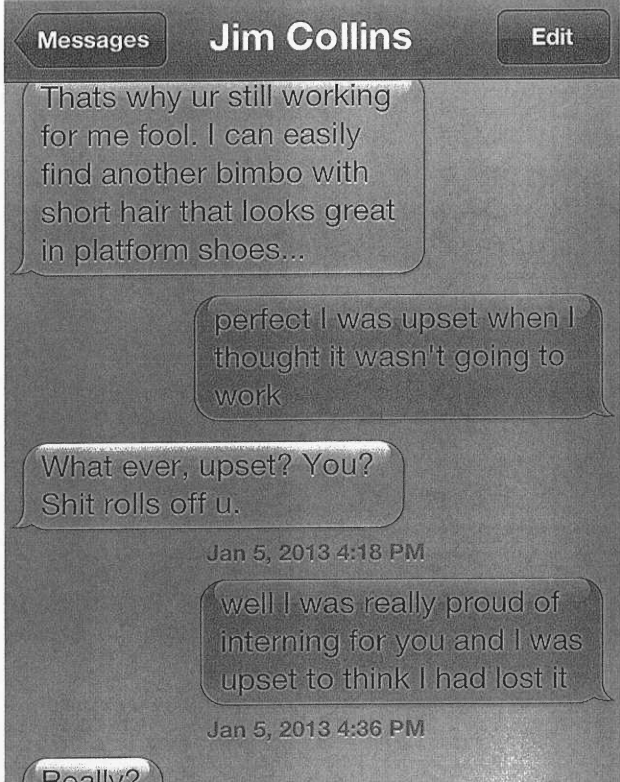 Lambui started working for Collins the next month, earning $10 an hour for 20 hours of work a week. In March, Lambui says, Collins told her to buy new clothes for work and send him photos of herself "so he could issue final approval." That night, the suit says, Collins told Lambui "that if she met him at a hotel and had sex with him, he would give her the bonus Christian Louboutin shoes the next day."
Her response: "absolutely not" and "no bonus could be worth that." The next month, Lambui says, Collins texted Lambui to invite her to drink with him and she again turned him down, and when Lambui confronted him, he responded in a text, "Really?" He would later invite Lambui to go with him to Florida; what the complaint says was "an attempt to have sexual relations with her."
The next month, Collins offered her a Michael Kors bag, but when Lambui got in the car with him to go to the store to purchase it, Lambui alleges that Collins "demanded a sexual favor in return for purchase of the bag" and, after being rejected, drove to a park near their office. The complaint says that Collins "placed his hand upon her leg, moved it towards her vagina, forced himself upon her and kissed her." Lambui then "screamed, cried, curled up in the fetal position" and "[begged] Mr. Collins to take her back to the office." When Lambui later missed work, Collins texted her apologizing and complimenting her work, the suit says.
The harassment continued the next month, Lambui alleges, when Collins saw a bandage covering a tattoo Lambui recently got and demanded "in front of Ms. Lambui's co-workers, that Ms. Lambui lift her shirt and show him the tattoo." Lambui also says that throuhout her time at UBS, Collins would send her pornographic images of naked women with short hair like Lambui's as well as "slutty" dresses she should wear, and reference his penis as "Jimmy." The complaint alleges that Collins told her, "I sleep with my interns; that's the only reason to hire interns."
Lambui alleges that when she brought complaints about Collins to supervisors at UBS in August, they characterized the text messages as "just drunk text messages" and said she could not get a full-time job at UBS unless it was with Collins. When she later met with a senior human resources executive, Lambui says she was not allowed to have a lawyer present and was "subjected to disbelief, interrogation, intimidation, and screaming."
Later, the human resources executive told Lambui that her version of events was correct and that Collins had "violated the firm's internal policies" but that she was still terminated from her job as her internship ran out and Collins himself was terminated.
UBS is not the only large financial institution to have been accused in court of having an environment unfriendly to young female employees. Goldman Sachs is currently facing a suit from former employees alleging that women were mistreated and did not get the same promotion and payraise opportunities as men.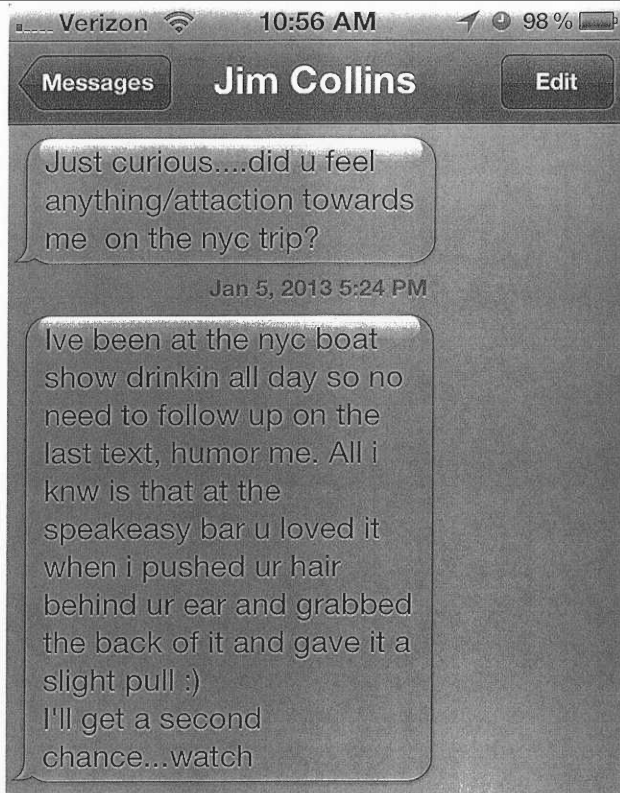 Samantha Lamnui is 24, not 25.