Former Microsoft CEO Steve Ballmer On Amazon: "You're Not A Real Business!"
Microsoft had $5.84 billion in profits in the last quarter, while Amazon lost $544 million and saw its stock fall more than 8% today.
Ballmer told Rose, "They make no money, Charlie, and in my world you're not a real business until you make some money."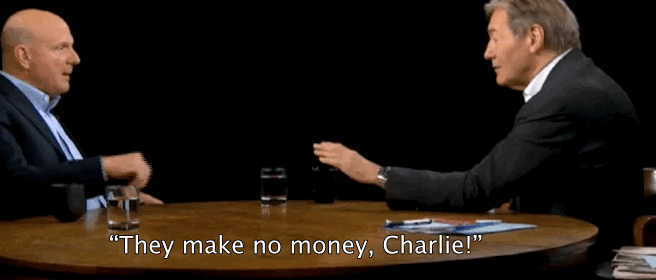 While Ballmer is no longer involved with Microsoft — except as its biggest individual shareholder — he picked a good time to draw a contrast between the two Seattle-area tech giants.
While Microsoft is frequently criticized for failing to innovate or adapt to the widespread adoption of mobile devices or cloud software, it has been a consistent revenue and profit machine. In its most recent quarter, it had $23.2 billion of revenue and profits of $5.84 billion. Under the leadership of Satya Nadella, who took over for Ballmer in February, Microsoft's stock has gone up over 23% this year.
Amazon, on the other hand, continues to grow its overall sales and has expanded into other businesses video games, grocery delivery, and web services, just had one of its most disappointing quarters. Amazon reported its quarterly earnings Thursday and lost $544 million in the third quarter, including taking a $170 million bath on its Fire Phone.
While shareholders have been historically tolerant of its high revenue and high investment (and no profits) business model, that patience might be running thin as the stock went down 8% today and is down 28% this year.
"If you're worth $150 billion, eventually somebody thinks you're going to make $15 billion pretax, and they make about zero and there's a big gap between zero and 15," Ballmer said. "They've built capabilities, I will give you that, I think one capability every business is expected to have is the capability to make money, that requires a certain kind of discipline."
This isn't the first time Ballmer has laughed off a rival company for being unconventional. In an interview, Ballmer laughed as he described his initial reaction to the iPhone: "$500? Fully subsidized with a plan? That is the most expensive phone in the world and it doesn't appeal to business customers because it doesn't have a keyboard which makes it not a very good email machine."