Former Bank Of America CEO Ken Lewis Banned From Serving In A Public Company For Three Years
Ken Lewis will pay a $10 million fine in a settlement, ending a suit where he was accused of failing to disclose risks to shareholders in Bank of America's acquisition of the investment bank Merrill Lynch.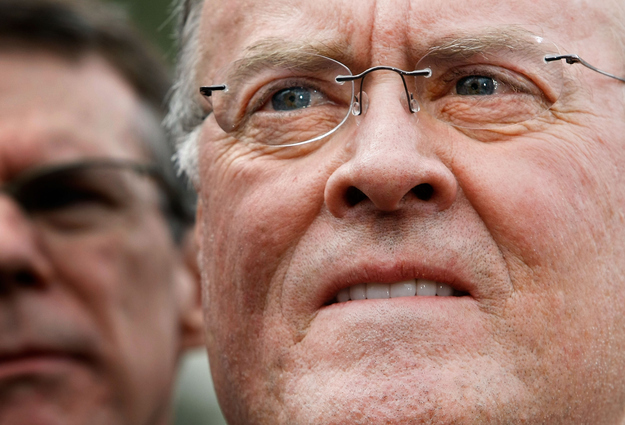 One of the costliest acquisitons in banking history has claimed another victim, the man who masterminded it. The New York Attorney General announced Wednesday that it had reached a settlement with Ken Lewis, the former CEO of Bank of America, that would ban him from serving as an officer or a director of a public company for three years along with a $10 million fine.
The fine, which also includes a $15 million penalty against Bank of America, brings to an end an investigation started by then-Attorney General Andrew Cuomo that began after Bank of America's 2008 acquisition of Merrill Lynch. The deal was originally worth $50 billion when it was announced on September 15, 2008, but the time it closed on January 1 of the next year, Merrill Lynch was only worth $19 billion. The bank had failed to disclose to shareholders that Merrill Lynch had a $15.31 billion loss in the fourth quarter of 2008. Lewis resigned from the bank at the end of 2009.
While Lewis did not admit or deny the charges, the Attorney General's office said the fine and ban was "one of the first successful attempts by law enforcement to hold accountable a CEO or individual at a major institution since the financial crisis."
Lewis left the bank in 2009, while the bank settled an investor suit for $2.43 billion in 2012 over claims that it mislead its shareholders about the financial health of Merrill Lynch, it also settled with the Securities and Exchange Commission in 2010 for $150 million over failing to disclose information about Merrill Lynch.
"Today's settlement demonstrates a major victory in our continued commitment to applying the law equally to individuals, as well as corporations," Attorney General Eric Schneiderman said in a statement.
Joe Price, Bank of America's chief financial officer who was also sued by Cuomo, was not part of the settlement.
While Lewis is banned from serving as an officer or a director, it's unlikely the decision will much affect his plans. Lewis is 66 and hasn't had a job since his departure from Bank of America.
A Bank of America spokesman declined to comment when asked if the Bank would pay for Lewis's fine.
Bank of America also reached a $9.5 billion settlement with the Federal Housing Finance Agency, the regulator that oversees the government-backed mortgage companies Fannie Mae and Freddie Mac over mortgage-backed securities Bank of America, Merilll Lynch, and Countrywide (which Bank of America acquired in 2008) sold to the companies between 2005 and 2007.