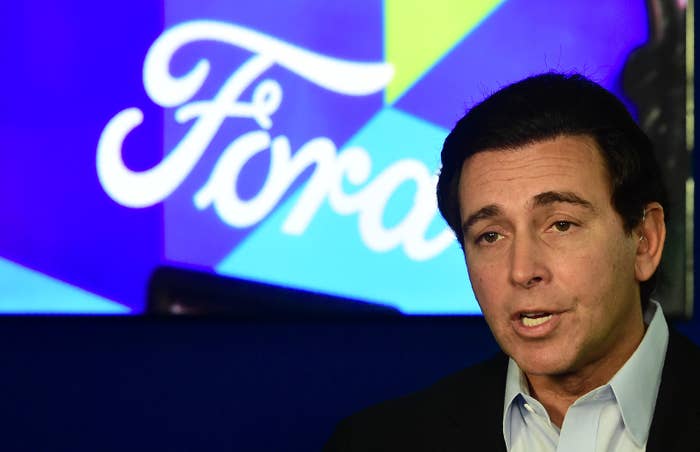 Ford CEO Mark Fields says the company will push the Trump administration to maintain America's "deep integration" with Mexico, and plans to "engage proactively on facts" as the government debates renegotiating trade deals like NAFTA.
Fields spoke to BuzzFeed News hours after the company announced it was scrapping a $1.6 billion plan to build a new factory in Mexico — an announcement that came shortly after President-elect Donald Trump criticized GM for making US-bound cars in Mexico, and said the company could face import tariffs.
"We have been clear for many years that we are free traders, we want a fair and level playing field for trade agreements," Fields told BuzzFeed News. "When you look at what's been said about NAFTA, there's a deep integration between the US, Mexico, and Canada in the production and supply chain.
"That integration does support a lot of American jobs, and as the new administration forms policies around trade, we to want to engage proactively on facts."
President-elect Trump has long targeted US auto production in Mexico. He took aim at Ford's plans to move the production of some Lincoln sport utility vehicles from Kentucky to Mexico, a plan the company reversed almost immediately after Trump's election win.
Alongside the canceled Mexico plant, Ford said this morning that it would spend $700 million expanding a Michigan factory to build electric and self-driving cars. And while its CEO opposes the unravelling of the NAFTA system, he said other Trump policies have encouraged the company to keep investing in the US.
"What he's talked about in terms of pro-growth policies and tax and regulatory reform, that has been a factor," Fields said. "We look at a lot of different ones, that's one of them that gives us confidence."

Another priority for the company will be on environmental rules, Fields said. Under the Obama administration, aggressive new fuel economy requirements pushed US carmakers to focus on efficiency, and helped usher in the success of hybrid vehicles and the electric car industry.
Fields said the company will be talking with the Trump administration about emissions standards, to ensure they're implemented "over the appropriate timeframe."

But in the long run, he said, electric cars are inevitable, as battery-powered vehicles become more attractive to consumers and internal combustion engines stop being the cheaper option.
"Costs will rise because of the regulatory environment and the cost of fuel," Fields said. "We're taking a strong point of view because we want to maintain our leadership. Our approach has been that we're committed to better fuel economy and committed to electrification."