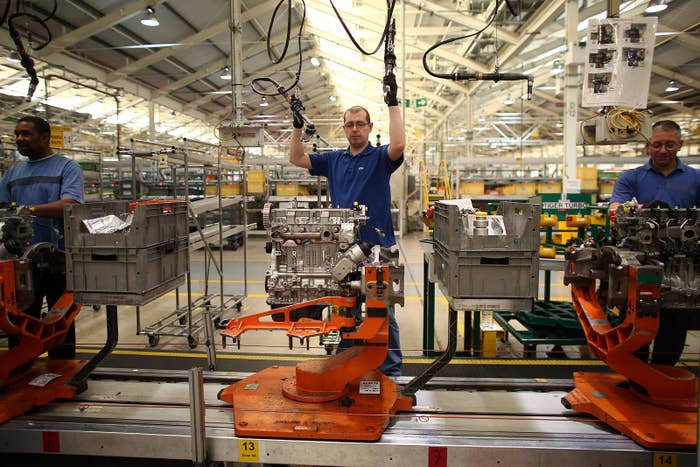 Ford has abandoned plans to spend $1.6 billion building a new factory in Mexico, the company said Tuesday, announcing that it will invest $700 million to expand a manufacturing facility in Michigan.

The company had initially planned to build a factory to produce the Ford Focus in San Luis Potosi, Mexico. Instead, the Focus, which is currently made in Wayne, Michigan, will be built at one of Ford's current Mexican factories.
"This will make way for two new iconic products at Michigan Assembly Plant in Wayne, Michigan, where Focus is manufactured today – safeguarding approximately 3,500 U.S. jobs," Ford said in a statement."
The expansion of the Michigan facility will focus on producing self-driving and electric cars, Ford said. The company said it will roll out 13 new electric car models in the coming five years, including hybrid electric versions of its F-150 and Mustang models.
Like many US manufacturing giants, Ford has been criticized by Donald Trump for sending manufacturing work overseas. Almost immediately after Trump's surprise election win, Ford announced that it would not go through with a plan to shift the production of some Lincoln SUVs to Mexico from Kentucky.
Hours before Ford's announcement on Tuesday, Trump criticized General Motors for building cars for the US market in Mexico, and warned they could face import taxes in the future.
Soon after the tweet, GM clarified that Cruzes sold in the US were overwhelming made in the country, while the Mexican-made models are largely sold overseas.
Unlike Carrier, which announced plans to keep some jobs in an Indianapolis facility following direct negotiations with Trump's team, Ford appears to be saying its move had nothing to do with Trump.
A "high level source" told NBC Trump "had nothing to do with their decision to expand production and hire more employees." But the company told Trump and Mike Pence about the decision early this morning, CNN reported, leading some to speculate that it led to Trump's decision to opine on auto manufacturing.