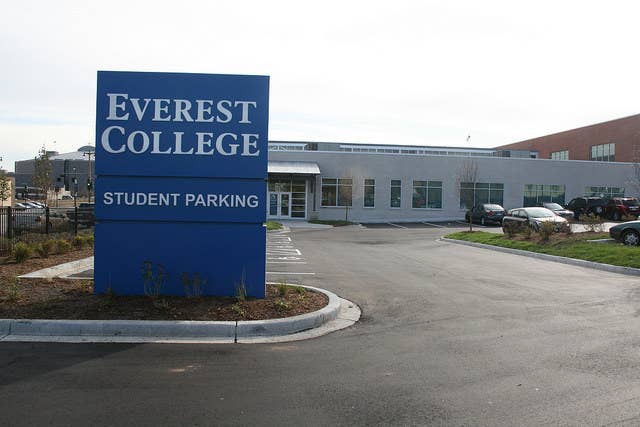 Corinthian Colleges, the for-profit education company that runs the Everest College chain, WyoTech, and Heald College, said Thursday in a regulatory filing that it risks running out of money and may fail to make debt payments, thanks to increased Department of Education oversight and delays in receiving federal student aid money.
The Department said in a statement that it had asked Corinthian for data "multiple times in the last five months to address inconsistencies" in how it reported its students graduation rates but that Corinthian had not met the document request. The department said it put the company under "increased monitoring" on June 12, and that Corinthian had failed "to address inconsistencies in the company's job placement claims for graduates."
The company's stock has been in free fall this year, falling from $1.83 at the end of 2013 to 85 cents at the close of trading Wednesday. It's now hovering above 30 cents. "People are throwing in the towel," said Michael Tarkan, an analyst at Compass Point, who has a price target of $0 on the stock.
The regulatory filing said that the increased monitoring meant that the company would face a three-week delay in receiving funds from the department for its students' tuition. Typically, schools can access federal student aid money in one to three days; Corinthian will now have to wait three weeks.
Corinthian said that the delay "will adversely affect the timing of the Company's operating cash flows and is expected to result in a significant shortfall in the Company's operating cash flows." The resulting cash crunch could be so severe, the company said, that its "existing cash balances will be insufficient to sustain it through this transition period," and that its lenders are not willing to provide them with additional financing.
"If the Company is unable to timely obtain alternate financing, the Company's cash flows will not be sufficient to meet its obligations as they become due, which would cause the Company to be unable to continue as a going concern," Corinthian said. The company also said that it had assigned 100 employees working with "executive level oversight" to meet the education department's demands for additional documents.
Corinthian's stock has fallen from $1.83 at the beginning of the year to just over 30 cents today.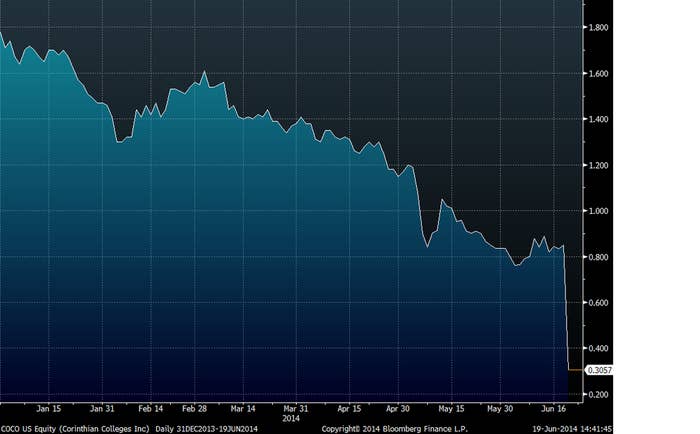 Early last month, the company said it had retained Barclays to "explore strategic alternatives," which typically means pursuing a sale. Enrollments fell 13% and revenue dropped 12% in the previous year, missing analysts' expectations. The company lost $79 million in the first quarter of this year.
Corinthian has been the target of intense regulatory scrutiny, including a lawsuit by the Massachusetts attorney general over its recruiting practices, as well as investigations from the Securities and Exchange Commission, the Consumer Financial Protection Bureau, and more than a dozen state attorneys general.
Corinthian has 72,000 students enrolled in its various schools and those students receive $1.4 billion in federal financial aid money, according to the Department of Education. "Corinthian is a little bit of a unique situation, it does appear that [regulators] are taking a little bit of a harsher stance against the industry," said Tarkan.
"The Department's foremost interest is to protect students and make sure they are educated by institutions that operate in accordance with our standards," said U.S. Education Under Secretary Ted Mitchell in a statement. "We made the decision to increase oversight of Corinthian Colleges after careful consideration and as part of our obligations to protect hardworking taxpayers and students' futures."