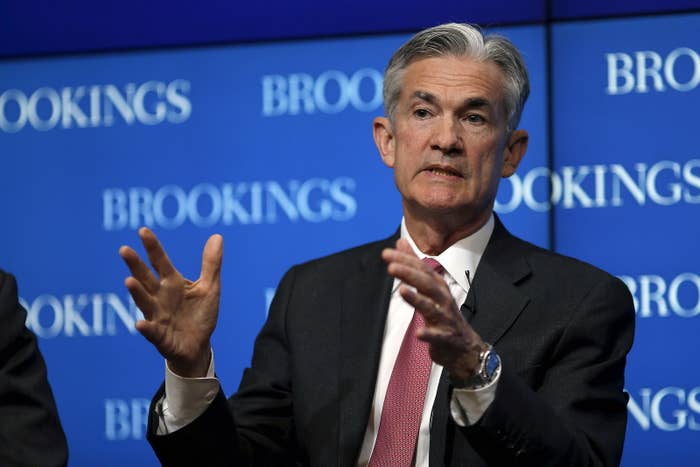 1. Jerome "Jay" Powell is a Republican, but loyal to outgoing Fed Chair Janet Yellen, a Democrat.
Powell is a Republican who served in the George H.W. Bush administration, but he's been a loyal member of Federal Reserve Chair Janet Yellen's Board of Governors, supporting and helping to explain her decisions to hike interest rates four times since the end of 2015.

"Jerome Powell has served seriously and well as a member of the [Fed] in recent years. He has been a consistent defender of the Yellen-charted path of the Fed. He is substantially better than the other non-Yellen candidates floated for the job," Josh Bivens, the director of research at the left-wing Economic Policy Insitute, wrote.
Trump's pick breaks with recent precedent. Ronald Reagan, George H.W. Bush, Bill Clinton, George W. Bush, and Barack Obama all re-appointed Fed Chairs nominated by their predecessors at least once. Reagan, Clinton, and Obama all kept on Chairs that were appointed by presidents from the other party for at least on more term.
Powell is widely considered to be an excellent consensus builder and those who have worked with him say he assiduously sought out arguments from all sides before coming to any decision.
"I think he was really good at understanding where everyone was coming from and that not everyone had the same perspective as he did. One of his strengths is threading those needles to find solutions that work for most people," Shai Akabas, a former colleague of Powell's at the Bipartisan Policy Center, told BuzzFeed News.
"Maybe that's because he grew up in Washington, he's been around that all his life. He is very willing to talk and listen across the ideological spectrum," Hollis McLoughlin, who worked with Powell at the Treasury Department, told BuzzFeed News.

2. Like most Trump nominees, he favors loosening financial regulations (at least a little).
If there's any clear difference between Powell and Yellen, it's that Powell would be a bit more eager to lighten up on the Fed's post-crisis regulatory scrutiny of the financial industry.
He has specifically called for regulators to work with a lighter touch on smaller and medium sized banks and make the largest banks only submit so-called "living wills" — plans for how they would wind down in a crisis — every two years instead of annually. Banks have criticized the annual living will process as expensive and time consuming.

"He's somebody with absolute integrity. He's gonna play it straight," McLoughlin said. "He's not going to be swayed by a particular point of view just because he had happen to work with that interest."
3. He's not a career government official—or a trained economist. But he's very experienced and well connected in government and business.
Powell has bounced between government and the financial industry for decades. He graduated from Georgetown University Law Center in 1979 and worked at the investment bank Dillon, Reid for much of the 1980s before joining the first Bush Administration to work in his Treasury Department under Nicholas Brady. He served first as Assistant Secretary of the Treasury for Domestic Finance and then Under Secretary of the Treasury.
"He had a yearning to be directly involved in the policy side, that's what brought him to Treasury," McLoughlin said.

He worked at the well connected Washington private equity firm The Carlyle Group from 1997 to 2005. He returned to public policy with an unpaid post at the Bipartisan Policy Center in 2010, where he became one of Washington's leading experts on the debt ceiling and the mechanics of government income and spending. He was appointed by President Obama to the Fed in 2012.
Before taking his Fed post, Powell was a trustee at a Washington, D.C. charter school as well as the environmental conservation group The Nature Conservacy. He also served on the investment committee of Sidwell Friends, the elite D.C. private Quaker school.

Powell has a "terrific" background for the job, Lloyd Blankfein, the chief executive officer of Goldman Sachs, told Bloomberg TV. "He has as broad a background and preperation for this as anyone has in the last several decades.
Powell has no formal advanced academic training in economics — his senior thesis at Princeton, where he studied politics, was titled "South Africa: Forces for Change." While that's a break from the past few Chairs—Yellen and her predecessor Ben Bernanke both had Ph.Ds in economics — it's not a total departure from the Fed's history. In fact, the first Fed Chair with an economics doctorate was Arthur Burns, who served from 1970 until 1978. Before Burns, many Fed Chairs had a mix of government and financial industry experience before taking the job.
"Jay is very smart, he loves to study, he really cracks the book and learns an issue from all sides," McLoughlin said. "He is a very good listener, and he absorbs and learns."

4. Analysts expect him to largely continue the policy path set out by Yellen.
"His voting record and public comments to date, we would expect the Fed's normalization trajectory to be pulled forward only modestly if Gov. Powell is tapped," analysts at Compass Point, a Washington research and trading firm, said in a note.
"We view Powell as a compelling candidate for President Trump as he allows the president to put his own stamp on the Federal Reserve without roiling markets."
"Powell is seen as the 'continuity' choice," analysts at CreditSights said.
5. He would be one of the wealthiest Fed Chairs ever.
Powell's wealth is between $16.7 million to $54.9 million, according to his most recent annual financial disclosure. The Washington Post said this would make him the wealthiest Fed Chair since Marriner S. Eccles, the banker-turned-central-banker who was appointed by Franklin Roosevelt in 1934. One of the Fed's main building in Washington, D.C. Whether Powell will get such an honor reamins to be seen. But it looks like he'll be doing pretty well either way.
"He's very smart and he really likes to learn," McLoughlin said. "I think that's why he was successful in business and did quite well financially."