Federal Government Sues Volkswagen Over Emissions Evasion
The Department of Justice is asking VW to stop using the "defeat devices," to mitigate excess emissions, and to pay civil penalties.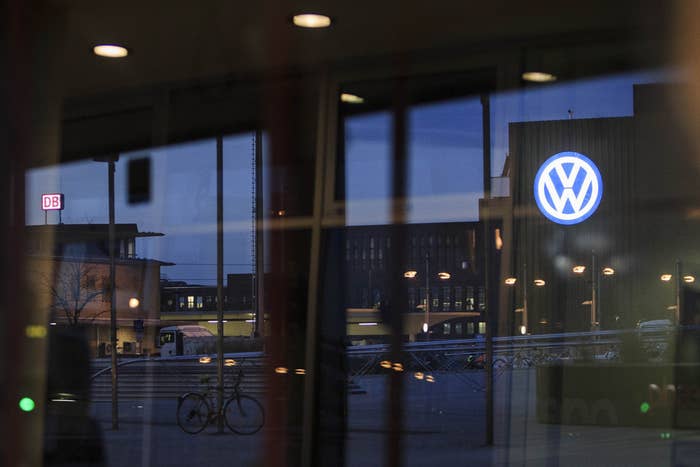 The Department of Justice today sued Volkswagen in federal court in Detroit over the car maker's installation of software to evade U.S. emissions standards.

The DOJ said in a statement the suit "alleges that nearly 600,000 diesel engine vehicles had illegal defeat devices installed that impair their emission control systems and cause emissions to exceed EPA's standards, resulting in harmful air pollution." The department is asking the car maker to stop using the devices, to mitigate excess emissions, and to pay civil penalties.
The allegations largely match up with what environmental regulators have accused Volkswagen of starting in September of last year, when the Environmental Protection Agency alleged that Volkswagen had installed devices that circumvent emissions standards for nitrogen oxides in its cars with two-liter engines from 2009 to 2015. Subsequently, the EPA alleged that Volkswagen had installed devices to evade U.S. emission standards in cars with larger engines and Porsches. In November, Volkswagen admitted to installing the devices "in all of its U.S. 3.0 liter diesel models since 2009."

The EPA said that the vehicles emit 40 times the amount of nitrogen oxide as prevailing clean air standards allow.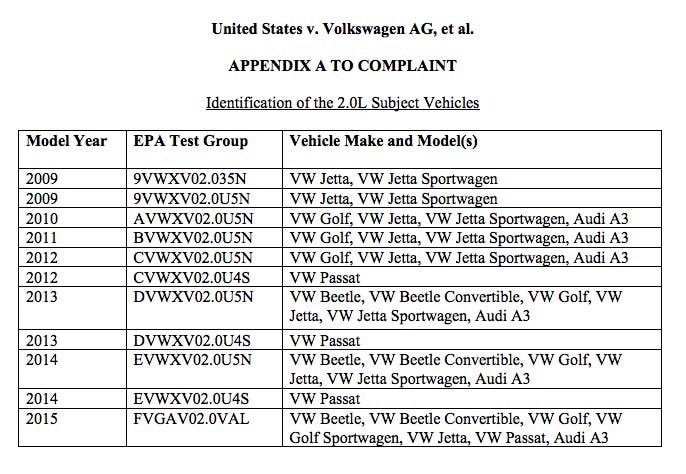 "With today's filing, we take an important step to protect public health by seeking to hold Volkswagen accountable for any unlawful air pollution, setting us on a path to resolution," Cynthia Giles, an EPA official, said in a statement.

The complaint covers almost 500,000 two-liter engine cars sold from the 2009 model year onward, and 85,000 three-liter engine cars.
In December, Volkswagen hired Kenneth Feinberg, the lawyer famous for overseeing the 9/11 victim compensation process, come up with a program for Volkswagen buyers.
Volkswagen said in a statement that the claims in the lawsuit cover the same vehicles that were covered by the EPA's violation notices against Volkswagen in September and November.
"Volkswagen will continue to work cooperatively with the EPA on developing remedies to bring the TDI vehicles into full compliance with regulations as soon as possible," the company's statement said. "We will continue to cooperate with all government agencies investigating these matters."
While the civil penalties could add up to the billions, Karl Brauer, a senior analyst at Kelly Blue Book said "This is another lever the government can use to compel VW to address its diesel issue. While the potential for a civil fine is quite high the government's real goal is the resolve this issue."
The complaint specifically accuses Volkswagen of violating the Clean Air Act by selling cars whose performance and design didn't match up with what it had told the EPA and the California Air Resources Board when getting them certified. It also says investigation into VW's emissions "were impeded and obstructed by material omissions and misleading information provided by VW entities."

"Today's complaint is the first stage in bringing Volkswagen to justice for failing to disclose the defeat device while seeking certification for its diesel vehicles from EPA's Office of Transportation and Air Quality in Ann Arbor, Michigan," U.S. Attorney Barbara McQaude said in a statement.

Volkswagen is already the defendant is several class action suits from car owners seeking to recoup the lost value of their diesel vehicles. The company did not immediately respond to a request for comment.
UPDATE
This piece has been updated with a statement from Volkswagen.