Federal Government OKs Banks Taking Marijuana Money
The Treasury Department "seeks to move from the shadows the historically covert financial operations of marijuana businesses."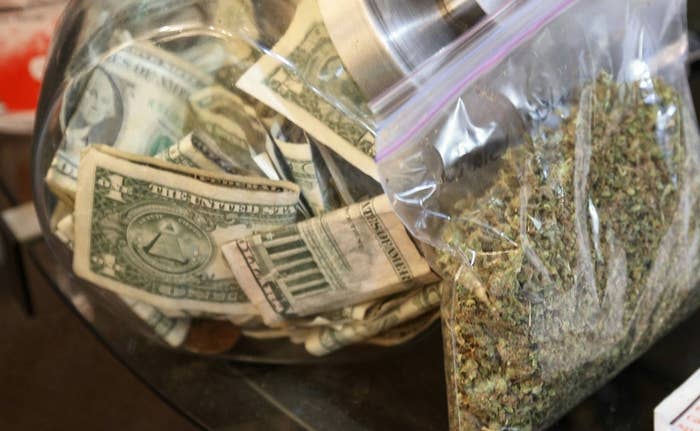 The division of the Treasury Department that enforces rules against money laundering and other financial crimes issued guidance today to banks that clarified that they could work with marijuana-related businesses.
Banks have been waiting for guidance from the Treasury and Justice Department since recreational marijuana sales became legal in Washington and Colorado at the beginning of 2014. Now 20 states allow some form of legal sale of medical marijuana.
Vendors have had to run their booming businesses almost entirely in cash and have been effectively cut off from getting loans because of federal rules that prohibited banks from dealing with customers that use financial services as part of violating federal laws, like growing, selling, or purchasing marijuana.
"This has been one of the most difficult issues for the [cannabis] industry," said Taylor West, the deputy director of the National Cannabis Industry Association.
While marijuana sales remain illegal under federal law, the Financial Crimes Enforcement Network said in guidance issued today that "financial institutions can provide services to marijuana-related businesses" as long as they comply with state and federal laws on money laundering and so-called "know-your-customer" regulations.
"Now that some states have elected to legalize and regulate the marijuana trade, FinCEN seeks to move from the shadows the historically covert financial operations of marijuana businesses," said FinCEN director Jennifer Shasky Calvery in a statement.
Banks that want to work with marijuana-related businesses will have to verify that they're following state licensing laws and monitor their clients for suspicious activity, including whether its being used to sell marijuana to minors, providing funding to drug cartels, or trafficking other drugs, according to today's guidance.
The guidance says that banks have an obligation to file what's known as a "Suspicious Activity Report" if it suspects that its customer is laundering money or using the bank for an illegal activity that meets thresholds laid out by the Justice Department. While banks will still issue reports to the federal government if they're dealing with a marijuana vendor, they could specially code those reports as "marijuana limited."
"We hope through this guidance that we're going to give more transparency to the marijuana business in this country and allow law enforcement to do their job," a senior FinCen official told the Financial Times.
"They're being very clear that they want the banking industry to work with our members," West said. "People are incredibly excited."
Some clarification on how banks could interact with marijuana businesses without automatically running afoul of federal money-laundering laws has been expected for almost a month. Attorney General Eric Holder said in late January, "You don't want just huge amounts of cash in these places. They want to be able to use the banking system."
While the guidance reiterates the federal prohibition of marijuana cultivation and sales, it's plainly intended to facilitate legal marijuana businesses' relationships with banks. FinCen says that its guidance "should enhance the availability of financial services for, and the financial transparency of, marijuana-related businesses."
That being said, the major banking trade group, the American Bankers Association, has long been skeptical of new guidance as a way to provide legal certainty to banks to work with marijuana businesses.
Frank Keating, the president of the ABA, said today in a statement "While we appreciate the efforts by the Department of Justice and FinCEN, guidance or regulation doesn't alter the underlying challenge for banks. As it stands, possession or distribution of marijuana violates federal law, and banks that provide support for those activities face the risk of prosecution and assorted sanctions."
Earlier this month, the ABA published a document on marijuana regulation saying, "Because marijuana is illegal under federal statute, guidance alone isn't enough" and that "in order for banks to be comfortable banking marijuana businesses, the federal statute must be changed by Congress."