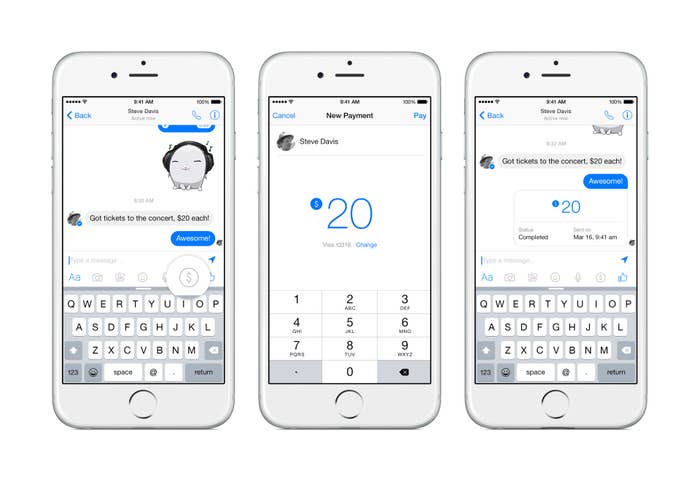 Watch out Venmo: Facebook's Messenger app is coming to get you.
Facebook today announced a new feature that lets users link their debit cards to their Facebook account and send money to friends, simply by tapping a new "$" icon in a chat window.
"The money you send is transferred right away. It may take one to three business days to make the money available to you depending on your bank, just as it does with other deposits," Facebook said in the announcement.
It's another case of Facebook turning the functionality of another popular app into a feature within its own service. In this case, it's Venmo, a subsidiary of eBay's PayPal, that has attracted a large and active user base among the young people that social media companies covet. Facebook hired former PayPal President David Marcus in June, making some kind of payment functionality seem inevitable.
Facebook rival Snapchat — which the company previously tried to buy for $3 billion — rolled out payments in November of last year, working with the startup Square to allow users to accept and make money transfers using their debit card within Snapchat's messaging service.
Venmo recently came under fire for its security practices after a Slate article detailed a number of weaknesses in its security practices. The company said last week that it would address a number of those weaknesses, including plans to enable two-factor authentication, a security setting long enabled by web giants like Facebook and Google.
Facebook said today that users will be able to create a PIN for money transfers and use Apple's Touch ID fingerprint sensors, along with the two-factor authentication already on offer.
Facebook says its stand-alone Messenger app has more than 500 million users, giving it a giant potential user base for a payments service. But that doesn't make this a done deal. Facebook has previously attempted to imitate other social media services within its family of apps, including a Snapchat clone called Poke, which it abandoned last May.
Facebook said its payments feature will be available "in the coming months" on both mobile devices and its desktop site.