"Fabulous Fab" Found Liable For Fraud On Six Of Seven Counts
The former Goldman Sachs vice president was found civilly liable on six counts of defrauding investors in a $1 billion mortgage security deal.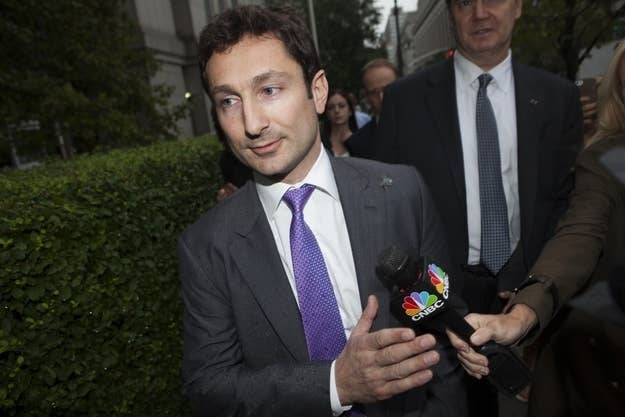 Fabrice Tourre, the former Goldman Sachs trader who became one of the most famous figures of the financial crisis, was found liable in a civil trial for defrauding investors. The case was based on representations Tourre made to investors about a collateralized debt obligation, a type of security based on derivatives of mortgage securities, called Abacus 2007-AC1.
The Securities and Exchange Commission's case rested on whether Tourre misrepresented the role of John Paulson's hedge fund Paulson & Co. in constructing Abacus in 2007, just before the housing and mortgage security market melted down. Paulson had an overall negative take on the housing market and had a role in selecting the securities Abacus was based on, which was not disclosed to the investors, according to the SEC. Paulson's stake in the Abacus deal was $1 billion betting it would fail. Tourre was 28 at the time.
The trial lasted for more than two weeks and is the first victory for the SEC against an individual who works for a big Wall Street bank connected to the financial crisis. During the trial, jurors were reported to have nodded off during long cross-examinations full of financial jargon. A key witness for the SEC, Paulson associate Paolo Pellegrini, ended up bickering with the prosecuting attorney during his time on the stand. Tourre's lawyers, however, did not call any of their own witnesses.
Tourre became famous when emails he had written to his girlfriend in which he said he sold worthless mortgage securities to "widows and orphans" and referred to himself as "Fabulous Fab" were released by the SEC as part of their initial civil charges. He was later interrogated by Senator Carl Levin during a Senate hearing in 2010. Tourre was placed on leave from Goldman in April 2010 and is now enrolled in an economics doctorate program at the University of Chicago.
The SEC settled with Goldman in 2010 over the bank's role in the deal for $550 million. Goldman neither admitted nor denied wrongdoing. The bank said in a statement today, "As a firm, we remain focused on being more transparent, more accountable, and more responsive to the needs of our clients." Other banks, including JPMorgan and Citi, paid settlements to the SEC over similar charges. The SEC brought civil charges against former midlevel Citi executive Brian Stoker but failed to win a conviction.
Gary Cohn, Goldman's chief operating officer and president, when asked in an interview with CNBC if he believed Tourre was guilty, said, "We don't believe so, but as you said, there's a jury deliberating."