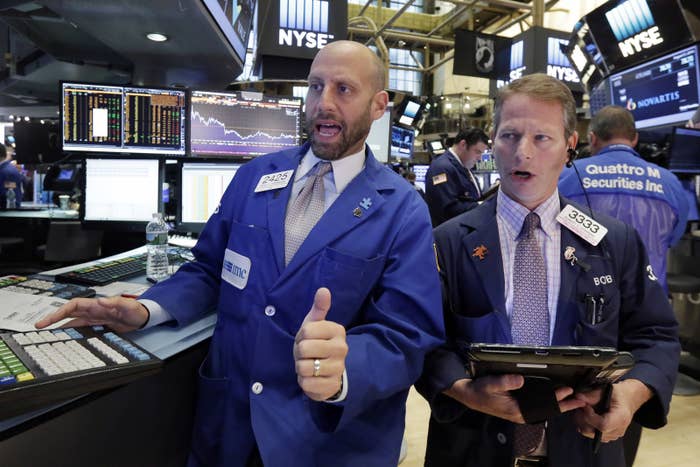 Nuclear brinksmanship with North Korea? California on fire? Puerto Ricans dying in the dark? A tweeter-in-chief who attacks football players, his own party, and the First Amendment?
The response from Wall Street: yawn.
None of these hideous headlines seems to have put the brakes on the fast-moving economy or the markets that fuel it. Stocks are steadily rising, with the S&P 500 and the Dow Jones Industrial Average setting records this week. Hiring is brisk (save for a hurricane hiccup).
On the day following the biggest mass shooting in US history — when 58 people were killed in Las Vegas by a lone gunman, on Sunday, October 1 — the markets hit an all-time high, while gun company shares went up and casino company shares fell.
What is behind the disconnect, and how worried should the average investor be that a catastrophic change of circumstances is around the corner?
"Earnings drive the market, earnings have been good, outlooks have been pretty good," J.J. Kinahan, the chief market strategist at TD Ameritrade, told BuzzFeed News.

When it comes to looming threats and temporary disasters, Wall Street tends to operate with blinders on, analysts say. Investors tend to look only at the immediate results in front of them — and lately, those results have been good.
Stock prices "are driven by exactly two things: corporate profits and interest rates," Nick Colas, the cofounder of DataTrek Research and a longtime Wall Street analyst, told BuzzFeed News. "It's a really short menu — they don't care about anything else."
Indeed, Morgan Stanley analysts said the recent rally in US stocks — the S&P 500 is up over 4% in the past three months, and up 14% since the beginning of the year — "has reached epic proportions."
Could this be potentially worrisome news to the average investor? Those who are old enough to remember the precipitous stock market drops of 1987 and 2008 may wonder if the next one is coming soon. (One potentially ominous piece of news from bank earnings this week: More Americans are failing to make their credit card payments.)
"If something there were to change significantly," with the underlying strength of the economy and corporate earnings, Kinahan said, "that would upset the apple cart."

So far, at least, confidence in the underlying fundamentals of the burgeoning stock market has led investors to slough off bad or neutral news, and eagerly buy on good news, Mark Hackett, chief of investment research at Nationwide Funds told BuzzFeed News.

For instance, last Friday brought a less-than-stellar report on the job situation in the US: Thirty-three thousand jobs were lost in September, breaking a seven-year run of job gains. But nearly everyone on Wall Street attributed this to the spate of hurricanes — a seasonal problem. The market dipped only slight, except for the Nasdaq, which eked out a gain and hit a new all-time high.
At the same time that Wall Street brushes bad news aside, it celebrates good news exuberantly. Last week, for instance, when a measure of manufacturing production came in above expectations, markets rose and hit new highs.
"They're using good economic data positively, and they're dismissing bad economic data as hurricane-related," Hackett said.
Some of the finger-crossing among investors, analysts say, can be attributed to optimism that Republicans in Congress and President Trump will successfully slash corporate taxes. But so far Trump and the Republicans don't exactly have a strong track record of delivering on their promises.
But — as they say on Wall Street — past performance is no guarantee of future results.
"There's the possibility of tax reform," Kinahan said. "It will be interesting to see how the market will react when we actually get details -- it could change the outlook pretty quickly."
Until then, however, investors can just look at the numbers in front of them.
"How do we end up with an all-time-high record market when everything else is sloppy?" Colas said. "It's earnings and rates and correlations — it's just math, really."