Emails Suggest Sony's Lynton Wanted To Be President Of NYU
Lynton said in an email that he would make a good president for NYU because "the institution is so large and complex that it would benefit from professional and compassionate management."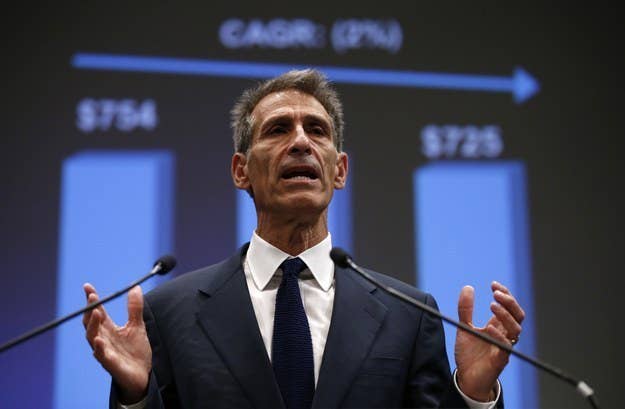 Starting late last year, Sony Entertainment CEO Michael Lynton was preparing a letter explaining why he should be the next president of New York University after John Sexton stepped down in 2016. Lynton's last renewed his own contract to head Sony Entertainment and Sony Pictures in 2013.
In a later draft of the letter he sent to his sister, Lynton said "I know I don't fit the traditional candidate for the head of an elite university. But I've served on the boards of Harvard and the RAND Corporation, which has given me a high-level understanding of how institutions of higher learning operate."
Lynton still expressed interest in the job as late as October of this year, emailing about it with his friend Malcolm Gladwell.
On October 27, Gladwell reported on his meeting with New Yorker editor and husband of NYU philosophy professor Kwame Anthony Appiah, a member of NYU's presidential search committee. Gladwell said that Lynton's biggest obstacle to the job was an ongoing "faculty insurrection," and told Lynton that "the crucial thing is helping them see you as the nurturer and protector of creative types NOT the corporate empire builder, which they have all had enough of with sexton," a reference to John Sexton's controversial tenure as president of NYU, where he faced withering criticism from the university's faculty.
Lynton also discussed the job with Kenji Yoshino, an NYU law professor who serves on Harvard's board of overseers with Lynton. Yoshino said in an email in June that a recent message from famed Wall Street lawyer and NYU board of trustees chairman Marty Lipton was "not great news for you" because it "suggests that NYU wants to choose within academia."
In October, when Yoshino was preparing to talk with NYU's law school dean Trevor Morrison, a member of the search committee, Lynton wrote in an email to Yoshino that a non-academic could be president of NYU "because the institution is so large and complex that it would benefit from professional and compassionate management."
An NYU spokesperson did not respond to a request for comment and there is no indication that Lynton has pursued the job since October or spoken to anyone on NYU's search committee. Lynton declined to comment to BuzzFeed News. A Sony spokesperson declined to comment.