Elizabeth Warren Tells NY Fed President: Fix Your Problems, Or We'll Find Someone Who Will
William Dudley faced a grilling from a group of senators scornful over the close links between banks and their regulators. He told them he sees his role more as a "fire warden" than a "cop on the beat."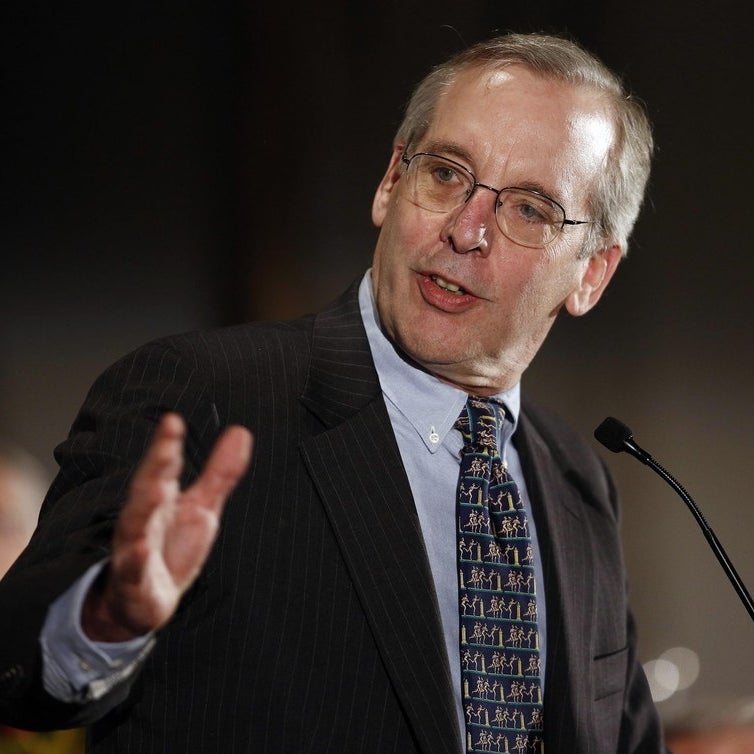 William Dudley, President and the CEO of the Federal Reserve Bank of New York, and Elizabeth Warren.
The president of the Federal Reserve Bank of New York faced a grilling from the Senate Banking Committee on Friday, following revelations that one of its former employees had been fired by Goldman Sachs for accessing regulatory information about one of the banks it oversees.
In one of her many rounds of questioning, Elizabeth Warren told William Dudley that change in the New York Fed's culture "has to come from the top" and "you need to fix it, or we need to get someone who will."
The hearing was spurred be revelations by a former bank examiner at the Fed, Carmen Segarra, who was fired after clashing with her superiors over how harsh to be on the banks she examined, including Goldman Sachs. In hours of tapes she secretly recorded documenting conversations with other Fed staffers as well as with Goldman, the New York Fed comes off as unwilling to confront banks directly even when its own staffers think there is wrongdoing. Segarra sued the New York Fed after she was fired, but a judge threw out the case after ruling her termination didn't fall under the whistleblower standard.
"We are here today because of issues raised by Carmen Segarra," Ohio Democrat Sherrod Brown said. "She has done a public service by bringing them to light." Brown also said Segarra was present at the hearing.
On Thursday night, the Federal Reserve in Washington announced a review of its bank supervision. The Fed's Inspector General will review whether Fed officials can get all the "necessary information" they need when overseeing banks and if "channels exist" for Fed officials "to be aware of divergent views among an examination team regarding material issues."
The Fed also said it will be doing its own review of those issues for its own examination of the largest banks, which would include titans like Goldman Sachs or JPMorgan. On Wednesday, The New York Times reported that Goldman Sachs had fired two employees after one of them, a former New York Fed banking supervisor, accessed confidential information from the New York Fed about one of Goldman's clients.
This put Dudley in the hot seat. He was previously a partner at Goldman Sachs and served as its chief U.S. economist before joining the Fed in 2007. Dudley brought in an outside expert, Columbia professor David Beim, to review the New York Fed's bank supervision. Jack Reed, the Rhode Island senator, said that there is a perception that there are "no fences" between Dudley — and the other 11 regional Fed presidents — and the banks they regulate. Dudley said that the implemented some of Beim's suggestions, but had not spoken to him since he wrote the report in 2009 — that is, until today.
Beim's 2009 report, which was previously secret, was brought to light by a ProPublica report done in partnership with This American Life. The report criticized a culture of deference to banks and fear of vocal disagreement between New York Fed staffers.
Dudley, however, defended himself as a steward of the financial system, saying his role was more like being a "fire warden" as opposed to Warren's preferred "cop on the beat." Dudley described this job as "making sure that if the institution is stressed, it doesn't burn down."
Dudley pointed to changes in the banking system since the financial crisis, including a smaller proportion of bank activity funded by debt, regular reviews by the Fed of how banks will react to massive financial stress, as well as a closer look at how the New York Fed examines the risk management of the banks it supervises. He also said that the Fed had helped "empower risk professionals in the organization to take on revenue producers."
"We should be judged where the banking system is today as opposed to where it was six years ago," Dudley said.
Senator Brown responded: "I'm sure those words would have been said by president Geithner in front of this committee five years ago." With only four liberal senators present at the hearing, no one there considered this a compliment.
While the senators present — all Democrats — lamented the lack of bankers facing jail time following the financial crisis, Dudley stressed that "our primary focus as supervisors isn't enforcement, our primary focus as supervision is making sure it's safe and sound and run well."
Part of that effort has been Dudley's condemnations of the culture of the financial system. In an October speech, Dudley said cultural problems in the banking industry "originate from the culture of the firms, and this culture is largely shaped by the firms' leadership. This means that the solution needs to originate from within the firms, from their leaders." In an earlier speech, Dudley pointed to a "sad state of affairs" where "unethical behavior is socialized among new traders with the explanation that this is business as usual."
But this insistence on the importance of leadership was turned around by the skeptical senators questioning him. Brown pointed to the recent case of a New York Fed employee leaking confidential information to Goldman. "Where do these ethical problems originate?" Brown asked Dudley.
Dudley said in his prepared testimony that they had implemented some of Beim's recommendations like putting more experienced examiners on-site in banks and recruiting outside examiners with more direct experiences, rotating examiners, and encouraging employees to "speak up."
But when pressed by senators on specific issues brought up ProPublica and other publications before the hearing — a deal between Goldman and the Spanish bank Santander that would help reduce its capital requirements, whether Goldman Sachs had a firm-wide conflict-of-interest policy, the failure to further inspect a division of JPMorgan that would later lose over $6 billion in a bad derivatives trade — Dudley defended the New York Fed's actions.
"We definitely want people who speak up and express their views, but what we also want are people who are fact based," Dudley said in reference to Segarra.
Segarra had clashed with her supervisors when she wanted to say formally that Goldman Sachs did not have a conflict of interest policy across the entire firm. Her supervisors disagreed and she was then fired. After the ProPublica/This American Life story aired, Goldman adjusted its own policy on employee stock ownership, banning investment bank employees from owning shares in individual companies.
"Cultures take a very long time to change," Beim said during his testimony. He also suggested tougher rules on the "revolving door", including mandating a three year stay before a regulator could move to a bank.