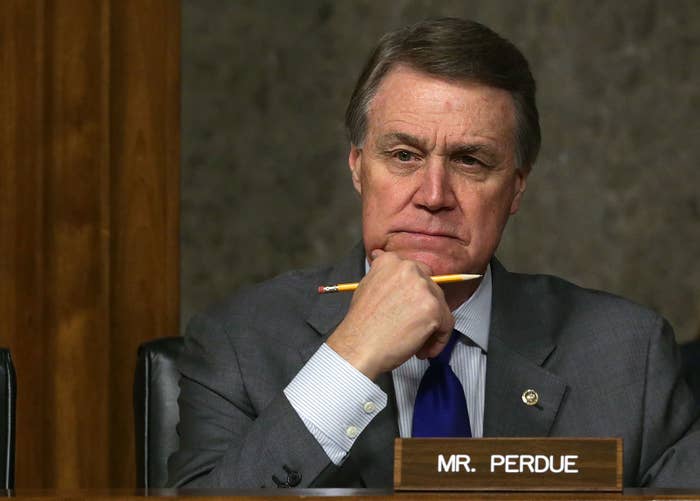 Republican efforts to scrap Obama-era rules governing prepaid debit cards have failed, according to the Georgia Senator leading the push.
Throwing out the rules depended on the use of a fast-track legislative process that could not be blocked by congressional Democrats. But that process came with a Thursday deadline, and Republican Senator David Perdue says the bill will not clear the Senate in time.
Prepaid debit cards are now used by an estimated 12 million primarily low-income Americans, and in recent years the Consumer Financial Protection Bureau has moved to bring similar rules to the cards as those that apply to traditional debit cards and checking accounts.
The Bureau's rules, finalized last year, require clear disclosure on fees and hidden charges, limitations on late fees and overdraft fees, and protection against fraudulent transactions.
Republicans, led by Sen. Perdue, have been heavy critics of the CFPB and vowed to overturn its rules using a law that allows for speedy repeal of regulations passed in the final months of a previous administration.
The fast-track process "was an important tool to inject some oversight of this rogue agency," Sen. Perdue said. "Ultimately, the CFPB should have scrapped this rule altogether but we were able to extract significant concessions to narrow its scope."
In April, the CFPB said it would delay implementation of the rules by six months, to give companies more time to comply. The rules will now take effect in April, 2018. The Bureau said that it would revisit how the rule applies to digital wallet apps, such as those offered by PayPal and Google, and reconsider how to handle claims of fraud on prepaid cards that never get registered by their owners.
The Electronic Transactions Association, a lobby group representing the payments industry, has supported repeal of the rules. "We applaud leadership of Senator Perdue in successfully highlighting industry concerns with the final rules and we're working with the CFPB to make some changes to address some of the industry concerns," said Scott Talbott, the group's head of government relations.
The CFBP declined to comment.
"Most prepaid card companies are already complying with fraud protections or are pretty close or are gearing up to do it and will be doing fee disclosure," National Consumer Law Center associate director Lauren Saunders told BuzzFeed News.
Tech giants like Google and PayPal opposed the CFPB's inclusion of apps like Venmo and Google Wallet among the products covered by the rules.
The companies argued that their money apps are not like prepaid cards because they're usually free, and are mostly used to send and receive money, not store it. They've also argued that the required disclosures would put an additional burden on engineers designing the products.
"Consumers don't need protection from free apps. They certainly don't want redundant government-designed smartphone alerts," said Brian Peters, the head of the Financial Innovation Now, a trade group that includes PayPal and Google's parent company, Alphabet.
But these heavyweights and trade groups that represent them didn't actively seek repeal of the rules. The main corporate force on that front was Netspend, a subsidiary of the payments company TSYS. Netspend is almost unique within the prepaid card industry because of the substantial revenue it gets from overdraft charges. While the new rules don't ban overdraft fees, they do put limits on them, and restrict how companies can sign customers up for overdraft options.
The company has previously estimated that it would have lost $80-85 million in revenue had the rules been in effect in 2016. The company spent $270,000 lobbying Congress in the final three months of 2016, and told BuzzFeed News it still opposes the rules.
"As currently written, the CFPB's final rule will limit unbanked and underbanked consumers' access to products and features they find valuable," a spokesperson said in a statement. "Netspend supports robust but smart regulation of our industry, and we will continue to engage with policymakers to ensure we have rules that protect consumers while promoting financial inclusion and empowerment."