How does a 90s tech giant grow up to make a heroic amount of money from a very 2015 cultural phenomena?
The answer, of course, is Alexander Hamilton.
eBay said today that the huge jump in sales and revenue at its ticket marketplace StubHub can be credited, in part, to the booming secondary market for tickets to the historical hip-hop musical (the NBA finals also helped.)

While eBay's traditional auction business barely grew in the last three months, StubHub, which eBay acquired in 2007, had just over $1 billion in total transactions — what eBay calls "gross merchandise volume" — and $225 million in revenue for the quarter, up 34% and 40% respectively.
On a conference call with analysts, eBay finance chief Scott Schenkel that the big jump in April, May, and June of this year came from "specific events such as the NBA finals and Hamilton to name a few."
In the slightly more bloodless language of its press release, eBay said StubHub's growth was "aided by strength across multiple genres and the continued benefit from ongoing product innovation."
StubHub's quick growth is in stark contrast to eBay's marketplace, where sales volume grew only 3% compared to the same period last year, while its revenue grew 1%.
But its ticket reselling business was able to latch on to not one but two once-in-a-lifetime events: the face-off between the Silicon Valley-backed Golden State Warriors and basketball Hercules LeBron James — where a game seven courtside seat went for almost $50,000 — and the Broadway musical Hamilton, where tickets on the secondary market regularly sell for thousands of dollars each.
And this quarter's financial results don't include the last performance featuring Hamilton writer, composer, and star Lin-Manuel Miranda, where tickets were reportedly resold for as much as $20,000 each.
StubHub's growth rate has been high for the last year, but the 40% jump in revenue is the fastest year-over-year growth for any of its past five quarters.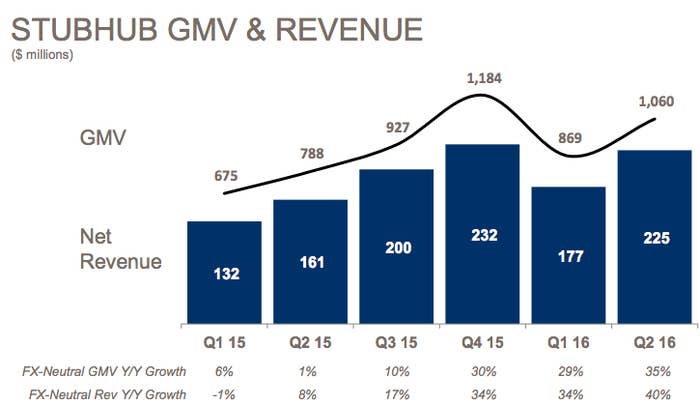 The company's Hamilton-related windfall did not go unnoticed by the show's producers. Miranda wrote in the New York Times that his "one regret" about Hamilton's Broadway run was "the lack of availability of tickets," and the sky high prices for tickets on StubHub and other secondary market sites. Miranda blamed automated software — bots — that let scalpers hoover up tickets online and then turn around and resell them at far above the list price.

"I want theatergoers to be able to purchase tickets at face value at our box office and our website, rather than on a resale platform," Miranda wrote. "And if you do go to a resale platform for tickets, I want the markup you must pay to be clearly displayed."