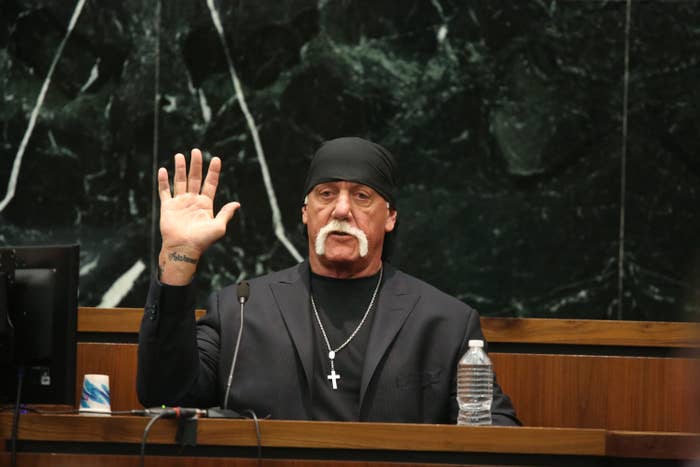 Pierre Omidyar, the billionaire founder of eBay, is attempting to rally media companies to oppose a Florida law that would require Gawker to post a $50 million bond in order to appeal its losing trial verdict against Hulk Hogan.

A Florida jury ruled in the ex-wrestler's favor against Gawker earlier this year and issued a $140 million judgment against the media company.
In the wake of the revelation this week that tech billionaire and PayPal cofounder Peter Thiel is helping to fund Hogan's lawsuit in hopes of shutting Gawker down, Omidyar's First Look Media is organizing an effort to help make Gawker's appeal of that trial judgment easier.
In a statement to BuzzFeed News, First Look Media's general counsel Lynn Oberlander said the company is organizing a friend-of-the-court brief in support of Gawker's legal efforts.

"The possibility that Gawker may have to post a bond for $50 million or more just to be able to pursue its right to appeal the jury's verdict raises serious concerns about press freedom," Oberlander said. "In keeping with our mission to protect the First Amendment, First Look Media is now organizing an amicus effort around these concerns, and we will be paying close attention as this case moves into its appeals phase."

In response, Gawker said in a statement, "We welcome the support at the appellate level." First Look Media's involvement in the appeal efforts was first reported by the New York Post.

First Look Media is the parent company of the online magazine The Intercept, and also helped produce the Oscar-winning film Spotlight. It previously employed two senior Gawker editors, John Cook, who worked at The Intercept, and Alex Pareene, who worked for the company's never-launched investigations and satire website.

While the two's politics differ, Omidyar and Thiel share some corporate history: Omidyar's eBay acquired PayPal in 2001 for $1.5 billion, bestowing riches on the so-called "PayPal mafia" which included Thiel, Tesla founder Elon Musk, LinkedIn founder Reid Hoffman, and several other Silicon Valley luminaries.
Thiel has said his funding of Hogan's case was an act of philanthropy to stop bullying and outing, and has already spent $10 million on the lawsuit.
On Wednesday, Omidyar tweeted: "So Thiel agrees with Trump's plan to muzzle press that criticizes government, obviously. That's why he supports him?"
He also tweeted on Friday after the Post published its story, "I've never met Peter, respect his work as vc [venture capitalist], and obv disagree on Trump and press. There is no 'bad blood.'"

Omidyar also retweeted another user saying, "A little disingenuous to position amicus support and bankrolling a case as roughly equivalent."

The billionaire pair have both put their tech riches to work in journalistic and ideological causes. Thiel has financially supported a wide range of libertarian and right-wing causes, including the presidential campaigns of Ron Paul and Carly Fiorina, as well as the Committee to Protect Journalists. Omidyar has funded First Look Media, a variety of journalism organizations, and donated to an anti-Trump political group. Thiel will be a Trump-supporting delegate at the upcoming Republican National Convention in Cleveland.
CORRECTION
Pierre Omidyar is the billionaire founder of eBay. A previous version of this story incorrectly stated his first name in one instance.