Disney Profits Hit All-Time High After "Star Wars" Release
Not only did The Force Awakens smash records at the box office, it also pushed up toy sales, even after the highs of 2015's Frozen frenzy.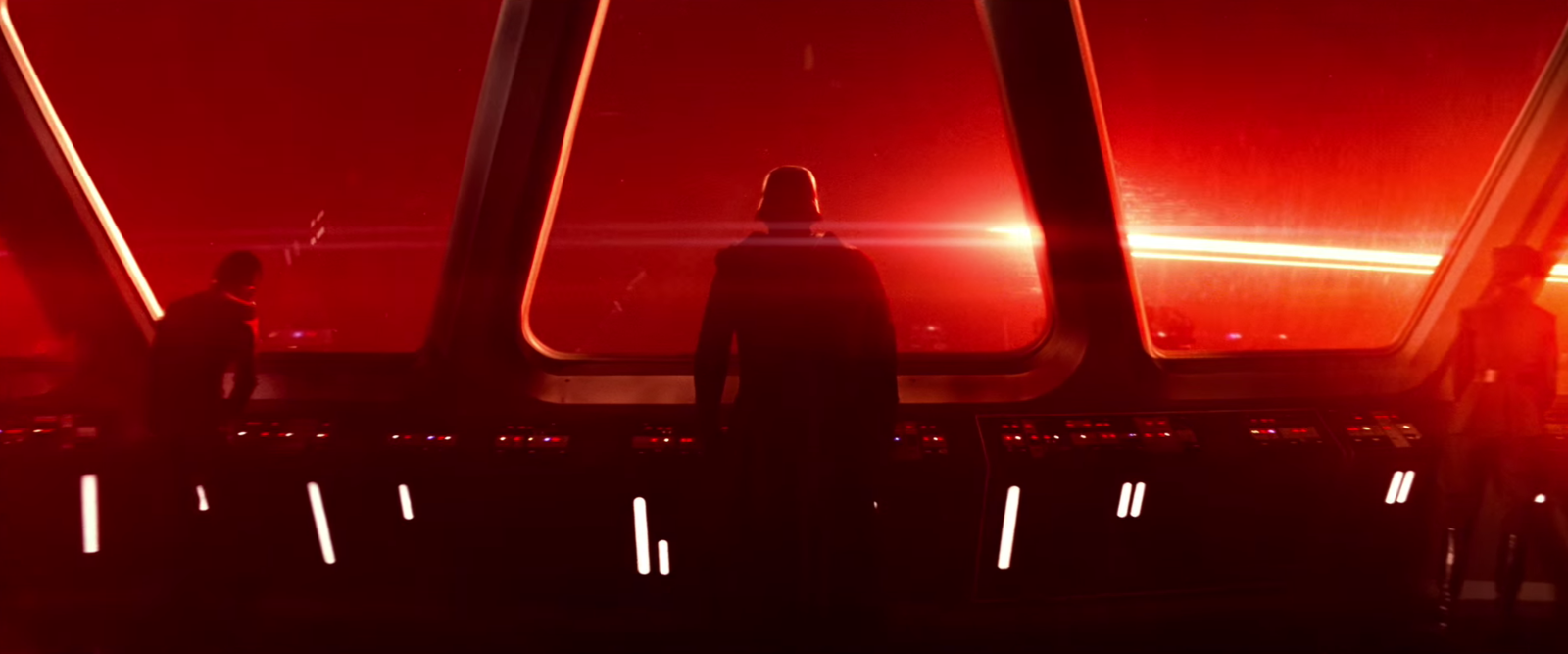 There's no business force like the force. The Walt Disney Company's earnings for the first quarter of its fiscal year showed a massive 46% jump in revenue from its movie studio to $2.7 billion, thanks to the success of The Force Awakens.
"The increase in theatrical distribution results and higher revenue share with the Consumer Products & Interactive Media segment were due to the strong performance of Star Wars: The Force Awakens in the current quarter," the company said in a statement, also noting greater revenue from streaming older Star Wars films.
The power of Star Wars was also felt on its consumer products division, where revenue grew 8% to $1.9 billion. While the rise was not as stark, that's because at this time last year, Disney's toy business was riding high on the juggernaut that was Frozen.
But even the return of Luke Skywalker couldn't distract analysts and investors from the action at Disney's largest business: its TV networks, particularly its cable networks and especially ESPN.
The TV networks typically make up around 45% of Disney's revenue, and in its last fiscal year they brought in just over half of its operating profit. In 2011, the networks brought in 70% of Disney's operating profit.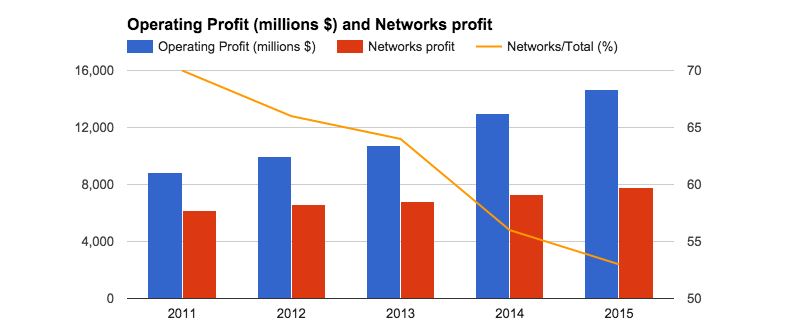 This quarter, the entire networks business saw its revenues increase 9%, but operating profits fell 6%, and fell 5% in cable networks. Disney attributed the decrease to ESPN and A&E.
Specifically, ESPN had higher programming costs — meaning it spent more to buy the TV rights for all those games. It was also hit by a matter of timing, with some college football playoff games coming in the second quarter of the fiscal year (the first quarter ended January 2, and the college football national championship was played on January 11).
Late last year, Nielsen reported that ESPN has lost just over 3 million subscribers from viewers both abandoning cable entirely and buying so-called "skinny bundles" — cable packages that don't include expensive channels like ESPN. Disney has disputed the accuracy of the Nielsen numbers, and CEO Bob Iger addressed subscriber numbers in an earnings call on Tuesday afternoon.
"We've actually seen an uptick in ESPN subs, which is encouraging," Iger said. He noted Dish Network's Sling TV package, which includes fewer channels than a typical cable package, but includes ESPN, and is available exclusively online. "The service appears to be growing nicely and is proving very attractive to young consumers in particular," Iger said, indirectly referencing speculation that young people are less interested in paying for sports content than older generations.
"In any market, we believe ESPN is well positioned to continue to thrive for many reasons, including that the demand for sports programming, especially live sports, is undiminished and consumption is at an all-time high," Iger said. He also cited statistics showing that 95% of bundle owners watched some sports and 81% watched ESPN.

Many believe it's inevitable that Disney will eventually take some of its most popular brands — like ESPN, Star Wars, and Marvel — directly to consumers over the internet, rather than through cable companies. Iger said such brands "are tailor-made for over the top direct to consumer" and that we should "expect innovation and continued pursuit of new distribution opportunities." This is not the first time Iger has dropped these hints. A year ago, he said the company "may have an opportunity to bring out a Marvel-type product and possibly even Star Wars."

Going directly to consumers could weaken the appeal of the cable bundle, and declining cable subscriber numbers worry investors. A channel like ESPN, Disney's star asset, could end up in a squeeze: earning less revenue from subscribers while having to pay the same high, fixed costs for sports rights, like a recent NBA deal that costs a reported $1.5 billion.

But, Iger said, "the expanded basic bundle will remain the dominant produce for consumers for the foreseeable future."
All told, Disney made a $2.9 billion profit for the quarter, its largest quarterly profit ever, beating expectations from analysts. The company's revenue of $15.2 billion was 14% higher than the first quarter of the last fiscal year and also higher than what analysts expected.

Disney reported its earnings after Viacom, whose shares crashed 21% on Tuesday after the company missed revenue expectations. Viacom, which owns channels like MTV and Comedy Central and the movie studio Paramount, has experienced ratings declines and is going through a tricky leadership transition.

Philippe Dauman, who was recently elevated to chairman, replacing the 92 year old Sumner Redstone, said the company's outlook had "been distorted and obscured by the naysayers, self-interested critics, and publicity seekers." Viacom shares have fallen 51% in the last year.