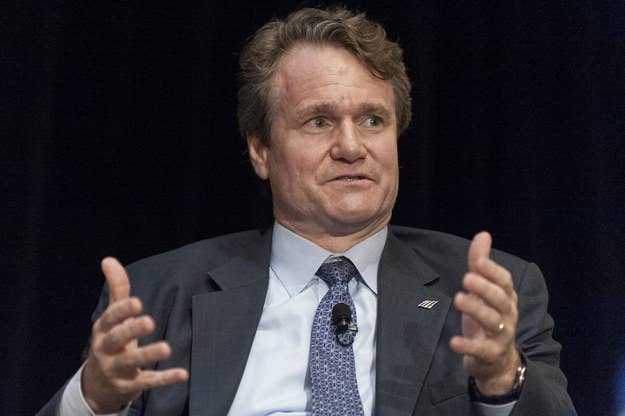 Brian Moynihan is the second big bank CEO to get a gift from his board of directors after paying a multibillion mega-settlement.
The Bank of America CEO was elected chairman of the board of directors Wednesday. Moynihan, who's been CEO since the beginning of 2010 has overseen Bank of America's massive reckoning with investors, regulators, and law enforcement agencies over its behavior before and during the financial crisis. The bank reached a $16.7 billion settlement with the Justice Department in August, which included nearly $10 billion worth of cash penalties, $5 billion of which went to the Justice Department. The bank has paid almost $70 billion worth of fines, penalties, and settlements, largely for behavior from before Moynihan took over as CEO.
The bank also had its bid to raise its quarterly dividend from one penny a share rejected by the Federal Reserve following an accounting error in calculating the bank's capital. It was able to win approval in August to raise it to five cents a quarter.
The board's move shows that they still have confidence in Moynihan and that he can return Bank of America to something approaching normalcy. Bank of America will join its megabank rivals Wells Fargo, JPMorgan Chase, Morgan Stanley, and Goldman Sachs in having their CEOs run the board of directors. Citigroup is now the only one left that splits the roles, with Mike Corbat as CEO and Michael O'Neill as chairman. Many corporate governance experts support splitting the roles, arguing that only an independent chairman can provide the necessary oversight of the CEO.
JPMorgan's Jamie Dimon has survived multiple shareholder votes to split the roles. Dimon also had his pay increased $8.5 million to $20 million in 2013 following the bank paying over $20 billion in legal and regulatory settlements that year. Moynihan's compensation at Bank of America for 2013 was $13.1 million, up from $8.3 million the year before.
Moynihan succeeds Charles Holliday and the board's new lead director is Jack Bovender, who was the head of the healthcare company HCA.