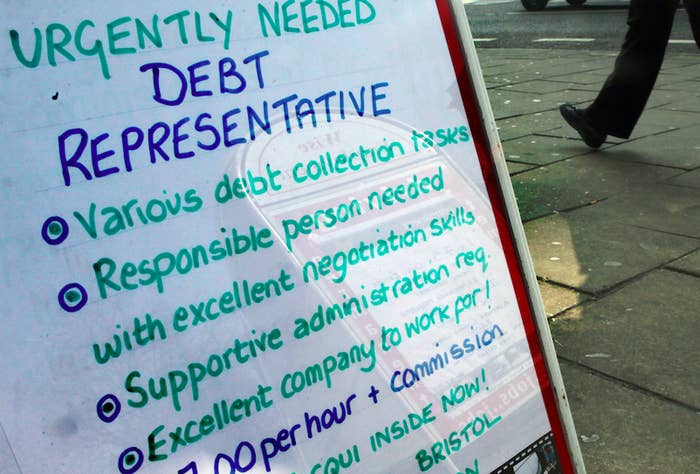 Federal regulators are considering an overhaul of the debt collection business, proposing a package of new rules for an industry that touches the lives of an estimated 70 million Americans who have had bad debts.
The rules, being considered by the Consumer Financial Protection Bureau, would restrict how often debt collectors can contact the people who owe them money, require the collectors to confirm they are chasing down the right debts from the right people, and demand new levels of disclosure from the industry.
The debt collection business operates largely in the shadows of the mainstream financial industry, doing the messy, time-consuming and often contentious work of chasing up unpaid debts. The nature of the work means the industry is a frequent target of consumer complaints, and gets plenty of attention from regulators.
In September, the CFPB assessed some $18 million of penalties on two large debt collectors for buying debts "that were potentially inaccurate, lacking documentation, or unenforceable." Debt collection practices are responsible for more consumer complaints than any other category, the CFPB says — including many complaints about attempts to collect debt from people who don't owe it, or to collect more than is owed.
In the last five years, the CFPB has ordered $100 million worth of penalties for debt collectors, and forced companies to provide billions in debt relief, while the Federal Trade Commission has brought more than 40 cases.
Tighter rules on debt collection are likely to draw plenty of opposition from business groups, including the debt collection lobby itself. "Small businesses that rely on debt collectors could lose access to these essential services if the cost of regulation is so high that it places third-party debt collection out of reach," said Cindy Sebrell, the Vice President of Public Affairs at ACA International, a debt collection trade group.
New regulations could also hurt the poor, Sebrell told BuzzFeed News. "If creditors are not able to collect rightfully-owed debts, they will be less likely to extend credit to consumers who rely on credit for much needed goods and services," she said.
Some consumer advocates see the rules under consideration as a necessary first step, but insufficient on their own. "Instead of simply requiring collectors to have full and accurate information, the CFPB proposal sets up a complicated and inadequate system that lets collectors rely on information that may be inaccurate," said Margot Saunders, a National Consumer Law Center attorney.
The proposed rules will not prohibit buying or selling debt that is so old that it can no longer be legally enforced, or prohibit bringing lawsuits to try and collect obsolete debt. Instead, they would require debt collectors to inform people that debts which are old enough to be beyond the statute of limitations — which varies state-to-state, but is typically around 3-6 years — cannot be enforced in court.
"Debt collectors that threaten suit on time-barred debt take advantage of this lack of
understanding by representing, expressly or by implication, that they are legally entitled to, enforce the debt in court, thereby inducing consumers to pay debts they would not otherwise have paid," the CFPB said in its proposal.
In early June, an episode of John Oliver's Last Week Tonight brought wide attention to the debt collection world — and particularly to the market for old debt that is no longer legally enforceable — by purchasing $15 million worth of old medical debt for less than $60,000, and then promptly forgiving it.
The National Consumer Law Center described the CFPB's proposals on trading in old debt as "imperfect" and said that they would still allow collectors "to mislead consumers into paying debts that are not legally enforceable and can still improperly collect default judgments against consumers who don't have attorneys to navigate complicated laws."
It will be some time before the proposed rules to into effect — if they make it at all. Compass Point, a brokerage and research firm, said in a note Wednesday that it expects a a final rule to be released in March, 2018 and for it to go into effect in September of that year.